Photo-A-Day #4256
Christmas season continues with Andrew and I making a visit to Bass Pro Shops. Santa is there every year and he is a really good Santa. I've taken Andrew each year to get a photo with Santa. So, today we had time and we popped over there for lunch and a visit with Santa. But, before we went to Bass Pro Shops we stopped in at Trader Joe's because I wanted to pick up a special chocolate bar. It contains pop rocks and chili powder. So it is dark chocolate, that fizzes and pops with a special heat.
At Bass Pro Shops We had lunch at Uncle Buck's and then wandered the store. At first he didn't want to visit Santa. So, instead we played with the Lincoln logs that were on display. We also colored together while I attempted to convince him to visit Santa. It wasn't that he was afraid or anything. He just didn't care either way. He also didn't lend me any insight as to what he wanted for Christmas either.
But we were there so once the line was pretty well thinned we took our turn. Bass Pro has always done the free photos but this year they stepped things up and in addition to the photo there was also a great wooden frame. I was quite impressed.
Hanging out with Andrew lately has been really cool. He is such a funny kid. He is also picking up on everything and a lot of the good stuff, too. For example, we ware discussing a friend who had to cut off her hair. We talked about how people cannot control things about their appearance and they shouldn't be judged on it. We talked about how the look of someone's hair doesn't matter. They are still the same person we know and love. So, I'm giving him a bath and he has a Playmobil boat with a woman and man. The woman's hair was off. I thought ti had fallen off and I was fixing it and he stopped me and told me that he wanted top play with it like that because hair doesn't matter. This kid is really taking it all in. Don't ever use the word "ugly" in front of him, he'll give you a lecture on tearing someone's heart. He listened when I said that, too.
Yesterday we went and gave our annual toy donation to Christmas is for kids. So many great companies have sent me toys all year long. Once in a while they send me more toys than we can handle for reviews so I talk about them and with permission I do not open then but instead donate them to this program. We've been doing this for the past 8 years, that is something that I was reminded of today because 8 years ago today I made my first donation to Christmas is for Kids. My friend Sarah of Achin's Garage had posted to Facebook that they were doing a toy drive so I got some toys and brought them down to donate and I also brought along my camera to interview her for my blog. We then did this every year for the next 8 years and yesterday this is what we donated.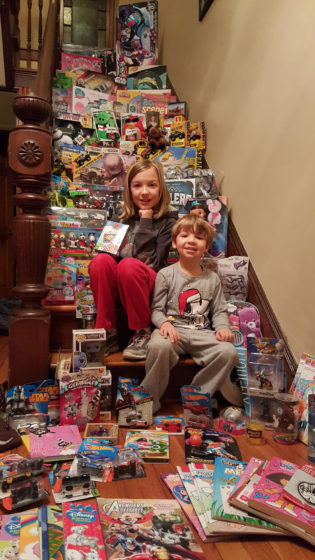 If you watch the video via the link above you may wonder about my fascination with Facebook. In 2008 it was still something relatively new. It is so strange looking back and seeing the Gateway 2000 boxes on the truck. That was still a thing at that time.
Oh and today's video is me unboxing some Marvel Tsum Tsum blind bags and some Vs. Rip-Spin Warriors. They were on sale for 50% off through the cartwheel app at Target. I had to get Iron Man and Captain America because of Civil War.
Copyright (c) 2020 BenSpark Family Adventures