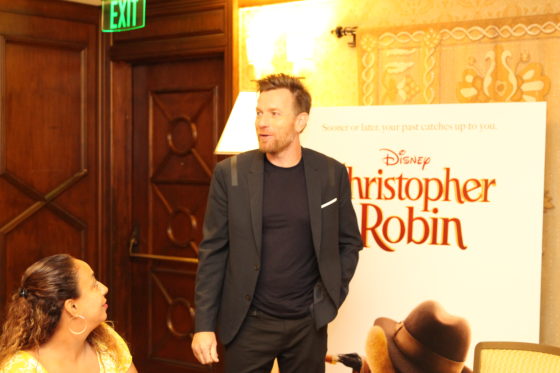 Photo credit: Louise Manning Bishop / MomStart.com
On my recent trip to California I was hosted by Disney to attend the Christopher Robin Premiere on the Walt Disney Studios Lot and I was also able to interview many members of the cast. Disney took care of my airfare and accommodations, plus meals and some small gifts. I was not paid for my participation and all opinions are my own. I may link to items on Amazon in this article, they are affiliate links for which I receive a small amount of money at no cost to you. Please enjoy this Interview with Ewan McGregor. He was very charming and provided a lot of insight into the motivations for his portrayal of an adult Christoper Robin.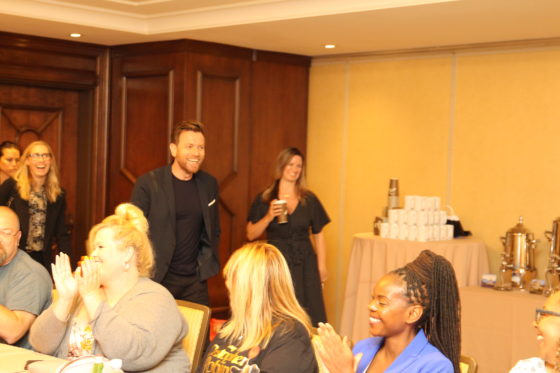 Photo credit: Louise Manning Bishop / MomStart.com
Ewan has a charming smile and he was tickled with the reception that we gave him as he entered the room. He began talking with us immediately. We began with asking hi if he had seen the movie yet. He had not seen the full movie. However, he has seen the movie many times in working closely with the director Marc Forster. This movie has been a collaboration in everything but name alone between Marc and Ewan. They became very good friends since their first movie, Stay, back in 2003. Ever since that movie they have stayed in touch and planned to work together on a future film. Ewan also saw the movie bits many times because he did a lot of ADR (Automated Dialog Replacement) work and through that saw much of the film. He had not seen the completed film and he would be seeing it that night, along with us, at the Red Carpet Premiere at Walt Disney Studios.
Ewan was very excited that he would finally see the full movie and also excited to see what it would be like with other people there. Up until that point he had only seen the movie alone or with people working on it. We expressed to him how much we all enjoyed the film and he was very gracious. He also told us how much he loved making it and how charmed he was by the movie.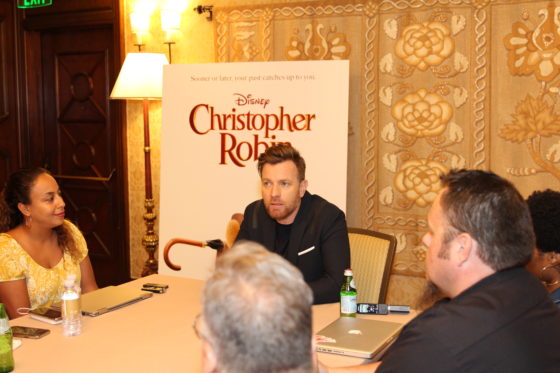 Photo credit: Louise Manning Bishop / MomStart.com
Ewan was then asked if he had any trepidation in accepting such an iconic role. He didn't feel that way, not really because as he said, "I suppose nobody really knows about Christopher Robin as a forty-something man. When I read the script, I felt I knew him." Ewan felt that this was the part that was right for him to play right now. He absolutely knew that he wanted to do it. He also said that when something does make you a little afraid then that is usually a good indication that it is good to do.
"It is better to do stuff you're slightly scared of than not."
We asked him if there were any classic Pooh tales that he grew up on that were favorites. He said that there weren't. He was aware of the story but what drew him to it was the way that Marc hd described it to him. The way Marc Spoke about it. Marc called Ewan and told him that he was going to direct. He also told Ewan what he thought it would be and how it might be an important movie. A good film for people to watch at this time. Then Ewan got the script and it was lovely. He really liked reading it. Ewan also remembers reading the stories to his children and that everyone in Britain is familiar with Winnie the Pooh. However he did not have a particular favorite story.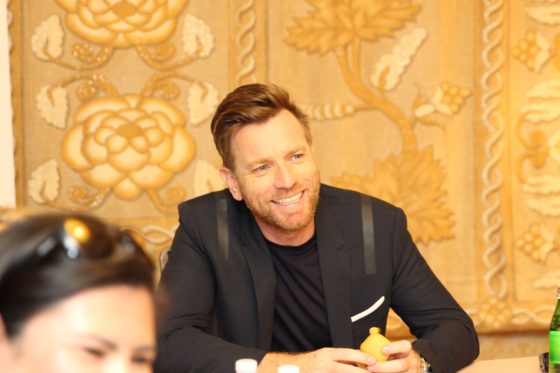 Photo credit: Louise Manning Bishop / MomStart.com
"It wasn't until I heard his voice that I knew how familiar I was with the Disney versions of Pooh. I knew his voice so well."
Ewan likes all of the characters from the Hundred Acre Wood but he is partial to a few. Obviously Pooh is the tops because he spent so much time working iwth Pooh and learning from Pooh because despite being a bear of very little brain he is wise.
"I learned a lot from him because he's very wise, he's got a great wisdom."
He found that Eeyore became one of his favorites because he is always so glum. He's down in the dumps, so he is sort of fun too. He's fun because he makes you feel so happy when you are with him. Ewan has a lot of on screen time with Eeyore as well. He also mentioned that he liked Kanga because she was one of the only few female characters of the bunch and she was lovely. She was also very calming to everyone in a particular sequence. that sequence too was when he is with Eeyore. It is a fun sequence of the movie.
We asked Ewan what it was like to act with stuffed animals. He explained the shooting process and how it was done to make the actors more comfortable to be playing off these inanimate objects. Marc brought in young actors to play each of the characters. They would say the lines, move the stuffed animals and become more and more the characters. "Each one of these actors would hold the creature and move him around a little bit and, you know, they could tilt his head up to speak to me or whatever." It was crude and rudimentary as Ewan said but it allowed the actors to play the scene a few times. This would give Ewan the sense of what the scene was and how to play it. Then the more technical things would occur.
The actors would play the scenes with the stuffed characters, these hand stitched beautifully made characters that they called stuffies. He even has one of the Winnie the Pooh ones. Then after playing the scene a few times with the actors and these stuffies they would be swapped out with a stuffie without hair, it was gray. They were basic and had little eyes and noses. Then that would be swapped out with one without a head. Winnie the Pooh even had one that was just a tummy. This allows the actors to look in the right place but he animators to be able to animate the characters. Then there were scenes where the bear was not there at all.
"And then we had to do scenes without the bear at all, nothing there to look at. And then sometimes a little bit, a little area like antenna from a car with a
light on top."
Ewan was asked about what he thought the message of the film was. In his answer he seemed to say that there was a message but at the same time it is art and he does not go looking for a message. You either get art and it speaks to you or it doesn't. The audience interprets their own message from the art. That being said, he said this about the message of the film.
"It's just about connection. About being present to each other.
This is something that hit me very hard in the film when I saw the trailers, when I saw parts at Disney Social Media Moms Celebration and when I saw the movie both times. Am I being present enough with my own family. This is something that Christopher struggles with so much. That is also a theme that I'll explore more in my movie review.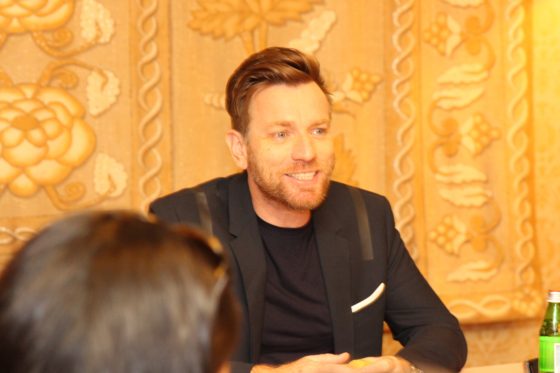 Photo credit: Louise Manning Bishop / MomStart.com
In the film Christopher Robin has a young daughter, Madeline. She so wants to please her father and she was a lovely actress named Bronte Carmichael. Ewan found it difficult to do scenes with her where he had to be cold to her. She is such a lovely little girl, how could you not have a father's love for her. ewan went on to say that she was a lovely actor and little girl who is not spoiled in any way. She's got great parents who are both actors (They play Christopher Robin's parents in the film).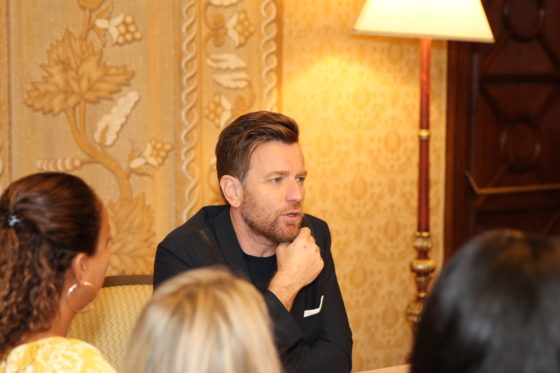 Photo credit: Louise Manning Bishop / MomStart.com
When talking about how he remembers his films and how he would remember this film he stated that it was an important film that he will always remember. There were so many reasons for him to love this movie. Working with Marc Forster was a good experience. Ewan states,"March is such a beautiful collaborative director. He really loves to hear everybody's ideas. He's very open. He absolutely understands the film he wants to make. He allows us to feel like we have room and have input."
One of the first things that Ewan worked with Marc on in the film, the first things they shot was a sequence when Christopher Robin and Pooh arrive in the Hundred Acre Wood. This was a sequence where it is just Christopher and Pooh. After that first week of shooting Marc came to Ewan all excited and surprised. Marc told Ewan, "It really works, you really look like you are talking to him and it feels real." To which internally Ewan thought, "well, that's sort of my job." But it was through this that Ewan felt that Marc had a great trust in him to do what he instinctively felt he should do in these moments with the characters.
At the end of the interview we asked Ewan is there was a particular scene that he loved. He really liked the scene where he is with Pooh on a log looking out over the countryside. The image is right above. It was a moment where Christopher Robin apologizes to Pooh. Ewan remarked that both of his favorite scenes were about asking for forgiveness and expressing how sorry he was for his words or actions.
It was a lovely interview and we had such a great time. then Ewan agreed to take a group photo with us.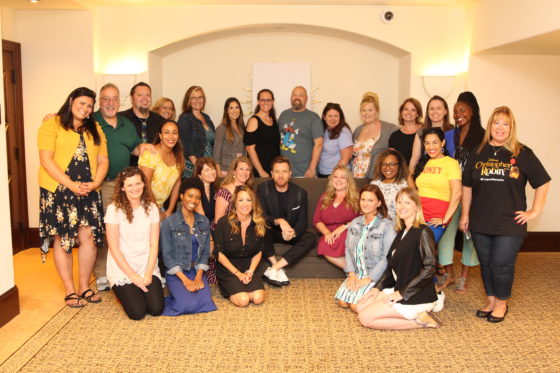 Photo credit: Louise Manning Bishop / MomStart.com
Make sure that you read about all the other #ChristopherRobinEvent bloggers and their Ewan McGregor Interview experiences.
You can follow everyone on Twitter on my #ChristopherRobinEvent Twitter List.
Christopher Robin is in theaters this Friday August 3rd. You can view the adorable trailer below.
CHRISTOPHER ROBIN (Release Date 8/3/18)
Copyright (c) 2020 BenSpark Family Adventures