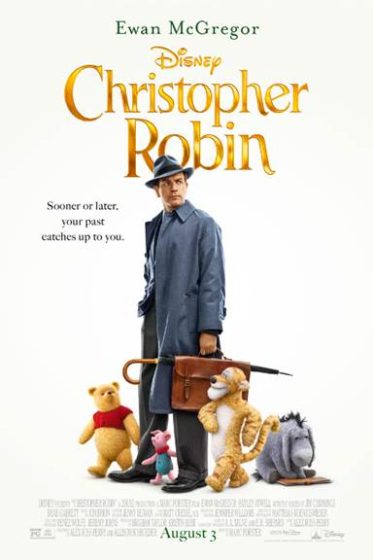 This past week I had the privilege of being invited by Disney to experience the movie Christopher Robin. This meant that Disney flew me to California, put me up in a hotel and fed me during my stay. They also gave me exclusive access to the movie, the cast and even the Red Carpet premiere at Walt Disney Studios. This was a once in a lifetime event and one that I had hoped to be asked to attend for this reason. The movie is about a good father that has let responsibilities dictate his life. He has been given so many good things to cherish in his wife and daughter, but he is not seeing what is in front of him. I can certainly identify with that. I saw some of the movie at Disney Social Media Moms Celebration and thought to myself. That is me. I have to cover this event.
The thing is, Christopher Robin is all of us.
In this movie Christopher Robin is a man that both moms and dads can identify with. Someone who has had the weight of the responsibilities of life come down around him and he has taken it upon himself to care for and provide for everyone in his life the best way he knows. Hard Work. Christopher Robin was once a boy, a boy who played every day with his friends in the Hundred Acre Wood. His friend Winnie the Pooh remarks, "It's always a sunny day when Christopher Robin comes to play." And for years there were sunny days but eventually Christopher Robin had to grow up and leave the Hundred Acre Wood behind.
This is where we start our movie. It is the last day that Christopher Robin comes to play in the Hundred Acre Wood because he has to go to Boring… I mean Boarding School. The movie comes at things with the premise of "What if Christopher Robin grew up and became a man who's focus was on his work. A man that no longer played even though those around him wish so dearly to see him laugh and play. This hits me right in the gut.
Like I said earlier, we are all Christopher Robin. The struggles with paying bills and taking care of yourself so that you can be around for your kids often takes you away from those very people that you are living to spend time with. Right now I am in a period where I have been away from the family for the longest time in months. Everyone is away on Cape Cod while I am home working. Believe me, the irony is not lost on me.
I want to be the most present that I can be when we are together so I will work as hard as I can to take care of getting my work done completely before I see them next. That means lots and lots of writing because I have cast interviews with Ewan McGregor (Christopher Robin) , Hayley Atwell (Evelyn Robin), Jim Cummings (Winnie the Pooh & Tigger, Too!), Bronte Carmichael (Madeline Robin) and Marc Forster (Christopher Robin Director) going out all of the coming week. A week where I will be with the family on Cape Cod. So, as Pooh would say, "What to Do, What to Do."
I actually saw the movie twice this past week. The first time was with all of the bloggers who were attending the event. I'll be linking out to their individual posts later in this one. Everyone has amazing insight into the movies. some have more into the artistic process but for me, movies have always been about how they relate to me and my life. So, what you'll get from me is something very personal.
As you know, I work weekend nights so that I can provide for the family and also so I can be home to help with Andrew when he was younger. I also write this blog and review tons of toys. By the way the Funko Pop figures from this movie are adorable. I received an Eeyore one, very fitting for me. All of this work takes a lot of time and focus. Sometimes that focus comes at the expense of being with the family. Weekends are when everyone else takes their downtime and spends time with each other. We have been able to come up with our own alternatives but it isn't the same. However, for the time being it is what needs to be done.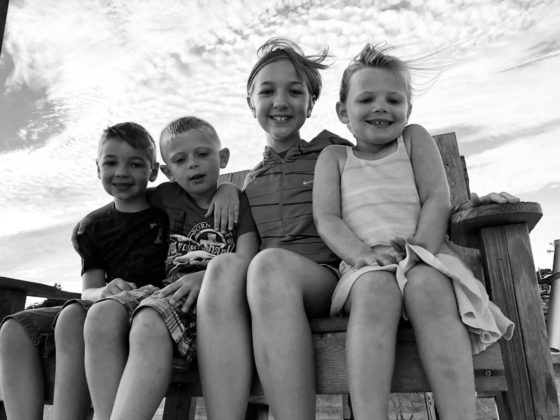 I guess what I'm saying, over and over, is that I can relate to how Christopher Robin went from a fun loving little boy to a man with the weight of his own personal world on his shoulders.
The Story
Christopher Robin has gown up. He has left the Hundred Acre Wood behind and has a life and family of his own. As soon as he started boarding school he began to grow up through a series of events that would shoulder responsibility to a small boy before he was ready. Christopher Robin rose to the occasion and worked extraordinarily hard. Along the way he met a beautiful woman named Evelyn and they married. They then had a daughter named Madeline who thinks the whole world revolves around her father. The problem is, even though Christopher has strong love for his family he is distant and distracted by his job. He is a man with responsibilities. When he gets tasked with a seemingly impossible task he has to cancel his plans to spend a weekend in the country with his family.

This was a great moment where Christopher is trying to help Pooh draw less attention to himself as they hurry to the train station.
As he works through this problem he is met by his old friend Winnie the Pooh. Pooh has a problem of his own and needs Christopher's help solving it. Christopher is already strung out with the stress of his job and his weekend task so caring for a delightfully simple bear is not on his agenda. But, Pooh is his oldest friend and in order to get him out of his hair, Christopher must return to the Hundred Acre Wood to help Pooh. Seeing Pooh in London was funny.
The Characters
Ewan McGregor as an adult Christopher Robin is spot on perfect. He has this kindness and gentleness in his face even when he is frustrated and angry. He does lose his temper and in those moments he realizes more and more that his life is passing him by and he is not seeing the important things in life. Christopher is a loving husband and father. He used to joke around and laugh and dance. However, he no longer does this. When he begins to return to himself, his younger more carefree self he begins to see things differently. Spending time with Pooh is akin to spending time with an inscrutable zen master. Pooh says such simple, profound, frustrating and confusing things and they vex Christoper until he has his eyes opened.
There is such wisdom in the simplicity of Winnie the Pooh. I've read all of the stories over my lifetime and every time I ask the kids if I can ready from the large collection that we have they are not interested. I think that after they see the movie with me they will be begging me to read to them, and I will.
Winnie the Pooh is perfect. He's a cross between the Disney Pooh and the simple drawings from the original books. He's worn from love and time. He is simple and yet profound. There is no anger, malice or sarcasm in anything Pooh says. Pooh is an open heart that simply wants to love his friends. Even when he is being yelled at he simple says, "I'm Sorry." Not in a weak way, just in a way where he takes whatever is thrown at him and he remains who he is. He does not get offended or sad, he just puts out more love.
Hayley Atwell plays Evelyn Robin. She is the wife of Christopher. She knows that he is a man filled with love and laughter. She is holding out for that man to return. She is strong for her daughter and still has great love for her husband. She also has to make a hard decision. She takes Madeline on her own to the country when Christopher tells them that he cannot go. She does not judge him or nag at him or scold him in any way. As he explains how his work can give them a better life someday she tells him that his life is happening now. It may sound harsh but it was not. It came from a place of love.

I had to slip this selfie in. Hayley was so gracious in taking a photo with me!
Bronte Carmichael plays Madeline Robin. She is the whip smart daughter of Christopher Robin. She wants to please her father so that he will spend time with her. I was crushed in the moments between them. She, eager to share things with her father and he not seeing the significance of what she is sharing. For Christopher, hard work has become most important. He is very pleased with his wonderful daughter but there is a distance between them. A distance that I think they both want to close but are unable to.
Also in the movie are the residents of the Hundred Acre Wood. We have Owl, Rabbit, Kanga and Roo. These characters have briefer moments in the film but they do get to shine in different moments. They are spot on perfect in the execution of their personalities, too. With Winnie the Pooh the big four characters are Pooh, Piglet, Tigger and Eeyore. These are the most popular characters. As such they get more screen time. Pooh gets the bulk of the time but Eeyore is part of a larger mini storyline that involves Christoper discovering his ability to play once again. Brad Garrett provides the voice of Eeyore and I was so lucky to meet him after the Christopher Robin Red Carpet Premiere.
There would be no Winnie the Pooh or Tigger without the voice work of Jim Cummings. He has been the voice of Winnie the Pooh for so thirty years and is so natural when he speaks as Pooh. We interviewed him, too and that was my geek out moment. I wanted to ask him if there was anything in the works for a Chip and Dale's Rescue Rangers after the success of the new Duck Tales show. I watched all of that as a kid and so Jim was a large part of my growing up. His work is perfect in the movie.

Jim Cummings. Photo: Disney
I also thought that the supporting actors who worked for Christopher represented the characters of the Hundred Acre Wood a bit. I meant to ask Marc Forster if I was correct in that observation. It just seemed like that was what was happening. There seemed to be a man who was very much like Eeyore, a woman who was very much like Rabbit and on and on. I will be seeing the movie again with the family. Then I can try once again to see if what I was observing was correct.
The Resolution
Without giving away the ending to the movie, although you can probably see where things are headed, I think that things wrapped up quite nicely. It was certainly a Winnie the Pooh type of resolution. Something simple, profound and looked at from a different point of view. If you have found yourself focused so much on work and responsibilities I think you owe it to yourself to take the time to see this movie with your family. Will it change your life? Maybe. Will it make you think a bit more about the importance of playing? Possibly. I know it will certainly be entertaining and anyone who is a Winnie the Pooh fan will be happy at how he is represented in this movie. So much care was done to make Pooh look and feel real. You will forget that he is stuffed bear and believe that he is actually walking and talking.
Take your family to see this movie. Take the time just to be with them.
That was my takeaway from this movie. Spend time with your family. Refocus the lens to what is truly important in life and that is the people and friendships that you have.
Please take the time to visit my fellow bloggers and see what they have to say about Christopher Robin.
You can follow everyone on Twitter on my #ChristopherRobinEvent Twitter List.
Christopher Robin is in theaters Now. You can view the adorable trailer below.
CHRISTOPHER ROBIN (Release Date 8/3/18)
Copyright (c) 2020 BenSpark Family Adventures