Doing Nothing Often Leads to the Very Best Something. – Christopher Robin
On Monday night I had the pleasure and good fortune to attend the Christopher Robin Movie Premiere on the Walt Disney Studios lot. I was a guest if Disney and one of 25 bloggers chosen to attend. My flight, hotel and food was courtesy of Disney. I also received some promotional items as part of the event. Opions, as always are my own. I also have affiliate links to Amazon.com for part of my red carpet ensemble.
I have only been to one previous red carpet in my life and well, that is a once in a lifetime event. I am so grateful to be able to experience a second one. However, this was much different than the Thor: Ragnarok Premiere, my previous red Carpet experience. While that one was filled with flash, nerves and excitement, this was rather… subdued.
And… I wouldn't have changed a thing!
While Thor: Ragnarok was like going to a rock concert, Christopher Robin was like a pleasant holiday. Like going on a picnic or relaxing at the beach.
Doing some Disney Bounding.
For Thor: Ragnarok I wore a green shirt with tribal markings on the shoulder to represent the Hulk and also Hela. This time I decided to Disney Bound as Winnie the Pooh. I went to Amazon and I bought a yellow shirt that had a red accent/double collar and square buttons. I also got yellow slip on sneakers and picked out no-tie laces in red to complete the look. I didn't turn a lot of heads but Minnie Mouse noticed the shoes and gave her approval.
When we arrived on the lot and entered the event there was a quaint little cart with samples of several sticks of honey to try. I chose buckwheat honey and it was super dark and tasty.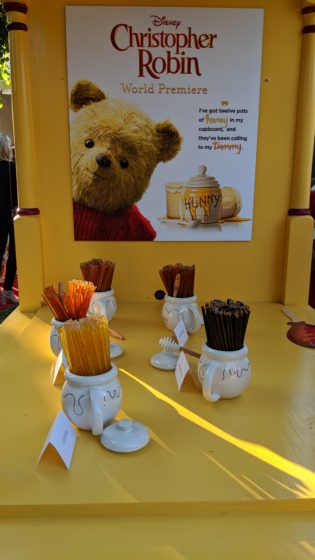 Each set of samples were in little Christopher Robin themed honey pots with honey scoops, dollopers? I don't know what they are called but they help you scoop honey. I made my way from there to a spot set to look like the beach where we could take photos with the residents of the Hundred Acre Wood.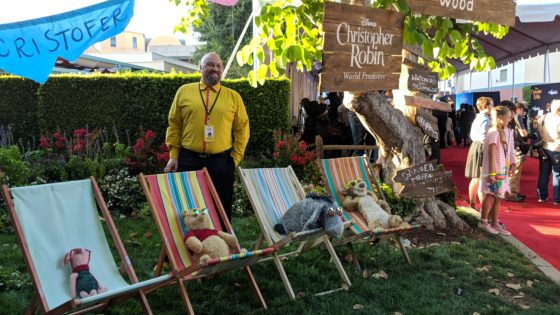 I made sure to get photos all over the place. To the right in the photo above you can see the red carpet. This time there really weren't a ton of security people and handlers and multiple corrals, instead we could walk down the red carpet and take our own photos of ourselves.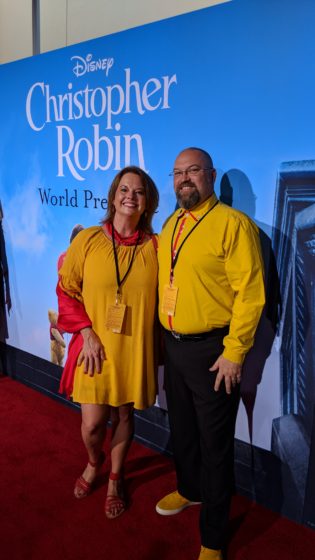 I made sure that I got a photo with my friend Becca from My Crazy Good Life. She and her friends went as the main five Hundred Acre Wood characters. She was Pooh, obviously, and we matched so well.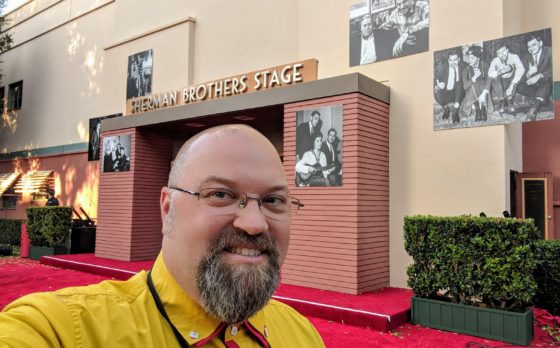 That day a sound stage was dedicated to the Sherman Brothers who were famous for writing so many of the songs for Disney movies over the years. Richard Sherman, ninety years-old, was there for the dedication. He also wrote three new songs for the Christopher Robin movie.
I made my way inside the commissary where there were delicious treats like cookies shaped like honey pots, Mickey Ice cream bars and Fish & Chips. I even tried a drink called the Smackerel.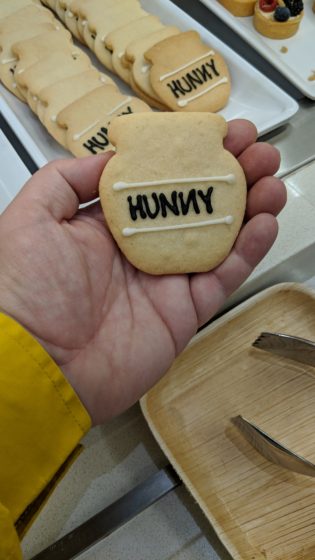 "HUNNY" Sugar Cookies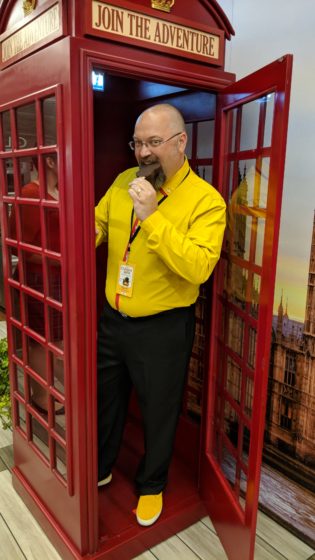 If there is a Mickey Bar anywhere in the vicinity, I'm gonna have one.
The Smackerel. I wanted to try it even though I hardly ever drink… like maybe yearly. I had two sips.
I also wandered around and saw folks like Richard Sherman, John Stamos and Jason Schwartzman, who played Richard Sherman in Saving Mr. Banks. There was even a couple dancing to a band and a little girl with a stuffed Pooh Bear for atmosphere.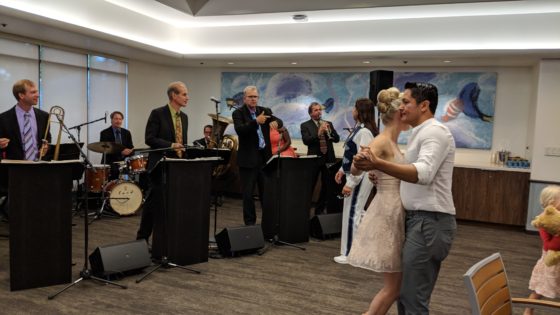 I did not talk to John or Richard, however I joked with Jason. I didn't realize who he was, and I gave him some good ribbing. Wish I had made the connection earlier. However, I'm not much for going for the celebrity selfie. Although, if you keep reading you will disagree.
I kept wandering and took some more photos at the several photo spots like..
A picnic table set with honey pots.
Lounging with Piglet, Winnie the Pooh, Eeyore and Tigger.
I also went into the Studio Lab and learned about some new technology that Disney is creating like thin TV displays to put new dynamic movie posters, augmented reality items that combine real world and virtual decorations. There was also an augmented reality photo shoot with Winnie the Pooh.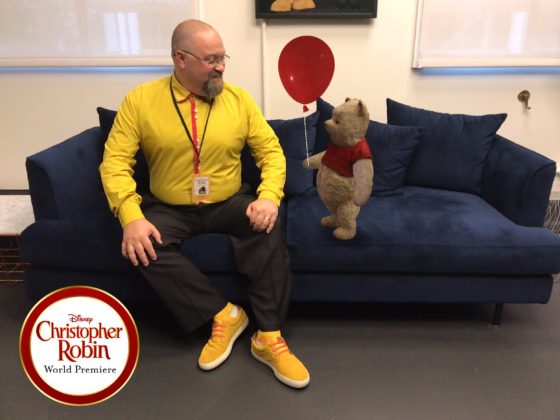 Then it came time for the movie itself. I turned in my phone, grabbed popcorn and water and found my seat. I was in the front row. There was no opening intro of the movie's stars like they did with Thor: Ragnarok. No this was a more subtle affair. The movie just began. It spoke for itself. I'll have a full review up on Friday and you can read all about it then. Or, at least I hope you do.
After the movie ended I spotted Brad Garrett. He's so tall that I spotted him immediately. I have always enjoyed his work and I wanted to tell him. However, there were so many people around him that I did not want to add to the movie. I went and got my phone instead. I turned around and Brad was exiting the theater. I went up to him and shook his hand and told him that I enjoyed his work. He was very gracious.
I then noticed a girl holding a Winnie the Pooh from the movie. This was one of the actual bears from the movie. I had heard that she was letting people take photos with it so I waited my turn. Who was in front of me but Hayley Atwell who plays Evelyn Robin in the movie. She is also more well known to me as Agent Peggy Carter from Captain America and her show Agent Carter. I fought my nerves and asked her for a photo.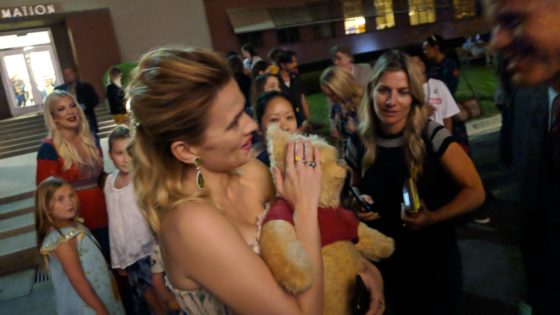 Hayley Atwell with the Winnie the Pooh Bear. Tori Spelling and her family are in the background. I actually took a photo of Tonight and her kids for her, with Pooh. She got it before I could ask for it.
Oh, and Hayley agreed to a selfie with me! My wife saw it and got jealous, so I'm sequestered to the couch for the forseeable future. She lived Agent Carter, too.
It was a fantastic night with so many fun experiences. But, before the night was over I had to get one more celebrity selfie.
Make sure that you read about all the other #ChristopherRobinEvent bloggers and their red carpet experiences.
You can follow everyone on Twitter on my #ChristopherRobinEvent Twitter List.
Christopher Robin is in theaters this Friday August 3rd. You can view the adorable trailer below.
CHRISTOPHER ROBIN (Release Date 8/3/18)
Copyright (c) 2020 BenSpark Family Adventures