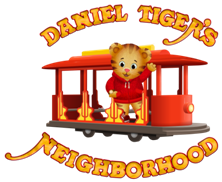 Daniel Tiger is coming to DVD with two DVD compilations including Daniel's Big Feelings and Life's Little Lessons. There are between 8 and 10 11 minute episodes on each DVD. I am excited to receive these DVDs because that means that we can finally start to clear out our Daniel Tiger episodes on the DVR. Daniel has been my son's favorite show ever since it premiered. We have probably watched every single episode twenty times. There was a stint where Andrew would wake up at 3am and we'd be watching Daniel until he fell back asleep or until the rest of the house woke up. I've done marathons of this show daily for weeks.
And the thing is, it is a very good show. Great messages for kids and adults alike. Keep reading for a description of the DVD contents.
"Daniel's Big Feelings" DVD
Episodes on the "Daniel's Big Feelings" DVD include: "Duckling Goes Home/Daniel Feels Left Out," "Daniel Gets Frustrated/Frustration at School," "Daniel Is Jealous/Jealousy at the Treehouse" and "Someone Else's Feelings/Empathy at School." The DVD also includes two bonus stories: "Daniel Gets Mad" and "Katerina Gets Mad."
"Life's Little Lessons" DVD
Episodes on this DVD include: "Prince Wednesday Goes to the Potty/Daniel Goes to the Potty," "Daniel Visits School/Daniel Visits the Doctor," "Daniel Shares His Tigertastic Car/Katerina Shares Her Tutu" and "Good Morning Daniel/Good Night Daniel."
About The Fred Rogers Company
The company was founded by Fred Rogers in 1971 as the non-profit producer of Mister Rogers' Neighborhood for PBS. In the years that followed, it not only created hundreds of episodes of this much-loved program, but also extended Fred's values and approach to other efforts in promoting children's social, emotional and behavioral health and supporting parents, caregivers, teachers and other professionals in their work with children. The Fred Rogers Company continues to build on Fred's legacy in innovative ways through a wide variety of media, and engaging new generations of children and families with his timeless wisdom. For more information, visit us at www.fredrogers.org.
About Out of the Blue Enterprises
Out of the Blue Enterprises is a leader in children's educational media, with a portfolio of breakthrough, interactive and curriculum-based entertainment concepts that span a variety of viable platforms, including television, video, mobile apps and consumer products. Out of the Blue creates and produces Super WHY, the hit Emmy-nominated literacy series on PBS KIDS; Daniel Tiger's Neighborhood, the ratings-winning animated series inspired by Mister Rogers' Neighborhood; and Nickelodeon's Blue's Room, and handles all licensing and merchandising activity for Super WHY and Daniel Tiger's Neighborhood. The company also develops top-rated mobile educational game apps, including Super WHY, Chuggington: Terrific Trainee and Colorforms: Revolution. Led by co-founders Angela C. Santomero, creator of the hit preschool entertainment franchise Blue's Clues, and Samantha Freeman, a former Nickelodeon and toy industry executive, Out of the Blue aims to engage kids and families with age-appropriate, entertaining, and engaging learning experiences. . www.outoftheblueenterprises.com
About PBS KIDS
PBS KIDS, the number one educational media brand for kids, offers all children the opportunity to explore new ideas and new worlds through television, online, mobile and community-based programs. Kidscreen- and Webby-award winning pbskids.org provides engaging interactive content, including the PBS KIDS video player, now offering free streaming video accessible on computer- and mobile-device-based browsers. For more information on specific PBS KIDS content supporting literacy, science, math and more, visit pbs.org/pressroom, or follow PBS KIDS on Twitter and Facebook.
Copyright (c) 2020 BenSpark Family Adventures