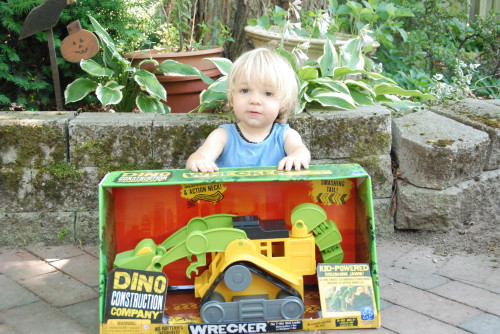 Imagine two powerful things that kids love, construction vehicles and dinosaurs were combined into one all new thing. If that were the case then you would have the Dino Construction Company. We were sent the four vehicles from the series to play with and review. Opinions about them are 100% our own.
Back in February I was at Toy Fair and I saw the prototypes for these toys and fell in love with them. They immediately invoked a feeling of wonder in my five year old self. I knew that I had to try them out.
When I was growing up I played with the Fisher Price Adventure People line of toys as well as Tonka trucks and more. There weren't many toys that had electronics in them when I was a kid and so you had to make your own sound effects and use your imagination to play. The Dino Construction Company toys would have been perfect for me to have adventures with on the beach at my Grandparent's house. I'd be digging holes and making castles and my Adventure People would be able to drive the vehicles around.
Here's what my kids decided to do with the first toy in the series, Wrecker – The T-Rex Skid Loader.
I certainly put my foot in my mouth at the beginning of that video. Saying that this would be a great toy for my son because it combined two things that "boys" like. I sort of forgot that I've been influencing Eva's toy choices ever since she was born and she enjoys dinosaurs and trucks as much as princesses and fairies. My son, however just wanted to stuff big crayons in Wrecker's mouth.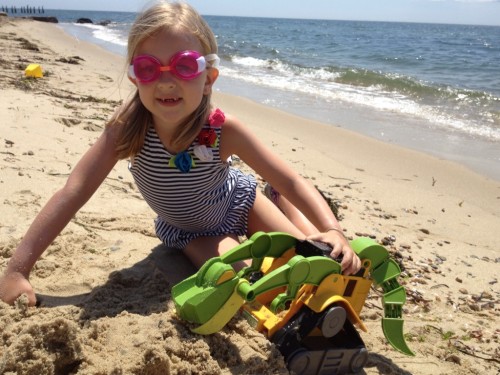 Over at the beach I built a bunch of sand castles so that Eva could tear them down, bite them and trample them. She had a lot of fun swinging the tail and using the jaws of Wrecker to cause havoc. I think that if we were playing with all four of the vehicles we might have been in a building mood and could have constructed a pretty nice castle together.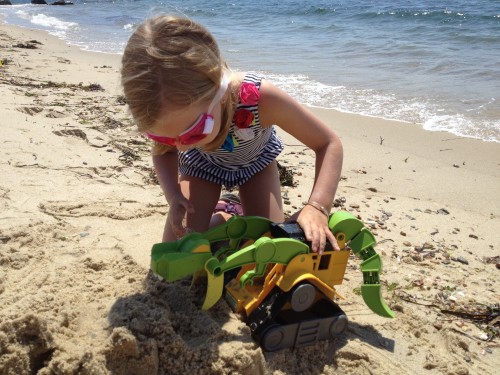 The cab of the vehicle has a seat that is big enough and open enough that you could fit an action figure inside to drive the dino. I haven't experimented with any particular action figures yet but I am approximating that a G.I. Joe character might work pretty well or even some Playmobil figures, although I'd want them to be able to bend their knees. I did find a set of Playmobil construction workers that might be a great accompaniment to this series of vehicles. I just might have to get them and try them out.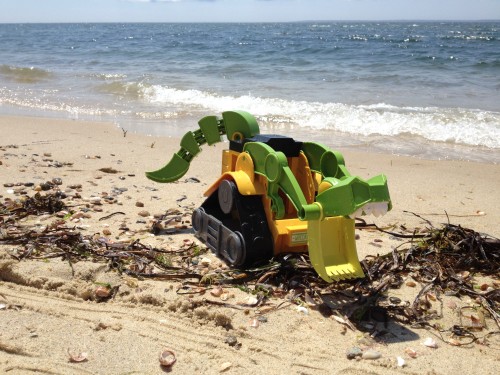 The toy is solidly constructed and made for vigorous play. You are supposed to use this toy in the sand, dirt and water. There are no stickers that will come off, in fact the nameplate on the vehicle is plastic and painted on so it is not going to peel in the water. We had Wrecker in the water in the sand, eating crayons and playing hard. The one thing that I had a bit of a problem with, as I mentioned in the video were the treads, they seem a little thin to me and don't really roll well in sand. They work great on the carpet but not the sand where they are supposed to leave tracks.
I look forward to playing with the rest of the Dinos: Boom, Spike and T-Top and giving you an interesting and informative review of them.
Copyright (c) 2020 BenSpark Family Adventures