I participated in a campaign on behalf of Mom Central Consulting for Discover Boating. I received collateral to facilitate my review and a promotional item as a thank you for participating.
I was selected to be an Ambassador for Discover Boating. This is a nonprofit program that is supported by the U.S. recreational boating industry to encourage and help people to get out on the water and enjoy the excitement of boating. The site is DiscoverBoating.com and it is an online resource for people who are interested in getting their feet wet by boating. I've poked around the site a bit looking at how-to-videos, the boat selector guide and tons more information. The one video that I watched that really stood out to me was Good Run which is a man's reflecting on his life through boating. It is a beautiful video. You can find it on the home page of DiscoverBoating.com. It also shows up as "A Father's Tale Down Memory Lane". The Get of Your Dock guide to boating is a colorful easy to read guide with information from the rules of boating to buying and even naming your boat.
I've personally never owned a boat. I own a kayak and enjoy that very much. I used to go boating as a kid with my grandfather, he had a small boat and lived on a pond. My good friend has a sailboat and I've gone out with him a number of times. I took a boating safety class with my Dad growing up because we bought a tiny sailboat from my friend when he upgraded to a larger boat. We never actually "sailed" that boat but rather used it as a rowboat and dove off the back of it. I've been out sport fishing, sight seeing, white water rafting and on ferries as well. I've always had good experiences with boats and have enjoyed them but never owned one myself. I think it would be fun to own a boat and spend our free time on the water. I know that I'll always remember those times fishing with my grandfather, sailing with my friend and even goofing around on that rowboat.
For me, now, boating is about my kayak and I recently got back into fishing. I have two special mounts on my kayak for camera extenders (XShot). I re-purposed one of the mounts to allow me to put on a fishing rod cradle. Now I can paddle and have a safe place to put my fishing pole while moving from fishing spot to fishing spot. I'm glad to be able to get back out on the water and hope to be able to spent more time out there this year, especially with the family.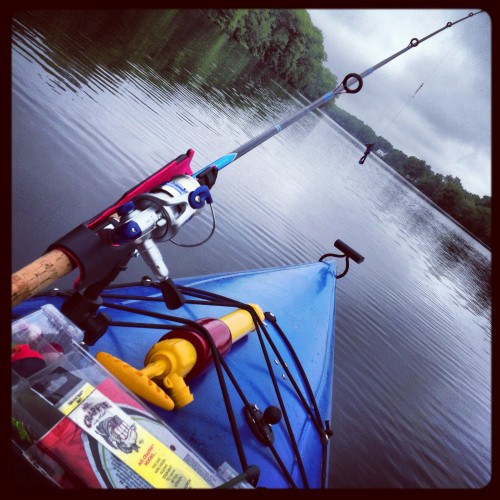 I'll probably look into boat rentals because a boat of our own is just not in the cards at this time. But a day out on the water with the kids would certainly be worth the investment. For the amount of time we actually do get to have free and be on the water renting is the way to go for us. Who knows, we may fall in love with it and make boating part of our overall lifestyle. When you make something part of your lifestyle then you find a way to do what needs to be done to make that happen.
If we were to go and rent a boat I'd first want to read up on the resource from DiscoverBoating.com called Boating & Kids. There are some basic tips, a game and great links to books for kids, organizations for kids on that page. I'd like to see a boating guide for kids from Discover Boating that is more robust. The Get off the Dock guide is great and I think a few more like that would be even better.
This summer I hope to get out more on my kayak. I hope to go on trips with my Dad, my wife and my kids. I even have a friend who does a big kayaking trip each summer called the Roger Williams Paddle. We paddle into the city of Providence through the hurricane barriers and through Waterplace park. I've even paddled undeneath the Providence Place Mall.
Sunday is Father's Day and I know of many kayaking groups that have Father's Day Paddles but also consider something different to do with Dad like renting a boat or taking him out fishing. I have some great photos in my head of boating with my grandfather and a fun video of Dad and I white water rafting. I'm not sure if I actually have any photos of me and Grandpa on his boat or Dad and I on a boat but if you do you can can submit your best boating photos with Dad in our June Facebook Photo Contest! Best photo wins a Visa gift card! Enter here: www.facebook.com/discoverboating.
Will you be boating this year? Tell me about it in the comments below.
Copyright (c) 2020 BenSpark Family Adventures