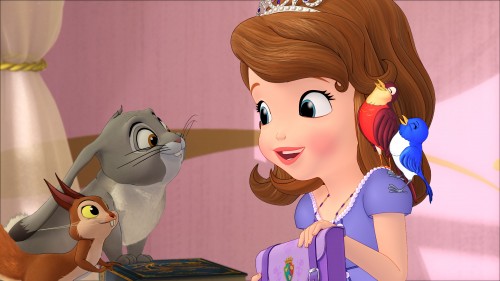 When I showed Eva the trailer for Sofia the First: Once Upon a Princess tonight I watched as her eyes widened in the kind of amazement that only a girl of 5 (almost) going on 15 could have. When the trailer finished she looked at me and said, that is my favorite new show ever! She immediately wanted to watch the trailer again. I don't have the trailer to post but it can be found on the Sofia the First website. Go over to DisneyJunior.com/Sofia so that you can watch it with your little princess.
Sofia is an average little girl who has her whole life turned upside down when her mother marries the King of Enchancia. Sofia becomes a princess, Sofia the first. So, now that she is a princess she must now learn how to act like a princess. She's a charming ernest little girl and she makes friends easily so there are plenty of people on hand to help her navigate this new landscape. She even gets a little advice from the princess of princesses, Cinderella.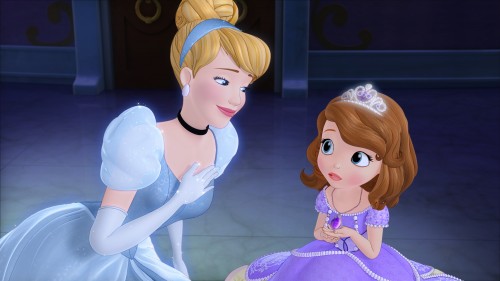 Learning how to behave like a princess is the least of Sofia's challenges. There is an evil sorcerer who is trying to take over the kingdom that she must outwit and she has a jealous step-sister to contend with. Her father gives her a magical amulet that allows her to talk to animals and she befriends a squirrel, rabbit and two birds. At the Royal Prep Academy there are three familiar faces as well, Flora, Fauna and Merryweather, the fairies from Sleeping Beauty. And if that is not enough she's also going to get some advice from Project Runway's Tim Gunn.
From the trailer this looks to be an entertaining movie that will become one of Eva's favorite TV series. And if she wants to stay a little girl princess for a while longer, I'm all for that!
Here's a full Press Release with more details.
DISNEY PRESENTS ITS FIRST LITTLE GIRL PRINCESS
IN "SOFIA THE FIRST: ONCE UPON A PRINCESS," AN ANIMATED TELEVISION MOVIE PREMIERING SUNDAY, NOVEMBER 18 ON DISNEY CHANNEL
Classic Disney Princess Cinderella Makes Special Appearance
All-Star Voice Cast Includes Ariel Winter, Sara Ramirez, Wayne Brady and Tim Gunn
Disney will introduce its first little girl princess with the debut of "Sofia the First: Once Upon A Princess," an enchanting, music-filled animated Disney Junior television movie for the whole family, SUNDAY, NOVEMBER 18 (7:00-8:00 p.m., ET/PT) on Disney Channel and THURSDAY, NOVEMBER 22 (9:00-10:00 a.m., ET/PT) on Disney Junior, the 24-hour channel. A "Sofia the First" television series will premiere in early 2013. The movie and series will roll out internationally through mid-2013 on both Disney Channels and Disney Junior channels.
Set in the storybook world of Enchancia, the movie introduces Sofia, an average girl whose life suddenly transforms when her mother marries the king and she becomes a princess, Sofia the First. Sofia must learn to navigate the extraordinary life of royalty while holding on to her own hopes and dreams. Her journey to being the best she can be also paves the way for those around her to realize how special they each are. Disney's Cinderella makes an appearance in the movie to offer Sofia some words of wisdom – princess to princess.
Sofia's royal adventure begins as she prepares to move into the castle with her mom, starting a new family with her step-father, King Roland II, and step-siblings, Amber and James. Helping Sofia in her journey are the three headmistresses of Royal Prep Academy – Fauna, Flora and Merryweather (the beloved fairies seen in Disney's classic "Sleeping Beauty") and royal steward, Baileywick, as well as a group of cute woodland creatures led by a wise-talking rabbit, Clover. Sofia soon discovers that looking like a princess isn't all that difficult, but displaying honesty, loyalty, courage, independence, compassion and grace is what makes one truly royal.
Created for kids age 2-7 and their families, the stories of "Sofia the First" communicate positive messages and life lessons that are applicable to young children. While she lives in a captivating world of castles, wizards and flying horses, Sofia remains a relatable peer-to-peer princess who is experiencing many of the same social situations as young viewers at home including learning how to fit in, making new friends and mastering new skills.
Events across multiple platforms will mark the debut of "Sofia the First: Once Upon A Princess" beginning Wednesday September 19 with the launch of the DisneyJunior.com/Sofia website featuring an introductory character gallery. On Friday, November 2, the site will expand to include a fully immersive experience where kids can create and personalize their own prince or princess avatars. A digital EP featuring five songs from the movie will be available on iTunes and other online retailers beginning Tuesday, November 13. A live simulcast on WATCH Disney Channel and mobile VOD for AT&T and Sprint customers will be presented in conjunction with the movie premiere on Sunday, November 18. The movie will also be available the following day on WATCH Disney Junior, Disney Junior On Demand and DisneyJunior.com.
"Sofia the First: Once Upon A Princess" stars the voices of Ariel Winter ("Modern Family") as Sofia; Sara Ramirez ("Grey's Anatomy") as Queen Miranda; Wayne Brady ("Let's Make A Deal") as Clover; Tim Gunn ("Project Runway") as Baileywick; Darcy Rose Byrnes ("Desperate Housewives") as Amber; Zach Callison ("Land of the Lost") as James; Travis Willingham ("Ultimate Spider-Man") as King Roland II; Jess Harnell ("Doc McStuffins") as Cedric; Ashley Eckstein ("Star Wars: The Clone Wars") as Mia the Bluebird and Meghan Strange ("Special Agent Oso") as Robin. Disney Legend Russi Taylor (Minnie Mouse), Barbara Dirickson and Tress MacNeille (Daisy Duck), bring Fauna, Flora and Merryweather, respectively, to life. Jennifer Hale provides the voice of Cinderella.
Craig Gerber ("Pixie Hollow Games") developed the movie and serves as co-executive producer and story editor. Jamie Mitchell ("Special Agent Oso") is executive producer and director. John Kavanaugh ("Winnie The Pooh: Springtime with Roo") serves as songwriter/music director and Kevin Kliesch ("Tangled Ever After") is the composer. "Sofia the First: Once Upon A Princess" is a production of Disney Television Animation.
Disney Junior reflects the emotional connection generations of consumers have to Disney storytelling and Disney characters, both classic and contemporary. It invites mom and dad to join their child in the Disney experience of magical, musical and heartfelt stories and characters, while incorporating specific learning and development themes designed for kids age 2-7. Disney Junior's series blend Disney's unparalleled storytelling and characters kids love deeply with learning, including early math, language skills, healthy eating and lifestyles, and social skills. Disney Junior launched in February 2011 with a daily programming block on Disney Channel. In its first year, Disney Junior posted the network's biggest yearly audience in the daypart in Total Viewers, Kids 2-5, Boys 2-5 and Women 18-49, increasing by double-digit margins among preschooler demographics over year-ago levels. On March 23, 2012 Disney Junior added a cable and satellite channel in the U.S. bringing the total number of channels to 30 worldwide.
Copyright (c) 2020 BenSpark Family Adventures