All over the Internet, when I surf other blogs, people are talking about how they lost their page rank. Heck I got slammed too on 4 blogs, some multiple times. I was so annoyed at Big G that I went and bought a domain called googleisnotgod.com, it is true.
My readers have actually increased and the comments here on this blog have been awesome. I'm more popular than ever. I post fresh original content every day. So why did I get slammed? Well there are many reasons. So what can I do?
As Donnie Brasco says, "Fugeddahhboutit!"
The real deal out there is what is called a Real Rank from IZEA. Real Rank looks at your actual traffic and visitors as well as your sphere of influence. A small bit of javascript is placed on your blog so that the data can be gathered. You might know that IZEA owns PayPerPost and many blogs that posted for PayPerPost were smacked around by the Internet's big G (not the real big G because remember googleisnotgod.com). Anyway the javascript code is separate from that of PayPerPost so you do not have to join up with PayPerPost to get the benefits of this ranking system. But if you were so inclined to sign up please click the PPP button in my footer.
Signing up for your Real Rank is easy. Just head over to IZEARanks.com and start the sign up process. I'll walk you through it. It is simple.
Step 1. – Go to IZEARanks.com and click Sign Up.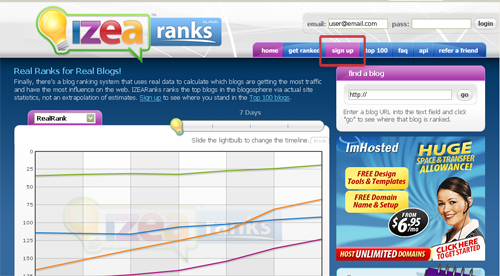 Step 2. – On the sign up page fill in the required fields and submit. Heh, one of the challenge questions is a word problem involving some 20 toys on Ted's desk. He's never seen mine, my desk looks like a toystore man. But I digress.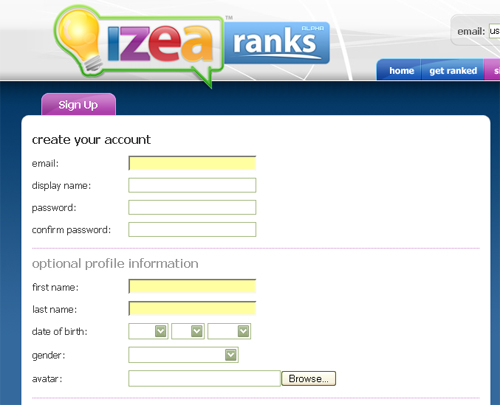 Step 3. – Once you have signed up you will get a confirmation e-mail and then you need to add code to your blog. First you add the IZEA Tool Kit and then you add code to verify ownership of your blog. Then you will go to your account page.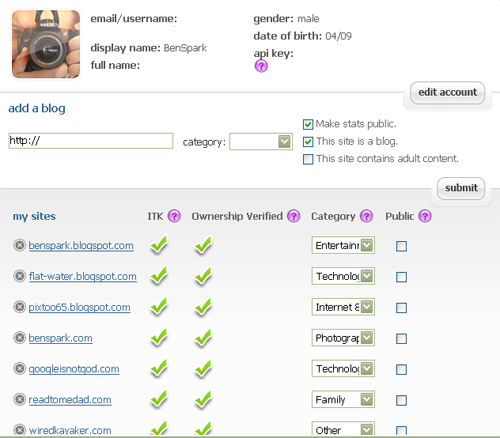 On this page you will see the information that you entered and the listing of all of your blogs. I have seven and one got cut off the screenshot. You even get your own API key so if you are a coder you can make your own mashups for thinks like displaying your Real Rank on your blog. You might have noticed but I removed some information but I left up my birthday, (in case anyone wanted to know when it was.)
Once your blog has been verified and the toolkit installed data will begin being captured based on your real traffic and real visitors. You can check back each day to see what your rank is, what your weekly average is and you can also view a graph of your blog compared to any other blog in the IZEARanks system. You can actually compare up to 10 blogs on the same graph.
Here is a graph of my IZEARank for this blog for the past 7 days.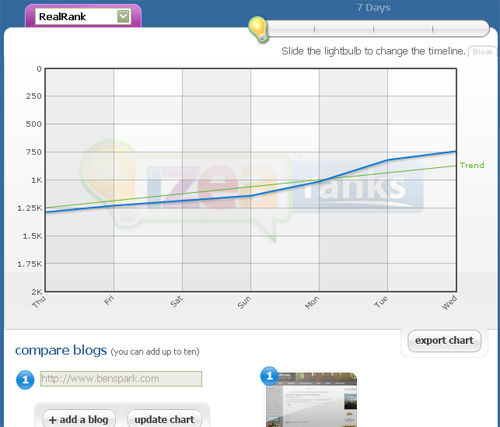 Things are headed in the right direction for this blog. Must be the guest blogger stuff I am doing.
Now here is a graph of all 7 of my blogs for the past month.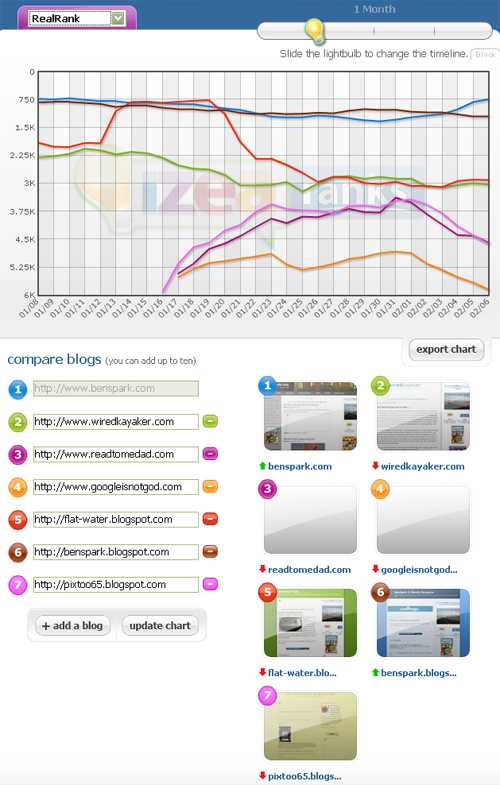 Looks like I have to get some focus on those other blogs. They are lagging big time except for a huge spike from Flatwater Tech. I mentioned Robert Scoble in a post and he picked up the story and linked to me. So the 'Scoble Effect' sent that blog soaring, I should have posted about that on this blog. Oh well, live and learn.
In all I think the IZEARanks are a great thing. Each day more work is being done to the site and the service. I like the visual graphs of my data and the ability to see and display my rank for and on my blogs. I would like a better way to see the ranks of all of my own blogs at once rather than having to type each one in and I would also like to see more information about my visitors. The site is still evolving and I know that it will only get better. Even though this Internet world is a flash in the pan here today gone tomorrow kind of world I still have a buy and hold investor's mentality and I am in it for the long haul with IZEA and their latest service of IZEARanks.com. Sign up today.
If your blog has the #1 RealRank each week in February you could win $1000.00. That is certainly worth signing up to see how you stack up.
Copyright (c) 2020 BenSpark Family Adventures