I'll be Poken with my new Poken courtesy of my newest Ultimate IZEAFest Prize Pack sponsor – PokenGirl! I put out a message on twitter the other day asking people what they thought of pokens. The call was answered by a few people but PokenGirl stepped up and became an Ultimate IZEAFest 2009 Sponsor. She is going to supply me with 4 Pokens. 1 for each of the Contest winners and 1 for me. I stepped up and became an affiliate for her Poken Site.
I can tell that this is going to be a great relationship. PokenGirl is so enthusiastic and has some great ideas. I can't wait to share my new Dragon Poken with everyone! I'll be high 4ing all over the place. I asked Allison which Poken I should get, Dragon or Ninja. She looked at me like "Dude, you are a sci-fi / fantasy nerd, um Dragon, duh" She is very expressive with her face.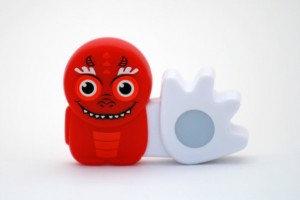 So this is what I'll be getting as soon as I am back from Affiliate Summit East. And check out what the description of the Dragon is. "The Dragon is self-assured, gifted and a natural leader. This guy is full of energy!" That is me to a T. Again I waited to long to ask a question that provided me with a contact and another sponsor. Ask people, ask on Twitter, there are great people like PokenGirl out there who you can help and who can help you.
But what is a poken? PokenGirl states
"Pokens are the latest and best way to connect with people when you're grabbing a coffee, on campus or at a business event! It's never been easier to add friends into your world; forget scrambling for a pen and a scrap of paper or collecting business cards. Poken makes sure you never lose an opportunity to link up – and stay linked up – with those you need to know.
It's super easy to Poken. Like 1-2-3. First, chose the Poken that's most like you. Activate, and create your contact card on DoYouPoken.com. Meet new friends and get your Pokens to High Four and, zip, you've grabbed a new set of contact card vitals. Connect the Poken USB to an Internet-ready computer and watch your network grow."
Want your own Poken and want to High 4 with me at IZEAFest then pop over to PokenGirl and pick one up, they are only $19.95 each. The cost is low but the benefits are priceless. Do you Poken?
Copyright (c) 2020 BenSpark Family Adventures