Photo-A-Day #2609
Today I went to Casey's Diner in Natick to help my buddy Rob Merlino, The Hot Dog Man, create a documentary. Rob wrote up a great post over on The Hot Dog Truck. A very eloquent write up from someone who has loved Casey's Diner from childhood. I just learned about Casey's this year and it is a place that you can truly love. It is a no frills diner with solid people doing solid work.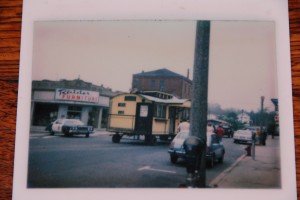 Moving Casey's to its current location.
We got there at 9am and spent some time filming and talking with Fred Casey. He's the third generation Casey to own the diner. He works there every day starting at 4:30am to prep for the day and he does it 7 days a week. Fred shared some great stories about the place and also the state of the small business. Pat Casey, Fred's son and a fourth generation Casey who works at the diner slinging dogs exchanging colorful commentary with the patrons. He's got some great one liners like "You can't fly on only one wing." That was with regards to me eating only one dog "All Around".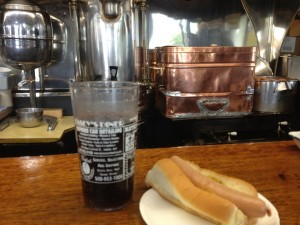 One Hot Dog All Around. Mustard, Relish and Onions, I add Celery Salt to it too.
Casey's Diner is a ten seater Worcester Dining Car and has heaps of character. I set up my camera to film Fred while Rob interviewed him. I also took a bunch of photos with my Nikon. I have not used that in a long time. I shot a bunch of old photos plus interior and exterior shots of Casey's.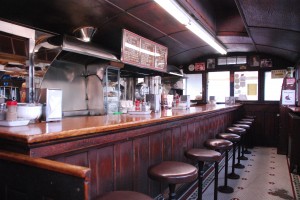 The Interior of Casey's Diner Natick, MA.
There was also a cast of colorful characters who hang at Casey's each morning. The banter was quick and fun. There was a guy there who we talked to and filmed a bit of, he was very funny but we can't use the footage. Maybe on YouTube but I'm pretty sure that footage is staying put. I Did a great action shot of him singing the Natick High Fight Song. He was a hoot.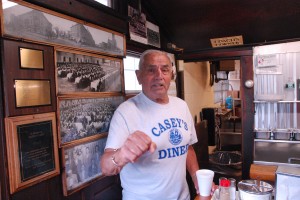 The Natick Fight Song
The footage we shot today is not going online as of yet. We are working on a documentary of Casey's and there are more segments to film outside of the building itself. Casey's been around for 122 years in the same family and many people have memories of Casey's especially if you mention Natick. So while National Hot Dog Month kicks off in July we'll be talking to many people at many hot dog joints and almost every time we find a person who has a tie to Casey's. Casey's will also be where we end National Hot Dog Month. It will be like coming home.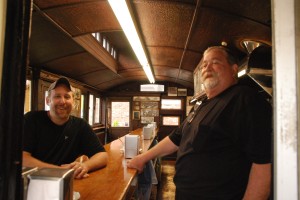 Welcome Home to Casey's from Pat and Fred Casey
Speaking of National Hot Dog Month Rob and I are trying to raise some money to help offset the gas that it will take to drive all over New England. So if you would, please help fund National Hot Dog Month. We'll be going to a bunch of great places throughout the month, making videos at each place and then creating a movie, book and the Casey's documentary. All that takes some money and we need help. There are fantastic incentives like a copy of the movie, a copy of the book and more. No amount is too small or too large. Please help. Thank you.
Copyright (c) 2020 BenSpark Family Adventures