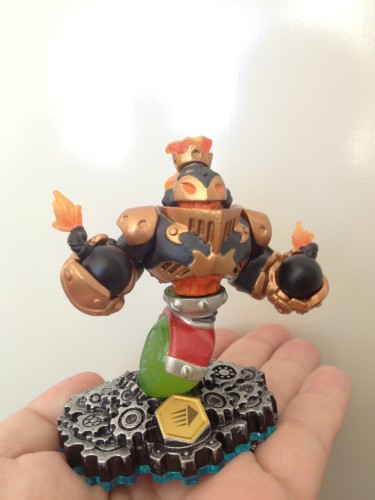 Want to win your own copy of one of the most highly anticipated games of 2013? Skylanders Swap Force is being released on October 13 however you can win a copy of the game all through the month of October, or rather Swaptober. You have a chance to win every day by tweeting to the @SkylandersGame twitter handle your favorite catch phrase of a swapped character. So you create the character by swapping them together like Blast Charge above. Then you come up with a catch phrase for that character and tweet it to @SkylandersGame with the hashtags #Skylanders and #Swaptober and you may be lucky enough to win one of the Starter packs that are up for grabs. You can read the full press release below because there are other fun things happening.
FOR IMMEDIATE RELEASE
"SWAPTOBER" KICKS INTO GEAR IN ANTICIPATION OF THE LAUNCH OF SKYLANDERS SWAP FORCE™
Skylanders® takes over Times Square for "SWAPtoberfest" Celebration on October 10
Daily Skylanders SWAP Force Starter Pack Giveaways and Activities Begin October 1 through the end of the month
Santa Monica, Calif. – Sept. 30, 2013 – Activision Publishing, Inc., a wholly owned subsidiary of Activision Blizzard, Inc. (NASDAQ: ATVI), is celebrating the month of "SWAPtober" as the magic of Skylanders SWAP Force sweeps the globe heading into the game's launch on Sunday, SWAPtober 13th and beyond. Lucky Portal Masters will have chances to win copies of the Skylanders SWAP Force game, explore the world of Skylanders in Times Square, and more during the month-long activities.
Kicking off SWAPtober, Activision will be giving away one Skylanders SWAP Force Starter Pack per day from October 1-31 via the official Skylanders Twitter channel (@SkylandersGames). Portal Masters can visit Skylanders.com to mix and match their favorite SWAP ForceTM characters out of the more than 250 possible combinations. Fans can then tweet their favorite SWAP Force character combination along with a suggested catchphrase using the hashtags #SWAPtober and #Skylanders for the chance to win one of the daily Skylanders SWAP Force Starter Pack giveaways, which will be available after the game's launch.
On October 10, Skylanders, one of the world's most successful video game franchises(1), is partnering with Toys"R"Us® to bring Skylands to life with "SWAPtoberfest"—a celebration in Times Square where fans will have the chance to be among the very first to play the game before it's available at retail. SWAPtoberfest will feature Skylanders SWAP Force-themed activities, photos with Skylanders costumed characters as well as chances to win a Skylanders SWAP Force Starter Pack and special Skylanders-themed merchandise from top companies like MEGA Brands, Rubie's Costume Company, Hybrid Apparel and Power A.
On Saturday, October 12 and Sunday, October 13, the Toys"R"Us international flagship store in New York City will celebrate the launch of Skylanders SWAP Force with one-of-a-kind in-store experiences, including game demos and giveaways (while supplies last).
Skylanders SWAP Force was recently named as one of the 2013 Toys"R"Us "Fabulous 15"on the Toys"R"Us Holiday Hot Toy List. The game will be available in North America on Xbox 360™, PlayStation® 3, Nintendo Wii™, Nintendo Wii U™ and Nintendo 3DS™ on October 13; in Australia on October 16; and in Europe on October 18. It also will be available day-and-date with the launch of Xbox One™ and PlayStation® 4.
About the Skylanders Franchise
The award-winning, $1.5 billion Skylanders franchise pioneered the toys-to-life category in 2011 with the debut of Skylanders Spyro's Adventure®. The game originated a new play pattern that seamlessly bridged physical and virtual worlds across multiple platforms and became the top-selling kids' videogame of the year. In October 2012, Skylanders Giants™ further evolved the genre and added the mega-sized Giant Skylanders and LightCore™ characters to the collection of interaction figures. Skylanders Giants was awarded the "e-Connected Toy of the Year" at the 13th Annual Toy of the Year (TOTY) Awards. The next innovation in the franchise Skylanders SWAP Force is being developed by Vicarious Visions, an Activision studio. The game is rated E10+ by the ESRB. For more information, visit www.skylanders.com.
About Activision Publishing, Inc.
Headquartered in Santa Monica, California, Activision Publishing, Inc. is a leading worldwide developer, publisher and distributor of interactive entertainment and leisure products.
Activision maintains operations in the U.S., Canada, Brazil, Mexico, the United Kingdom, France, Germany, Ireland, Italy, Sweden, Spain, Denmark, the Netherlands, Australia, Singapore, mainland China, Hong Kong and the region of Taiwan. More information about Activision and its products can be found on the company's website, www.activision.com.
Cautionary Note Regarding Forward-looking Statements: Information in this press release that involves Activision Publishing's expectations, plans, intentions or strategies regarding the future, including statements about the expected release date of SKYLANDERS SWAP FORCE, are forward-looking statements that are not facts and involve a number of risks and uncertainties. Factors that could cause Activision Publishing's actual future results to differ materially from those expressed in the forward-looking statements set forth in this release include unanticipated product delays and other factors identified in the risk factors sections of Activision Blizzard's most recent annual report on Form 10-K and any subsequent quarterly reports on Form 10-Q. The forward-looking statements in this release are based upon information available to Activision Publishing and Activision Blizzard as of the date of this release, and neither Activision Publishing nor Activision Blizzard assumes any obligation to update any such forward-looking statements. Forward-looking statements believed to be true when made may ultimately prove to be incorrect. These statements are not guarantees of the future performance of Activision Publishing or Activision Blizzard and are subject to risks, uncertainties and other factors, some of which are beyond its control and may cause actual results to differ materially from current expectations.
1 Based on revenue, according to The NPD Group, Gfk Media Control® and Activision internal estimates, including toys and accessory packs.
SKYLANDERS, SKYLANDERS SWAP FORCE, SKYLANDERS SPYRO'S ADVENTURE, SKYLANDERS GIANTS, LIGHTCORE and ACTIVISION are trademarks of Activision Publishing, Inc.
Copyright (c) 2020 BenSpark Family Adventures