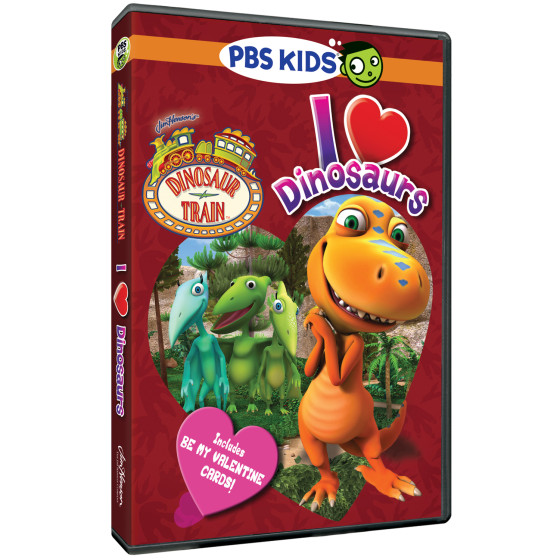 Tomorrow a new DVD will be released for the TV show Dinosaur Train. The show follows the Pteradon family. They travel on a special train that goes from time period to time period to discover the world around them and meet various dinosaur species. In this new DVD there were some episodes that had a little bit of love for the theme. In one Mr. Conductor finds a special friend in Erma Eoraptor and in another King Cryolophosarus wants to become friends with Crystal.
The kids help and hinder their friends in these endeavors. In the case of Mr. Conductor there are just too many people and too much to do that it prevents Mr. Conductor from being able to spend some time with his friend Erma. With the King the kids, Tiny and Buddy recognize that the King needs help and they help him out. Here's a clip from the DVD and a Press Release below.
Title: DINOSAUR TRAIN: I LOVE DINOSAURS
Street Date: January 14, 2014
DVD: Featuring four outstanding adventures and two Be My Valentine Cards, "Dinosaur Train: I Love Dinosaurs" makes for an outstanding Valentine's Day treat! Two of the stories included on this DVD are "King Meets Crystal" and "Erma and the Conductor." In "King Meets Crystal," King Cryolophosaurus is interested in becoming friends with Crystal, but he gets nervous when trying to talk to her. Tiny and Buddy help King overcome his nervousness. In "Erma and the Conductor," the Pteranodon family is on the Dinosaur Train headed to the Big Pond to watch a meteor shower! Mr. Conductor stops to pick up Erma Eoraptor, his best friend. At the Big Pond, the Conductor and Erma are interrupted a few times while trying to be alone, but soon find the perfect spot back on the Train. More than 10.8M households tune in to watch "DINOSAUR TRAIN" on PBS Kids each month!* "DINOSAUR TRAIN" is produced by The Jim Henson Company.
Series Information: A popular PBS KIDS series "DINOSAUR TRAIN" embraces and celebrates the fascination that preschoolers have with both dinosaurs and trains, while encouraging basic scientific thinking skills. Buddy and his adoptive family of Pteranodons go on whimsical adventures through prehistoric jungles, swamps, volcanoes and oceans as they unearth basic concepts in natural science, natural history and paleontology. The Dinosaur Train is a colorful locomotive, customized to accommodate all kinds of dinosaurs and has the ability to visit the Triassic, Jurassic and Cretaceous worlds. The Train's Conductor, a knowledgeable Troodon, provides passengers with fascinating facts along the way.
Bonus Features: Includes two Be My Valentine Cards
Runtime: Approx. 50 minutes
Copyright (c) 2020 BenSpark Family Adventures