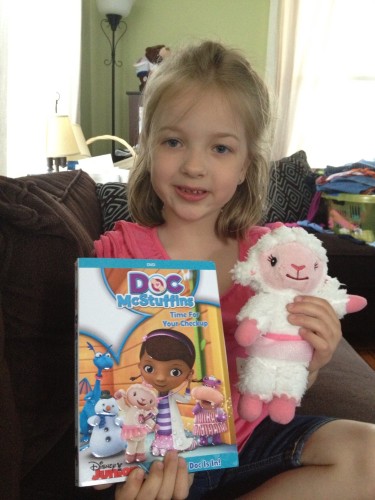 Ever since Doc McStuffins started airing on Disney Jr. she has been a huge hit in our house. Eva has pretended to be doc and has even created her own big book of boo boos. She also bought that Lambie toy that she is holding in the photo with her own money. We were given a copy of the latest compilation DVD of Doc's adventures to watch and review, opinions as always are 100% our own. The DVD that is being released May 7 is titled Doc McStuffins: Time for Your Check Up It consists of five episodes which as you know contains two stories in each episode. I like that because we can watch half an episode if we have a fifteen minute chunk of time or a whole episode if we have a half hour.
We were watching the DVD this morning and it was getting close to the time where Eva had to get ready for school. I said that she could watch one more story from the DVD and then go get ready. That 15 minute episode does make for a quicker turnaround when it comes to our morning routine.
We like the Doc because she is a positive role model for kids. She is kind, compassionate and caring. she is also a smart character. She thinks things through and gets to the root of the problem for a positive outcome for all involved. She keeps a clear head when those around her are losing theirs, most notably is Chilly the Stuffed Snowman, voiced by the awesome Jess Harnell, who is a bit of a hypochondriac.
Doc teaches life lessons and learns from her mother and father. Her mother is also a doctor but instead of a toy doctor she is a doctor of people. So you can see how Doc has modeled her imaginative play after her mother. Although in the case of this show the Doc really can speak to her toys and help them out. It is a fun cute show and the DVD is a nice addition to the collection. Here are some clips and additional info on the DVD.
Clip: Gabby the Giraffe
Clip: Key Change
FOR IMMEDIATE RELEASE
"DOC MCSTUFFINS: TIME FOR YOUR CHECK UP" Arrives on DVD – May 7, 2013
Synopsis:
"Doc McStuffins: Time for Your Check Up!," the second DVD compilation for Disney Junior's hit animated TV series "Doc McStuffins," will debut May 7, 2013. A must-add to the family viewing collection, the DVD comes packaged with 5 fun-filled episodes and a FREE growth chart.
2012's #1 cable TV series in Kids 2-5, "Doc McStuffins" tells the story of a nurturing six-year-old girl who heals stuffed animals and broken toys out of her backyard playhouse clinic. Assisting Doc at the clinic are her trusty team of lovable stuffed animals including: Stuffy, an overly proud dragon; Lambie, her cuddly best friend lamb; Hallie, a jolly and caring hippo nurse; and Chilly, a snowman who spends a lot of time getting check-ups at the clinic. Whether it's a case of loose stitching, low batteries or a blow-up toy who has sprung a leak, Doc and her pals are always there to lend a helping hand, while imparting to young viewers the importance of taking care of oneself and others.
Talent:
Kiara Muhammad (as Doc McStuffins); Loretta Devine (as Hallie); Lara Jill Miller (as Lambie); Robbie Rist (as Stuffy); Jess Harnell (as Chilly); Jaden Betts (as Donny McStuffins); Kimberly Brooks (as Mom McStuffins); and Gary Anthony Williams (as Dad McStuffins)
Creator/Executive Producer:
Chris Nee
Episodes:
1 – Gulpy, Gulpy Gators! / One Note Wonder
2 – Tea Party Tantrum / Blast Off!
3 – Arcade Escapade / Starry, Starry Night
4 – Bronto Boo-Boos / Brontosaurus Breath
5 – Doctoring The Doc / Hot Pursuit
Copyright (c) 2020 BenSpark Family Adventures