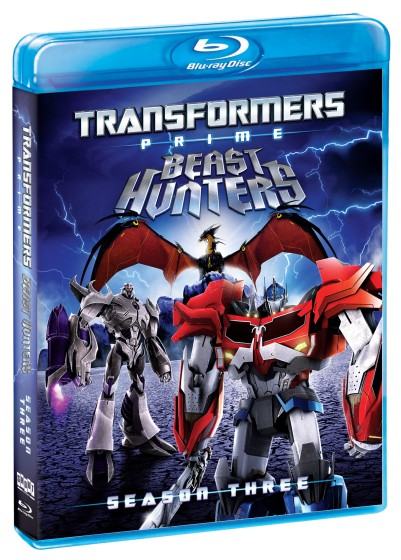 I received a copy of the season 3 Blu-ray for Transformers Prime: Beast Hunters. The final 13 episodes of my most favorite Transformers series ever. Opinions of the Blu-ray are based upon my personal viewing and bias to Transformers as I've been collecting them for 10 years. They are 100% my own.
My collection of Transformers Prime Blu-rays is complete. I now have the (short) Season 3 Blu-ray set that collects all of the third season plus some fun extras like the Hasbro Studios panel at San Diego Comic Con as well as more commentary from the show's actors and creators, writers and producers. I haven't been able to go through the whole series yet on the Blu-ray but I did watch every episode as it came out on The Hub.
I was disappointed to get a shortened season and I think that there could have been much more to add to the series but I'm greedy in that way because this was the very best Transformers series I have ever seen. And being a fan from 1984 that is saying something. It was a perfect blend of keeping true to the original G1 series and then incorporating all those series that came after it including the movies.
One thing that carried over from the movies was Bumblebee's inability to speak. That irked me but I was finally rewarded with the best possible voice for Bumblebee in Will Friedle. When Bumblebee speaks for the very first time in this series it has such a weight behind it. I cried a little, I was tired. Bumblebee was that kind of character who in G1 was the one who meshed best with the humans. Being unable to speak, though, did not mean that he could not communicate. The relationship with Raf was an important one and when Bumblebee speaks to Raf for the first time it has such meaning.
This final season saw the Autobots on the run from the Decepticons. Would Optimus Prime die? Would another bot become the Prime? Would they find each other and defeat the Decepticons? So many questions and on top of that some new major threats in the form of Predaking and Shockwave.
"PREDACON DRAGON"
The Autobots were not without additional help. Ultra Magnus arrives on Earth like the Calvary. He doesn't gel with the team initially. His arrival on Earth reveals more about The Wreckers and his relationship with Wheeljack and more so why Wheeljack left and struck out on his own. Will they work together and become the team that they need to be in order to survive?
"AUTOBOTS vs PREDACON DRAGON"
THIS HOLIDAY SEASON, BRING HOME THE PERFECT GIFT FOR THE ULTIMATE TRANSFORMERS PRIME FAN AND COMPLETE THEIR HOME ENTERTAINMENT COLLECTION!
TRANSFORMERS PRIME: SEASON THREE – BEAST HUNTERS
Third and Final Season of Emmy® Award-Winning Series of TRANSFORMERS PRIME Debuts on Breathtaking 2-Disc Blu-ray Collection and Deluxe 2-DVD Set
SPECTACULAR FAMILY ENTERTAINMENT LANDS IN STORES EVERYWHERE ON DECEMBER 3, 2013 FROM SHOUT! FACTORY
Los Angeles, California – September 24, 2013 – The perfect gift for families, kids and fans of TRANSFORMERS PRIME arrives in stores everywhere just in time for this holiday season! On December 3, 2013, the highly anticipated TRANSFORMERS PRIME: SEASON THREE – BEAST HUNTERS, the complete third and final season of Hasbro Studios' Emmy® Award-winning series, debuts on a special 2-Disc Blu-ray™ collection and a collectible 2-DVD set from Shout! Factory, in collaboration with Hasbro Studios.
Pre-order link:
Blu-ray – Transformers Prime: Season Three [Blu-ray]
DVD – Transformers: Prime – Season Three [DVD]
TRANSFORMERS PRIME: SEASON THREE – BEAST HUNTERS contains all 13 exciting episodes in perfect high-definition picture and purest digital sound available. Special bonus content highlights include TRANSFORMERS PRIME panel from San Diego Comic-Con 2013 and more! Brimming with captivating storyline packed with unforgettable characters and visually stunning CG animation, Season Three delivers entertaining adventures that the whole family will enjoy!
Viewers will see OPTIMUS PRIME and his team face their greatest challenge yet in a new foe dedicated to the destruction of the AUTOBOTS — and potentially, planet Earth. This is an essential collection for every fan, collectors and entire family to complete their TRANSFORMERS PRIME home entertainment library. The 2-Disc Blu-ray collection is priced to own at $24.97. The deluxe 2-DVD set is sold separately and has a suggested retail price of $19.93.
Synopsis
The epic battle with DECEPTICONS rages on as OPTIMUS PRIME leads his team of AUTOBOTS and three teenagers – Miko, Jack and Raf in a mission to defend earth and one day restore his home planet of CYBERTRON. But DECEPTICONS' power to reign over earth has never been greater. MEGATRON and his DECEPTICONS have destroyed AUTOBOTS' base, scattering OPTIMUS PRIME and his heroic team to the wind and leaving them out of communication with one another.
Meanwhile, SHOCKWAVE has come to the side of his commander, bringing with him the newest DECEPTICON weapon, a brand new faction that could turn the tide of the war in MEGATRON's favor. Can the AUTOBOTS reunite in time to defeat MEGATRON and the DECEPTICONS once and for all? Or does this new weapon mean the end for the AUTOBOTS…and Earth? Find out in the final exciting season of the Emmy® Award-winning series TRANSFORMERS PRIME – BEAST HUNTERS!
Peter Cullen, Frank Welker, Josh Keaton, Jeffrey Combs, Kevin Michael Richardson, Will Friedle Sumalee Montano, Ernie Hudson, Gina Torres, John Noble, George Takei, Markie Post, and Steve Blum lend their voices to this hit series produced by Hasbro Studios. TRANSFORMERS PRIME BEAST HUNTERS is executive produced by Duane Capizzi, Jeff Kline, Alex Kurtzman and Roberto Orci.
TRANSFORMERS PRIME: SEASON THREE – BEAST HUNTERS
Special Bonus Content:
TRANSFORMERS PRIME Panel at San Diego Comic-Con International 2013
Audio Commentary
Copyright (c) 2020 BenSpark Family Adventures