Photo-A-Day #2745
Today, Eva and I had the opportunity to go to see an advanced screening of the upcoming Disney Fairies direct to Blu-ray movie Tinker Bell and the Secret of the Wings. We got a quick invite to the movie and we jumped at the chance to see it. We've seen every Tinker Bell movie that has come out. This is the first movie to be released in the franchise in two years and it will be the first one on Blu-ray. The movie will be released on October 23, 2012. This is what Eva thought of the movie.
When we arrived for the screening Eva received a package that contained two zipper pulls, one that was of Tinker Bell and the other of her sister Periwinkle. We got some snacks and took our seats (reserved). Eva was excited, I was excited and the movie started.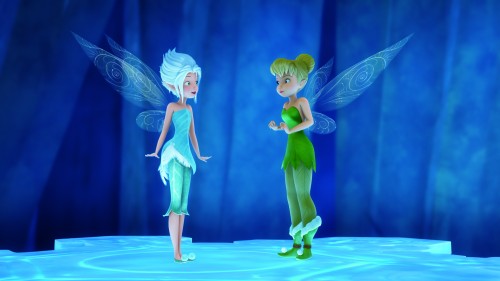 I thought that the movie was very cute. All of Tink's friends from previous movies were there (except Blaze the firefly) but we saw Fairy Mary, Bobble, Clank and even Terrence at one point. Tink's core group of fairy friends were on hand to help and then Periwinkle had a group of friends as well so we got to meet even more fairies. The new fairies were from the Winter Woods, a place forbidden to warm fairies. Tink of course feels compelled to cross the border into the Winter Woods and there she finds her sister Periwinkle. But that is not the complete secret of the wings.
We learn even more mythos surrounding the fairies of Pixie Hollow. This is definitely a nice addition to the set of movies about Tinker Bell and her friends.
About the Film:
Disney presents the first Fairies movie in over two years. Join Tinker Bell and friends on their new adventure into the never-before-seen mysterious Winter Woods, where Tinker Bell finds out that she has a sister and discovers other incredible secrets that will change her life forever.
A magical fairy adventure for the whole family, "Secret of the Wings" features a spectacular voice cast including Academy Award®-Winner Anjelica Huston ("Smash") as Queen Clarion, Timothy Dalton ("Chuck," "The Living Daylights") as Lord Milori, Lucy Liu ("Southland," "Charlie's Angels") as Silvermist, Raven-Symoné ("That's So Raven") as Iridessa, Megan Hilty ("Smash") as Rosetta the Garden Fairy, Pamela Adlon ("Californication") as Vidia, Matt Lanter ("90210") as Sled, Debby Ryan (Disney Channel's "Jessie") as Spike, Mae Whitman ("Parenthood") as Tinker Bell, and introducing the sparkling new winter fairy, Periwinkle, voiced by Lucy Hale (ABC Family's "Pretty Little Liars").
Disclosure: We were provided two tickets to see the movie and Eva received a two pack of Zipper pulls that had Tinker Bell and Periwinkel on them. Opinions about the movie are 100% our own.
Copyright (c) 2020 BenSpark Family Adventures