Photo-A-Day #2484
Earlier this year Eva got a guitar from First Act. She had, had a guitar that her Auntie Tara gave her back when she was 2 years old. Eva loves music. She loves to sing. She loves to play around on the guitar and she loves watching other people make music. Recently she was introduced (by me) to Lindsey Stirling, she is a violinist who is amazing. Lindsey made a video about how to make her peacock hairdo. Eva saw that and wanted to have her hair done up like that too. So I figured that with her hair up like that, inspired by a musician, she could wear her Slick Sugar "Keep the Music Alive" Tee and rock out on her guitar.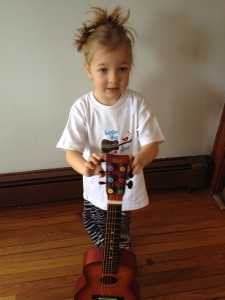 I love the Tee, it is very cute and it is doing good. The proceeds from the sale of this T-Shirt that can be found at Target.com and online go to the charity Little Kids Rock. Little Kids Rock helps with underprivileged public schools that have had their music education funding cut. Here is more information about the Tee and the program.
KIDS LOOK GOOD AS THEY DO GOOD
WITH SLICK SUGAR'S KEEP THE MUSIC ALIVE TEE
SlickSugar.com Joins Little Kids Rock To Raise Funds and Awareness For Underfunded Public School Music Programs
Plainfield, IL (January 9, 2012) – The 1980s expression from a jaunty Saturday Night Live skit with comedian Billy Crystal, "it is better to look good than to feel good," was a quirky mantra by fashionistas. Today sassy online retailer SlickSugar.com offers parents a chance to teach their children to look good as they do good. They've joined forces with non-profit Little Kids Rock to create a special edition children's tee whose proceeds keep the music alive in underfunded public school classrooms.
Available online at Target.com and SlickSugar.com, the adorable tee for boys and girls features a guitar and a little birdie singing around the slogan of Little Kids Rock, "keep the music alive." The special edition top, in sizes 6 months to 5/6, makes an important fashion statement and a social statement to fund public school music lessons, classes and instruments that have been downsized due to growing budget cuts.
"We love the idea of partnering with non-profit Little Kids Rock," explained Jennifer Mills, coowner of SlickSugar.com. "We share the same passion for children, music and the arts. It was a natural fit!"
As music programs across the country have been reduced or even eliminated, Little Kids Rock fills the void by restoring and revitalizing music in underfunded public schools. Founded in San Francisco in 2002, the charity was started by an elementary school teacher who was frustrated at the lack of music funding in his own school. Today, Little Kids Rock is one of the leading nonprofit providers of free lessons and free instruments to underprivileged children in public schools in 25 cities numbering an astounding 160,000 students. Bonnie Raitt, Slash, Paul Simon, B.B. King and Ziggy Marley are among the charity's famous friends and supporters.
"Children's music lessons across the country are suffering," continues Mills. "It is really fulfilling as a company to help revitalize music programs and create awareness for public school kids everywhere."
According to Little Kids Rock, the program focuses on popular music styles that the students already listen to, including rock, blues, rap and hip-hop. Heavy emphasis is put on composition, improvisation and recording. Kids regularly record their own music, create CDs even make their own rock videos. One reason Little Kids Rock is so successful is that once teachers are trained in the foundation's philosophy and techniques, a new local program can be up and running quickly.
There is absolutely no cost to the school. Little Kids Rock builds on the expertise and skills of music teachers and gives schools the flexibility to offer classes within the school day or as afterschool enrichment. As the foundation proudly proclaims, "all instruments are donated so every child has the chance to learn, play and rock out."
Visit the Little Kids Rock website at www.littlekidsrock.org for more information on their organization.
Keep The Music Alive Tee • Sizes 6 months onesie to 5/6 shirt • $26
Available nationwide at Target and SlickSugar.com, this white tee features a brown guitar, red singing bird and blue and white lettering. A tiny message in red reads, "a collaborative effort" with SlickSugar and Little Kids Rock circular logos and is sure to start a conversation with friends and relatives. Choose from 7 different sizes: 6 months, 12 months, 18 months and 2, 3, 4, 5/6. A percentage of proceeds from every "Keep The Music Alive" tee supports the Little Kids Rock organization.
Every day is a free shipping day at SlickSugar.com. Keep up with the hottest children's goods and fashions by signing up for their email newsletter, Like them on Facebook at Slick Sugar or follow them on Twitter @SlickSugartees.
ABOUT SLICK SUGAR
SlickSugar is an online children's clothing retailer with designs and products that aim to inspire and define individuality. The exclusive designs are fashioned with music and vintage themes with a mantra to inspire children to pick up an instrument, embrace the arts and march to the beat of their own drum. The online boutique also offers unique gifts, toys and accessories, along with the company's Belly Banter sticker line, designed to help document a mom's pregnancy or child's first year of growth month by month. Their partnership with non-profit Little Kids Rock allow them to be socially responsible with the sale of the special edition Keep The Music Alive tee. To browse their entire collection, visit www.SlickSugar.com.
Disclosure: I was provided with a kids Tee to review. Opinions about the Tee and the program are 100% mine.
Copyright (c) 2020 BenSpark Family Adventures