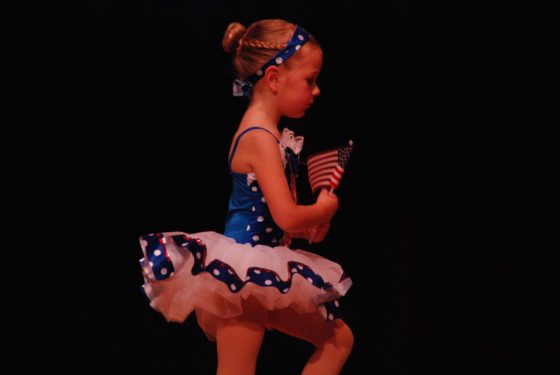 Photo-A-Day #2626
Today was Eva's second dance recital. I know that for many guys these recitals can be utter torture but I genuinely look forward to them because Eva is just so excited about them. So I get caught up in her excitement. She gets to dress up, have her hair done special and wear a little makeup. What girl isn't going to get excited about that and what Dad's heart isn't going to melt at seeing his little one out there trying her hardest to do a great job on stage. It was fantastic.
Eva had two numbers. She did a jazz number and a tap number. The photo above is from her tap number. She is excited to wear this outfit for the 4th of July, too. The Jazz number was adorable. She's only 4 1/2 so the kids in the class are still just learning. It is so cute to watch.
After the recital and the finale Eva came out and when she saw us she broke into tears. We had no idea what was up so Allison went right over to her and asked her what was wrong. She has a loose tooth, this is her first one and she is completely freaked out about it. We got her calmed down, talked to her about the Tooth Fairy and then we consulted Facebook for the going rate for a tooth.
After the recital we had a nice cookout with my parents and my sister Tara. I made some Pearl hot dogs that I got from a trip to the Pearl plant last week with the Hot Dog Man. We're going back in two weeks to tour the facility and record for the National Hot Dog Month 2012 Tour. They make a tasty dog.
We had a very nice time celebrating Eva's recital, my parent's 39th Anniversary and Father's Day. A lot of milestones happening at one time.
Copyright (c) 2020 BenSpark Family Adventures