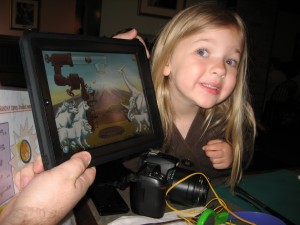 About a week ago Eva and I got a new iPad App called Ansel and Clair's Adventures in Africa. Instantly the app became a hit in our house. I knew that Eva would enjoy it because the App had non stop action and beautiful graphics. Eva is in the "Why" stage of childhood. Her answer to every question is pretty much always "Why". Or rather she will ask Why does this do that or why does that mean this. She is very inquisitive.
The main character of the App is Ansel. Ansel is a Virtoosian travel photographer here to take photos of various African animals and sights. Clair is a robotic travel guide who has extensive knowledge of Earth and all the creatures and places on Earth. Together Ansel and Clair have to journey to the The Serengeti, The Sahara and The Nile. They are in search of pieces to their space cruiser Marley. As the child explores each different place they find out about animals, the weather, famous structures and more all while searching all over for pieces of the ship and taking photos of all that they see.
Here is a video about the App.
Eva enjoys taking the photos because when she takes a new photo she can put it in her Travel log. There are even mini games like unite the animal parents with their babies, matching animal fur in the furbilator and more. We spent a good hour together exploring Africa with Ansel and Clair. Eva couldn't wait to tell her auntie Tara all about the app and she astounded my dad with her ability to do so much in the app.
Yesterday Eva came with me to Southern New england Media makers. There she told everyone there all about the iPad App. I was so impressed by how she explained the game to everyone. she's really understanding the game. It was so cute when she called our server over and explained the game to her as well.
I was generously provided with three download codes for this game. You could win one of those download codes to take your own little explorer on a trip to Africa.
Ways to Enter
(Leave 1 SEPARATE Comment for EACH Entry).
I will not respond to any comments so that I can run the Random.org numbers correctly. Any trackbacks are unapproved while I select the random winner and then re-approved after. Only legitimate entries are counted. You have until 5:00pm EST on May 20, 2011 to enter. Once 5:00pm EST rolls around (or as early the next morning as possible) I will close the comments. The winner will be notified via e-mail and will have 48 hours to reply with a U.S. Mailing address so that we can send the winner their prize. Contest is open to U.S. Only. Please do not use multiple names to enter. Make it fair for everyone and don't stack the deck.
Copyright (c) 2020 BenSpark Family Adventures