Back a couple of months ago I approached the company F-Stop Gear regarding a product review and giveaway. They agreed and sent me a few products to review and keep and some to give away to you. The products that I was sent to review were the Navin – camera bag, Computer Sleeve – computer case and the á GluG -waterproof camera case. They also sent two camera straps, and two t-shirts to give away. I recently got a Kodak PlaySport waterproof camera and no longer need the á GluG -waterproof camera case so I'm giving that away as well.
I've been using the Navin and the computer sleeve actively for the past couple of months and I like both products very much. There are some limitations to each but the benefits outweigh those.
The Navin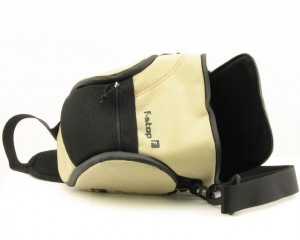 The Navin is a simple compact camera bag. This fit my Nikon D80 with the Sigma 18-250mm lens with ease, I was also able to squeeze my Sigma external flash on top of the camera and almost shut the bag too. There are two thin side pockets for filters but I was able to fit a Flip Mini HD on each side along with mini tripods. There is also a small zippered mesh pocket on the front of this bag which is perfect for your wireless camera remote and extra SD cards. I used this bag all day on a wedding shoot and it was perfect. My favorite feature is that I can loop it over my head and have it fit on the small of my back (see video). I'm pretty impressed with this. I wish it had a little more space (because I am a gadget freak) but it is very functional and useful.
Features:
Water-shedding 1000d ballistic nylon
Thermal molded EVA foam lines pack to dampen shock and acts as weatherproof barrier
YKK Uretek water-resistant zippers
Front weather proof urethane coated mesh pocket
Two fleece lined filter pockets
Weight: 365 Grams
Dimensions: 7.5" x 10″ x 5″
Colors: Black,Tan or Brown
The Computer Sleeve
I very much enjoyed the Computer Sleeve. This computer bag has a semi rigid yet flexible side and bottom. I occasionally use it as a computer lap desk because it is strong and solid in that way. I'm able to fit a cooling pad, my 13 inch HP laptop as well as the cables and power cord plus some extras into the bag for easy carrying. I've even used the front zipper pocket to store and transport my iPad. I like the look, the weight and the color. The one thing I wish it did have was a padded piece on the shoulder strap like the Navin has. If it had that, then this would be perfect for me. Right now it is just great, which is a decent place to be.
á GluG
The F-Stop Gear – á GluG – Waterproof Camera Case was one of the bags that I really wanted to try out. Unfortunately it was like every other waterproof camera bag I've ever used. It kept the water out but it also was lousy for taking photos. While the bag does not say that you can shoot through it there is a clear window on the front. I am looking at the site and it doesn't say anything about shooting through the window so I'm thinking that I had just assumed that was what it was for. Either way I've decided to include it as one of the prizes in the giveaway.
How to Enter this Giveaway
I'm giving away two colorful camera straps and two t-shirts (one medium, one large) and the á GluG. Five prizes in all. (Please read the rules. entries not following the rules will not be counted and will be deleted)Contest open to US Residents Only.
1 Entry – Mandatory to Enter – To enter the contest visit F-Stop Gear's site and tell me which product you'd love to have. Leave this as your FIRST comment.
(If this is not done your entry will not count)
Additional Entries (Leave 1 Comment for EACH Entry)
The contest will run for two weeks. I will choose the winner through Random.org on July 16th. I will not respond to any comments so that I can run the Random.org numbers correctly. The winner will be notified via e-mail and will have 48 hours to reply so that we can send the winner their prize. Contest is open to US Only.
I received my F-Stop Gear as compensation however all opinions are my own.
Copyright (c) 2020 BenSpark Family Adventures