Photo-A-Day #2991
I was Father's Day today and the kids conspired with my wife to get me some fun t-shirts as a gift. They know that I love Transformers and Allison saw my wishlist from Red Bubble. She picked out two of them for me. One was a mashup of the WWF Superstar Rowdy Roddy Piper and Hot Rod. The shirt is Rowdy Rodimus Prime complete with bagpipes. The second shirt is a mashup of Back to the Future and Transformers called Marty McPrime. They are both very fun shirts.
Here is one of them.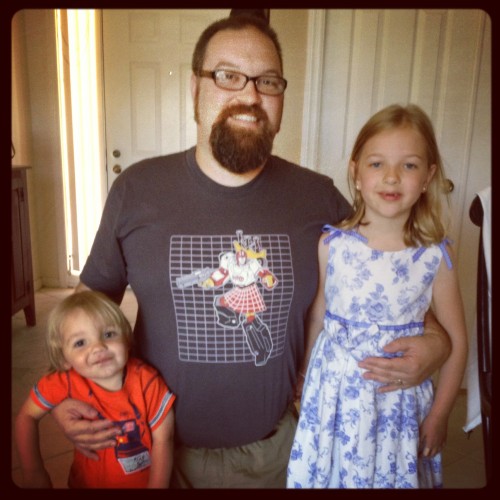 We had a nice day at the house that started wicked early for me. I was up with Andrew at 3am and Allison was up with me as well for a while. We took Andrew for a walk to get him to sleep, didn't work. I took him for a ride in the car around 5am. We made stops at Sonic and Dunkin Donuts. Then we passed out on the big chair in the living room. I kinda freaked out Grandpa Dano when he got up and I mumbled from the chair that there were donuts in the car. Andrew's Sleeping this trip has been very, very difficult.
Allison, Eva and Marcia went out shopping for the afternoon while I stayed home with Grandpa Dano and Andrew. Andrew and I went over to the pool for a quick dip. He is loving the water and didn't want to leave. We had a fun lunch of bread, cheese (none for Andrew) Spanish ham and pepperoni. We ate light because we were having a big meal later. I also ran out to BJs for a special set of supplies for a fun project for Eva later tonight.
When the girls returned they came back with wings from Bru's Room. We enjoyed them and then welcomed Grandpa Dano's friend Stephen over for dinner. Grandpa Dano prepared steaks, green beans, and potatoes for our meal. It was excellent, a delicious Father's Day special meal.
After dinner Eva and I made dessert, Crescent roll S'mores. They came out okay but could have been filled with more marshmallows. We will try again.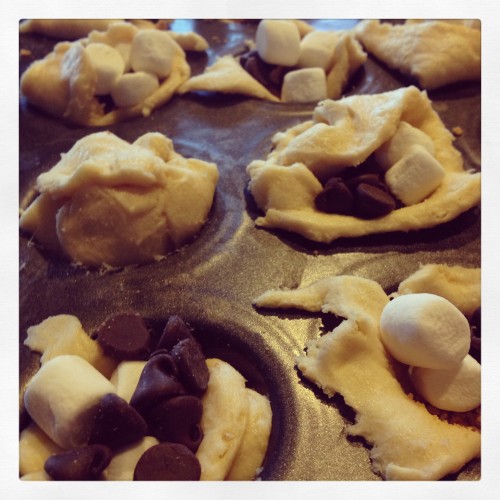 We let Eva stay up a little later than usual because I had a special surprise for her. I found an idea on Pinterest that I'm working on for a post on the upcoming blog called Catch where I will be a writer. I found a photo for "Glow Stick Bowling". You need 10 empty water bottles and 10 glow sticks. I'm not sure if you are supposed to fill them with water but I did. We got a partially inflated dodgeball/kickball for Eva to use as the bowling ball and she went to town. I tried to get her to sort of pose for a photo so I could catch her rolling the ball at the pins. I said to her please move the ball from behind you to your side. I said, move it from here (behind her) to here (to her side). This is the image that I caught as she suddenly whipped the ball at my head, and connected.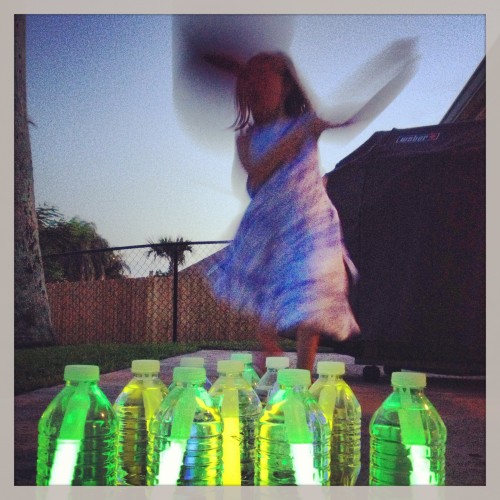 Never has she thrown with such force. Never had she connected with such accuracy. It didn't hurt, just shocked me and as the ball connected with my head I could only think of how when I was a kid I was playing catch with my Dad and he turned to talk to a neighbor or look at something and I threw him the ball and it hit him right in the head. So, I sat there laughing at what just happened as Eva stood their bawling over hurting me. I gave her a hug and let her know I was okay. Happy Father's Day.
Today is also my parent's 40th wedding anniversary. Happy Anniversary to them. They got to celebrate by visiting their newest grandchild, my sister's son and by having a night in Boston complete with beautiful views from the Top of the Hub.
Copyright (c) 2020 BenSpark Family Adventures