Father's Day is this Sunday and it has taken me a while to actually get out a list of great things for dads. Well you are lucky because many of the things that I have to share with you are subscription services so that Dad can feel special at least once a month. Each of these things are things that I have and either have sent to me for free or I subscribe to myself. I'll disclose which ones I get for free.
For the Geek Dad in your life.
Loot Crate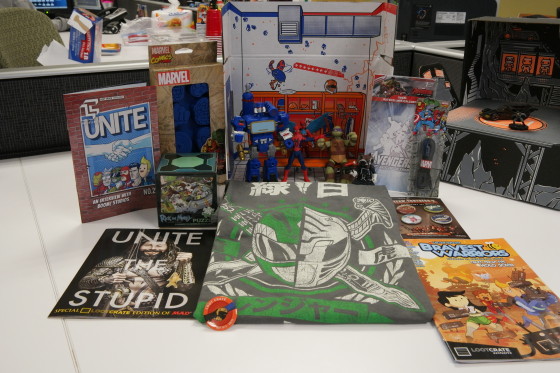 I have been receiving LootCrate (for free to review) since they first started and I love them so much. Most of my T-Shirts that I now own have come from LootCrates. But then also cool things like Funko Pop figures, Special Comic Books and so much more. It is a great subscription service that Dads can get all year long.
Marvel Unlimited – I signed up for Marvel Unlimited for a Christmas gift to myself. With it I can read so many comics from the Marvel Library and share my love of comics with my children. I've read through the Civil War Storyline and then got into New Avengers and have been reading that. I'mm go back and read so many other storylines including starting The Avengers from the very, very beginning. So cool.
Marvel Collector Corps
Marvel Collector Corps is sort of like a LootCrate that is Marvel themed. Each month you get a T-Shirt, Special Edition Funko Pop figure, Pin, Comic book and more. This comes every other month but it was worth the money. I paid for this myself.
Pley
Rather than spend tons of money buying LEGO sets that kids use on occasion you can subscribe to Pley and get this great service for renting LEGO sets and play with tons of them. You get a set and play with it, make sure you have all the pieces, send it back and get another from your PleyList. I was given a couple sets to review the service and am now signing up myself.
Pre-Order Skylanders SuperChargers, LEGO Dimensions or Disney Infinity 3.0 – Each of these games are coming out in the Late Fall/Early Winter so you have plenty of time to sign up and order these games. But in the meantime you can pick up dad a Skylander or Infinty figure from a previous set to get him excited for these new games. The figures will work in the new games. For LEGO Dimensions, since it is brand new you might want to pick up a small LEGO set to get Dad excited. You can pre-order the games below.
For the Movie Loving TV Binge Watching Dad
Netflix
I just became part of the Netflix #StreamTeam. That means I have a Netflix subscription for free. I am loving this service. I've watched a ton of shows and movies on it. They even have a great kids section with nostalgic shows that are back for you to share with your kids. This is a fun thing that Dad would certainly love.
For the Outdoor and Grilling Dad
Stok Grills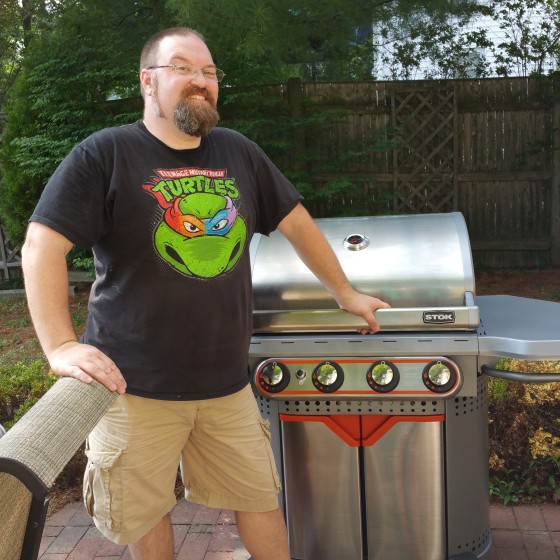 I campaigned really hard to get one of these STOK grills for free. This amazing grill has an insert system where you can add a Wok, a Griddle, a Rib Rack and so many more pieces. I received the Quattro grill with a ton of the different inserts. So many that I won't be able to use them all, or rather I could use one a day and it would take well over a week to use them all. You can get a STOK grill for under $300 at Target.
Charles River Outfitters
Makers of fine clothing. They sent me a Pack-N-Go Windbreaker Pullover for free that is really nice. They also have tons of other options for a well dressed dad.
Dollar Shave Club– I know that razors for dad on Father's Day is cliche and well not the most amazing gift ever but Dollar Shave Club will save Dad much dollars because of how inexpensive they are and their Shave Butter is amazing. I've been shaving with their razors for a year and I love them. I pay for this service myself.
For the Involved Dad
Cooper & Kid – A subscription to Cooper & Kid is perfect for that dad who is thinking of what sort of fun things to do with his kids. I keep forgetting that not every dad is a toy crazy dad like me. Not every dad gets boxes and boxes of toys delivered to the house all week long. I forget that. For those dads that need a little help in the area of creating fun or trying to connect with their kids there is the Cooper & Kid Cooper Kit. This is a service that I have been getting for free since before they officially launched. I also write the column about Play on the Cooper & Kid eZine called Catch. So I have a relationship with Cooper & Kid. Every couple of months a new box arrives and it is filled with activities set around a theme to do with the kids. We have done things like outdoor survival skills to eating Bug like meals. So many fun things.
For the Historian Dad
Samsung NX500 Mirrorless Camera
I have been a Samsung Imagelogger for a few years now and have tried out about 9 of the cameras for free as part of the program. Each better than the last. The latest is a shrunk down but totally full function version of the popular NX1 camera. With 28MP images and the ability to shoot 4K video Dad can capture fantastic memories so easily.
Copyright (c) 2020 BenSpark Family Adventures