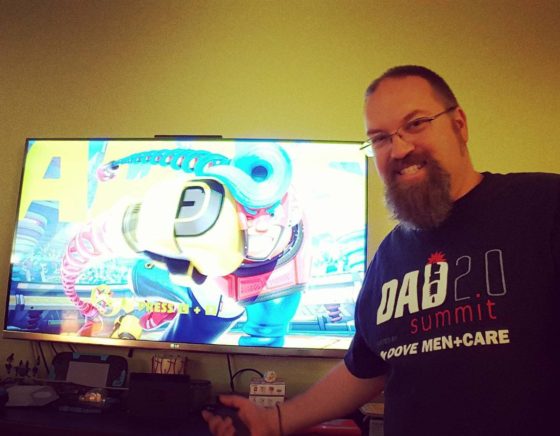 Photo-A-Day #4441
I received a download code for free from Nintendo for the upcoming Nintendo Switch game ARMS. It is being released on June 16, 2017 and is going to be a lot of fun for the whole family. My impressions of the game are completely my own.
Andrew and I played this game for the first time today. We played a bunch of times before we made the video so that we could both get a feel for how it works. Then we played a bunch more after the video, too. We tried all sorts of different play options. We played Volleyball, Hoops and many more. I even played online with whoever else was online and I liked that because I went through all sorts of combat modes to see how many options there are to play the game.
We had so many laughs playing the game. I can't wait until the whole family can play together on teams. Once we are all together we'll give it a go. One of my favorite play options is Hoops. It is hilarious when you slam dunk your opponent into the basketball hoop. Volleyball goes by too quickly, but that is probably because we didn't volley. If the ball hits the ground it explodes.
I held my own when playing online. I actually beat the other players in the first three games and then I started getting beat. Here is Andrew kicking my butt while I try to talk about the game and play at the same time.
I really want to participate in the ARMS Open Invitational but that is for people who are at E3. I can watch, though. Actually I can't it is graduation night for Andrew, but you can watch. Here are the details.
ARMS Tournament
June 14 – 3:30 p.m. PT / 6:30 p.m. ET*
It's all-out action as elite players stretch the limits of their fighting skills in the 2017 ARMS Open Invitational.
Invitees: Alex "CaliPower" Valle, Kelsy "SuperGirlKels" Medeiros, Daniel "Tafokints" Lee, and Marie-Laure "Kayane" Norindr.
E3 attendees: Four players that qualify during the event**
Format: Open Invitational tournament
Prize: 2017 ARMS championship belt
Announcers: D1 and VikkiKitty
*Approximate time.
**Attending E3? Visit the Nintendo booth between 10 a.m. and 1 p.m. PT on Wednesday, June 14, for a chance to win a spot in the finals.
Here are more formal bits of information on ARMS:
In ARMS, you can choose between 10 unique fighters from around the world, equip a combination of extendable Arms and then use a mix of quick hand motions and button presses to take the fight to your opponent. Using the motion-control features of your Joy-Con controllers, you can get up off your couch – or wherever you are playing the game on your Nintendo Switch system – and punch and move with your hands to really feel like you're part of the action.
The game is a blast to play for people of all ages, whether they are familiar with fighting games or not. But even though ARMS is accessible to everyone, it still possesses enough depth and strategy to appease the most hardcore of fans.
With dozens of Arms to choose from, you can customize your combat with thousands of different combinations. Want to equip a fire-powered glove? Go ahead! Craving some laser action for long-range attacks? Sounds great! Is a helpful shield your jam? Defend away! Each of the Arms has its own special attributes, so picking the correct combination of Arms is part of the game's strategy.
With a variety of single- and multiplayer modes (both local and online*), there's a lot to do in ARMS.
Copyright (c) 2020 BenSpark Family Adventures