Photo-A-Day #1753
Tonight was tubby night at our house. After Eva spent a good long while with the duckies in the tub I got her out and dried her off. Allison does her hair. This usually consists of Allison drying Eva's hair as Eva gets up, runs away and then back again. Drying hair takes a little while longer than anticipated every time. Tonight was a little longer than usual as Eva took the blow dryer and wanted to do 'Momma's' hair.
After Allison's hair Eva wanted to do mine. So she set about helping Dadda fix his hair.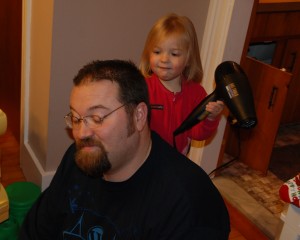 She's one funny kid. The other day she even told one of her first jokes. She did her first knock, knock joke.
Eva: "Ding Dong!"
Me: Who's there?
Eva: (giggling) Maple (or maybe 'Mable')
Me: Maple who?
Eva: (laughing hysterically) "Maple Eva!"
Now I am not sure exactly what is so funny to her, maybe she has put these two words together to be "Maple Eva" or "Make Believer". Either way she did this on her own and thinks it is hilarious.
Other changes are that Eva now recognizes that I am home and gets excited. This is something that I've been looking forward to. I remember talking with someone when Eva was first born and them telling me that the best feeling was when they got home and the kids were all excited that Daddy was home. I asked when his kids started doing that and we a bit disappointed to hear him say, "around 2 years old". Back two short years seemed a lifetime ago, now it has flown by and Eva is at that stage. It makes coming home even that more special.
Copyright (c) 2020 BenSpark Family Adventures