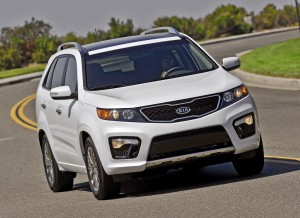 Back before that big football game that the Patriots lost this year I was working with Kia Motors on a Twitter Party. I participated in a fun party to talk about the fun commercial that they released for the Kia Optima. After the Twitter party I asked my contact if it was possible to demo one of their other vehicles on a Road Trip. At first I had a grand plan of driving from our home in Massachusetts to my in-laws in Florida. I figured that since I work on the weekends I could take two weekends off and drive down and back and still have a good chunk of time with Allison's family and we'd save a bunch of money and headaches by not doing any air travel.
The thing is, we have two small kids and being in the car that long just will not work for us at this time, no matter how much I think it would be awesome, because in reality it wouldn't. So we looked for decent rates to fly and found a good flight down and then looked for the cheapest flight back. This gave us a good 10 days in Florida. Now, as I stated, we have two small kids. My in-laws have two small cars. My mother-in-law's car barely fit all of us before we had Andrew and my Father-in-law's car is not fit for this world but since he only drives it back and forth to the train station its all good. So, then we looked at renting a car for the 10 days and I completely lost it. I went back to Kia and suggested that I do a series of mini road trips while we are in Florida including a 4 hour trip up to Orlando. They said cool and I said cool and we started working on the upcoming trip.
I looked at the Kia lineup of vehicles and settled on the Kia Sorento. I choose the Sorento because it seats seven and we'll be able to fit the two carseats and the luggage in the car along with the rest of the family. I also liked the look of it and it is not a minivan (not ready for that in my life yet). And I saw that it gets 32MPG (Highway). I'm all about the gas mileage especially if I'm paying for the gas, which I am.
So we're getting the Kia Sorento for ten days and in that time I'll be tweeting some photos of the Sorento, driving it, making videos, testing out a ton of stuff on it and generally putting it through its paces. And I'll be sharing all of this on this blog, Facebook, Twitter, Google + and YouTube. So please follow along as we go on our road trip. The hashtag on Twitter will be #RoadTrip. The journey starts Tuesday.
Disclosure: I asked Kia Motors America, Inc. for the Sorento and they are loaning it to me and my family for 10 days. I am not being paid in any way, simply using the vehicle and testing it out. (I and pretty much laid out everything in the post above.) All opinions of the vehicle are 100% my own.
Copyright (c) 2020 BenSpark Family Adventures