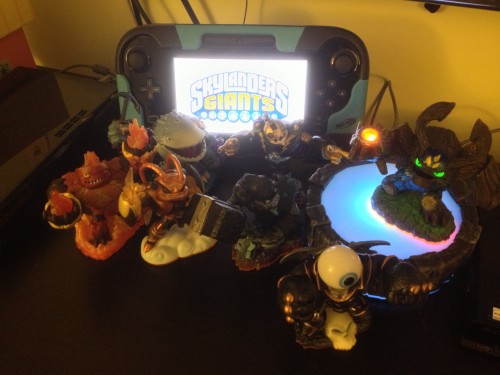 You know that I love Skylanders. I average two Skylanders related posts, photos and Facebook updates each week. I've purchased every single released figure so far and the one figure that Eva really wants is Ninjini. She is so enthralled with this character and to be honest I'm excited for her to be released. Well, on February 5th there will be an event in New York City at the flagship Toys "R" Us in Times Square. I so wish that I was able to go to this event but I won't be in New York until the 10th for Toy Fair. If you are able to go here are the details.
CALLING YOUNG PORTAL MASTERS: CELEBRATE NEW YORK TOY FAIR WITH SKYLANDERS GIANTS™
TOYS"R"US TIMES SQUARE INVITES KIDS TO BE AMONG THE FIRST IN THE WORLD TO RECEIVE A COMPLIMENTARY, HOTLY ANTICIPATED SKYLANDERS GIANTS CHARACTER, NINJINI
WHAT: Months before the Skylanders Giants character, Ninjini, hits retail shelves, kids and their families are invited to The World's Greatest Toy Store™ to be among the first in the world to get their hands on the must-have Skylanders Giants character, while supplies last. To celebrate the annual International Toy Fair taking place in New York City this month, Activision Publishing Inc. and Toys"R"Us are partnering to host a special event at Toys"R"Us Times Square, the company's international flagship store. The first fans to line up along Broadway for the event will have an opportunity to receive a complimentary Ninjini figure before it is officially available for purchase in North America.
Consumers can take advantage of one-day exclusive, Toys"R"Us Times Square store offers: $25 off Skylanders Giants Starter Pack; "buy 2, get 1 free" Giant Skylanders figures until store closing.
Also at the event, kids will have the unique opportunity to meet their favorite Skylanders characters, experience the year's most popular game at in-store game kiosks and receive other fun Skylanders Giants giveaways.
WHEN: Tuesday, February 5
Activities and giveaways begin promptly 4pm
Toys"R"Us Times Square will be open during normal business hours (10am – 10pm)
WHERE: 1514 Broadway at 44th Street New York, NY
ACTIVITIES: Gaming kiosks, displays and stations, Fun activities, games, giveaways and more!
Copyright (c) 2020 BenSpark Family Adventures