Photo-A-Day #2921
I've never been a huge fan of basketball. Well, not since Larry Bird left the court. So, I'm not quite sure if people have March Madness parties but I do love party food. When Johnsonville approached me, as part of the Big Taste Grillers, to come up with a recipe for some Game Day food, I said sure. I decided to create a variation of the jalapeño popper recipe that use when I make bacon wrapped jalapeños (Which I got from Average Betty). However, instead of wrapping the jalapeños in bacon I'm going to mix cream cheese and a Johnsonville Brat (Grilled up yesterday) together as filling for the jalapeño and then cover it with shredded cheese, cook it up in the oven and let the cheese melt and the cream cheese/brat mixture heat up for some hot apps for Game Day.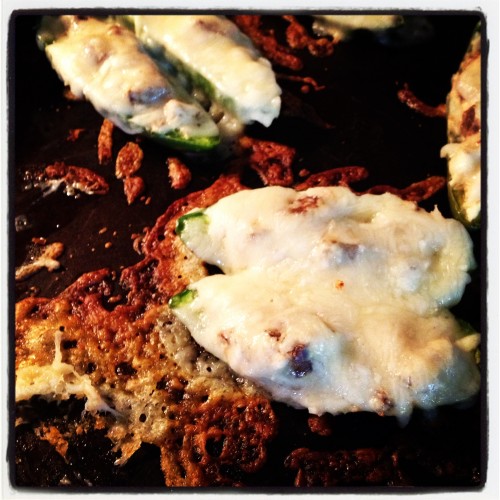 To make this you will need about 6 jalapeños. Split them and remove the seed (gloves are important here) Then mix cream cheese with a sliced up grilled Johnsonville Brat. Fill the jalapeño half with the cream cheese and brat mixture and cover liberally with shredded cheese of your choice. Pop those in the over at 350 or so and back until the cheese melts, I like to have my cheese a little browned as well. Serve with a cold beverage.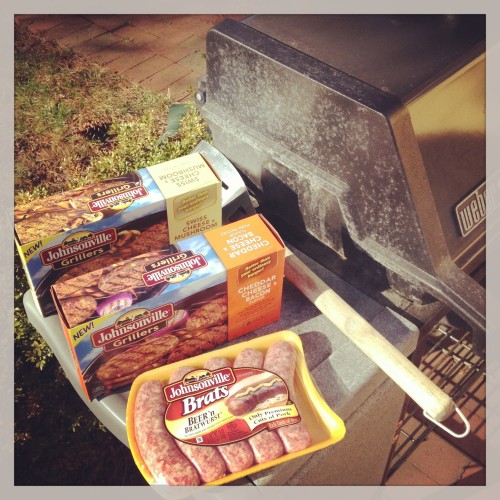 In addition to receiving some coupons to buy Brats and make a Game Day recipe we were sent samples of some of Johnsonville's latest Bratwurst patties. Two new flavors are hitting the shelves in mid April. They are Cheddar Cheese & Bacon and Swiss Cheese & Mushroom. I grilled up patties for the family and a Brat for Andrew plus one for the recipe above. The consensus around the table was that we really liked the Cheddar Cheese & Bacon patties but since no one in the family likes Swiss and I am the only one who likes mushrooms we passed on those ones.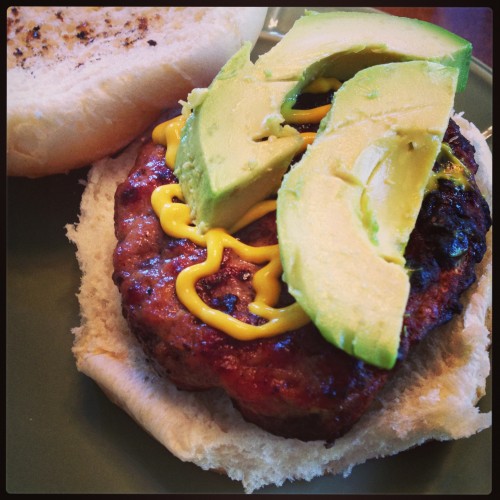 I dressed my Cheddar Cheese & Bacon Bratwurst patty with mustard and avocado. I enjoyed the taste combination. So, regardless of the sport you enjoy there are plenty of Johnsonville options to go around.
Disclosure: As stated above I received coupons for Johnsonville Brats as well as product samples as part of the Big Taste Grillers blogger crew. Opinions of the products are 100% my own.

Copyright (c) 2020 BenSpark Family Adventures