On October 9 – 11 I attended a Disney Press Event. My hotel and airfare and meals were taken care of while I was in L.A. Opinions and observations as well as recaps and such are all my own. This post will also contain some affiliate links to Amazon.com.
On the very first night of my #ThorRagnarokEvent adventure we loaded up into a couple of shuttles and headed from the hotel to Disneyland to spend the evening. Our mission, to check out everything going on in Cars Land. This year is the very first year that Cars Land has been converted to a Halloween theme, or rather Haul-O-Ween, as part of the overall park HalloweenTime theme. Cars Land did things a little differently and it looked fantastic. I have a ton of photos from the experience which was made all the better with our own personal Disneyland guide who took us all over the Disney California Adventure Park and also into Disneyland Park. We were in for an amazing night of fun.
We were broken into three groups according to what type of rides we did or did not want to do. Mostly it was for anyone who did not want to do the Guardians of the Galaxy: Mission Breakout which was made into Guardians of the Galaxy: Monsters After Dark. I was in the group that opted not to ride that particular ride. I just know that I can get a little queasy on rides like that and I wanted to have the best night I could because who knows, It may take another 15 years for me to come back again. Yeah, it has been 15 years since I've been to Disneyland and Disney California Adventure. Allison and I went when we were out for a wedding. A lot has changed in that time.
One of the things that changed was the creation of Cars Land. This is something that wasn't there back then. The first Cars movie hadn't even been released back then. Cars was released in 2006. When it was I made sure to get every single one of the character toy cars to save for the kids. When they were old enough to appreciate them I gave them my collection. They have been Cars fans ever since. Andrew and Eva even came with me to a Cars 3 sneak preview screening of the movie in Boston this past June. Now Cars 3 is about to hit Digital (Today 10/24) and Bluray (11/7) and we can enjoy the movie all over again. I personally thing it is the best of the three movies in the series.
I've never seen Cars Land before and so I don't know what it looks like when it is not in the festive Halloween decor. I can say that the Halloween Decor is amazing. From rides getting name and theme changes to characters dressed up rolling the streets to food with a Halloween theme there is so much happening that I could have stayed there all night. Some of the rides in Cars Land were renamed with Halloween names such as Mater's Junkyard Jamboree becoming Mater's Graveyard JamBOOree and Luigi's Rollickin' Roadsters becoming Luigi's Honkin' Haul-O-Ween. both rides had new decor and new music just for Halloween. These changes to Cars Land will only be up until October 31st so you still have time to see them.
I knew that we were going to be eating dinner at Flo's V8 Cafe and so I took a look at the online menu. I made sure to order the Car-achnid Pot Pie, but wanted a Neapolitan shake and so didn't order the Grape "Ghoul"-ant Shake and someone else ordered the Mini Candy Cone Pie which actually tasked like candy corn. There are other fun Halloween themed food items in Cars Land. I didn't do enough research or I would have tried more. But if you look throughout Cars Land there are food offerings like Vampire Mater Bread (Fillmore's Taste-In); and Slow Burnin' Mac & Cheese Cone and a Spoke-y Cone Macaron filled with marshmallow buttercream and candy corn (Cozy Cone Motel). Cozy Cone Motel also serves Junkyard JamBOOree Mix – flavored popcorn with optional "nuts and bolts" (green M&M's, candy corn, chocolate-covered pretzels, Boston baked beans and more). I love the creativity of these fun food items. I also like how the drink cups had a Halloween theme to them as well.
Outside of Flo's was the Spider-car which was a re-purposed roadster from Mr. Toad's Wild Ride. There is a Disney photographer there who will take your photos in the spider-car. We were all given photo passes that we could link to our Disneyland app so that we could get all of our photos after the trip. I've used PhotoPass before but have not been in a Disney Park since they started having a dedicated app for the parks. the app is so cool. After each one of our photographs we would have the photographer scan our app and the images showed up so quickly afterward. we could also link up images that were taken while we were on rides by putting in the number of that image. This is something that is part of the new MaxPass. MaxPass is so much more though. With MaxPass you can link up all your photos and download them to keep. You can also get FastPasses faster. Basically when you use one FastPass you can use the MaxPass on the Disneyland app and get another FastPass for another ride. You can learn much more about the MaxPass in this article on the Disney Parks Blog – Five Things You Might Not Know About Disney MaxPass
Photo Credit: Disneyland Photographer
While we did not have a MaxPass to get FastPasses to the rides we did have a VIP guide who was able to get us on all the rides so much quicker. We started out going to the Radiator Springs Racers Ride and that was so much fun. You start off on a leisurely ride around Radiator Springs and then it ends with a head to head race. We were lucky to have our guide because we were able to race with the people in our group. Everyone had a great time and this was a fantastic ride. At the end we entered the code from our photo into the Disneyland app to get the photo below.

Photo Credit: Disneyland Photographer
We had some time to explore Cars Land but not enough to cover everything that was added to it for Halloween. There was way more than I even knew. I knew about the rides and some of the buildings and some of the food, too. But, it wasn't until I got home to write this post that I learned about everything that was happening. I want to share that knowledge with you in a post from the Disneyland Resort News site – Hauntingly Fun Facts About Haul-O-Ween at Cars Land. That is a pretty comprehensive list of everything happening in Cars Land during the Halloween season. If you want to know more about what is happening throughout the larger park then you should read the article, also from the Disney Resort News site titled – New Halloween Fun, Thrills and Villainous Décor Cast a Spell at Disney California Adventure Park, Sept. 15-Oct. 31
I loved being at the park at night. With a Halloween theme you have to be there at night to see everything lit up. That is when many of the decorations truly pop. I personally loved all the Neon all over the place. there were so many cool things lit up with beautiful neon lights. They made for some great photos. My two favorite buildings were Flo's V8 Cafe and Ramone's House of Body Art. There was a cute little car called Sugar that was painted for the Day of the Dead. It looks awesome under the night lights.

Photo Credit: Disneyland Photographer
Even the town's founder, Stanley got into the festivities. Hi memorial statue had him wearing a witch's hat. Meanwhile some of the buildings had animated spooky eyes and faces. We stopped to get our photo with Stanley before we went over to Luigi's.
Luigi's Rollickin' Roadsters became Luigi's Honkin' Haul-O-Ween. These "dancing" cars are really amazing. they move totally by GPS and no two dances are the same. There are no tracks or anything. It is a completely clear floor that the cars move on but each time you go there are new songs and new dances and all the cars are synchronized it is pretty incredible. something I had never seen before.
The citizens of Radiator Springs have also gotten into the excitement of Halloween. Some of them are even dressed up and rolling the streets. We missed Lightning all dressed up as a superhero but we did find Mater in his "Van-Pire" outfit. He was kind enough to stop for a photos with us before we went over to Mater's Graveyard JamBOOree.
Mater's Graveyard JamBOOree is the Halloween version of Mater's Junkyard Jamboree which has the feel of a dance hall for country line dancing or swing dancing. You certainly swing around in the little carts that are being pulled by the tractors. You get into a tractor cart and then the ride goes in a series of figure eights. You end up being whipped around over and over as you go into the turns. Maybe whipped isn't the best word to describe it because it is not super fast but you definitely move. I think I was able to capture that in the image above.
We finished our time in Cars Land and went to explore the larger Disney California Adventure Park. Along the way we saw a building where they were showing a preview of Thor: Ragnarok. Since we were going to see the actual movie the next day we opted not to go in but we did decide to take a photo in front of the sign.
We went from Disney California Adventure over to Disneyland because there were also some special Halloween decorations there and also some rides that were themed for Halloween as well. Halloween Time was in full effect. I do enjoy Halloween in a Disney Park. As a family we attended Mickey's Not-So Scary Halloween at Walt Disney World a seven years ago. The decorations are so nice. I love seeing them all around the park. We went over to Space Mountain first which had been changed to be Space Mountain Ghost Galaxy. It was a great ride with all new special effects. We even got a funny image from our ride.
Photo Credit: Disneyland Photographer
We also took a ride through the Haunted Mansion. This ride was decorated like The Nightmare Before Christmas. It was done really well, too. If you are a fan of that movie then you'll love the new look of the Haunted Mansion.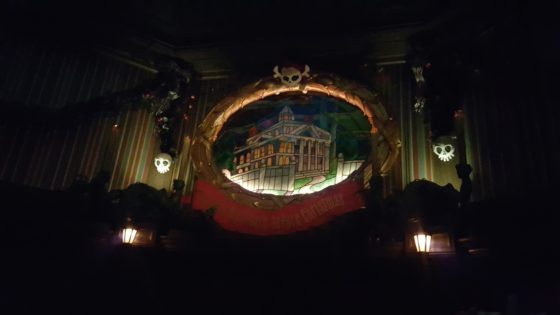 Our trip through the parks was amazing. If you can go and experience the HalloweenTime magic then I urge you to go and have a great time. Below I have added some links to Disneyland resources as well as links to information about Cars 3 which comes out on Digital HD 10/24 and Blu-ray & DVD 11/7.
DISNEYLAND
https://www.facebook.com/Disneyland/
https://twitter.com/disneyland (#Disneyland)
https://www.instagram.com/disneyland/
https://www.youtube.com/user/DisneyParks/
https://disneyland.disney.go.com/
CARS 3 (on Digital HD 10/24 and Blu-ray & DVD 11/7)
https://www.facebook.com/PixarCars/
https://twitter.com/pixarcars (#Cars3 & #Lou)
https://www.instagram.com/pixarcars/
https://www.youtube.com/user/DisneyPixar
http://movies.disney.com/cars-3
Copyright (c) 2020 BenSpark Family Adventures