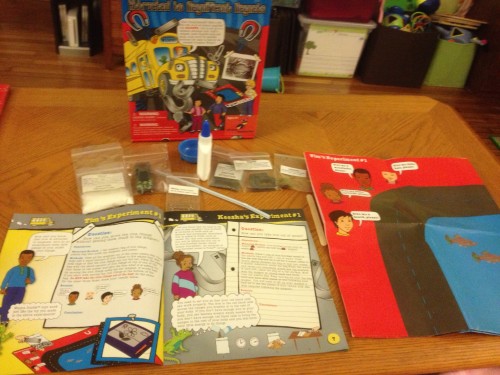 Eva is a fan of science, she gets that from my sister Tara. She and Auntie Tara do some fun science projects together. I was really excited to get this set from The Young Scientist's Club. This will be a fun set of experiments for Eva and Tara to work on together. The set has a bunch of great pieces included and also many experiments to try.
The Young Scientist's Club has many different high quality science kits for kids. Some of the kits also have the theme of The Magic School Bus. So you have a great tie in to a property that promotes great scientific discovery in children with fun, interesting scientific kits.
The Young Scientist's Club can be found on their Young Scientist's Club Facebook Page and also their own website at http://www.theyoungscientistsclub.com/.
About the Give it Forward Project on BenSpark.com
For the past three years we have saved money to go on a family shopping trip so that we could make donations to Christmas is for Kids. Each year we try to save more and do things bigger. This year many companies that I've done reviews with have provided me with toys to review but also toys to give away as well. On December 1, 2012 from 10:00am – 2:00pm Achin's Garage is sponsoring a Toy Drive of NEW unwrapped toys for kids aged newborn to 18 years old at Attleboro Farms to collect toys for Christmas is for Kids. We'll be making a huge donation thanks to so many great sponsors.
Disclosure: We were given two copies of Attracted to Magnificent Magnets to try out and review plus donate to the Christmas is for Kids Give it forward Project. Opinions about the product are 100% our own.
Copyright (c) 2020 BenSpark Family Adventures