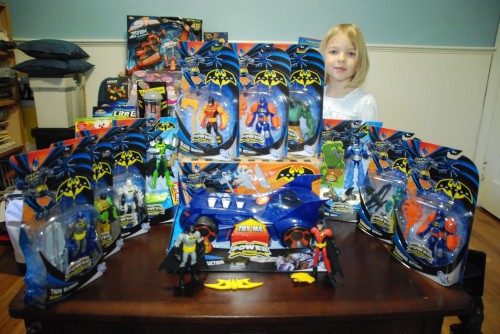 I always like working with brands that have Superhero products. Mattel has a new line of Batman figures called Batman Power Attack. I found out about bloggers hosting Batman Power Attack themed parties and I inquired. I didn't fit all of the qualifications but I proposed that I review a couple of the toys from the line and donate additional toys to Christmas is for Kids. They said sure and so I have a ton of fantastic Batman toys to donate to Christmas is for kids and a couple of cool ones for us. Batman is Eva's favorite superhero. She once asked me to tell her all about Batman which was not easy to explain to a sensitive five year old who wouldn't understand the intricacies of why Batman is how he is. But I must have been able to tell her something that she liked because she is now a fan and she loved these toys which are geared towards younger kids (4-8).
In this line there are a bunch of Batman figures with all sorts of themed armor and costumes. They have oversized weapons that can fit into the launcher on the Total Destruction Batmobile. I'm a more traditional Batman fan so I selected three figures from the line that I liked best which were Batman in his black and grey costume, batman in his blue and grey costume and Robin.
In addition to basic figures there are deluxe figures that have a signature moves like a cyclone kick or saw slash action. Our review set had a couple of these as well. I decided that in order to get the maximum amount of toys to give to Christmas is for Kids I could show how those worked in the video without having to open them up and thus rendering them no longer new. I think that kids would like the deluxe figures because of how cool the moves are and action figures that perform actual action are 10 times cooler than stationary figures (at least to little kids, give me a well made and good looking figure and I'm happy).
The figures in this line look really good. The weapons are a bit goofy and oversized but they are colorful. They do fit in the figure's hands with a little work, the grip is tight which is good but parents will have to help out the kids the first couple of times that Batman wants to use his Twin Blades or Battle Gauntlet but eventually the grip will loosen a bit and the kids will be able to interchange all of Batman's weapons.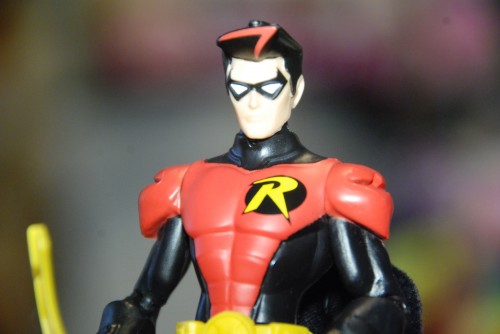 Batman also fits into the Total Destruction Batmobile and can hold the steering wheel of that vehicle. The Batmobile is fun because it is solid and chunky. It can fire off some projectiles and has a battering ram that thrusts out when the hood is pushed down. Batman can cruise the streets of Gotham and fight evildoers. In the Power Attack line those villains are Tow-Face, the Joker, Killer Croc and Mr. Freeze to name a few. These are fun figures and also great collectibles, perfect for those kids who love Batman, even big kids like me. Check out the Mattel site for more info on Batman Power Attack figures.
About the Give it Forward Project on BenSpark.com
For the past three years we have saved money to go on a family shopping trip so that we could make donations to Christmas is for Kids. Each year we try to save more and do things bigger. This year many companies that I've done reviews with have provided me with toys to review but also toys to give away as well. On December 1, 2012 from 10:00am – 2:00pm Achin's Garage is sponsoring a Toy Drive of NEW unwrapped toys at Attleboro Farms to collect toys for Christmas is for Kids. We'll be making a huge donation thanks to so many great sponsors.
Disclosure: We received a huge box of Batman Power Attack Figures for a Batman themed party however we don't know that many little boys and Andrew just isn't old enough so we decided to Give it Forward and donate the bulk of the toys to Christmas is for Kids. Opinions are 100% our own.
Copyright (c) 2020 BenSpark Family Adventures