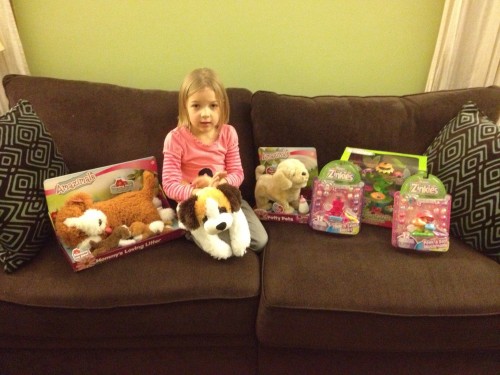 Blip toys has sent me so many great toys over the past few years and for my Christmas is for Kids Give it Forward project they came through with even more great stuff. We were sent multiple boxes of toys from their Amazimals and Squinkies Zinkies lines. Amazimals are a brand new line of interactive plush pets. Amazimals feature animatronic functions so that they can interact with your child. From wagging tails to barking and laying down and shaking hands to even using the potty. These pets can do so many things. Out of the three pets that we were sent I let Eva select one for our review and for her to keep and play with. She Peppy's Puppy Tricks as her new Amazimals pet. she renamed her Pepper though, right out of the gate.
Pepper can do a bunch of cool tricks like lifting her paw to shake, bouncing up and down, digging at the ground, bowing, and making puppy sounds. she requires three AA batteries to function and has many different areas where Eva can pet her to make her do her tricks. She can pet her on the back, the head and the paws to activate Pepper's tricks. Pepper is also a very cute puppy, sort of looks like a Saint Bernard in my opinion.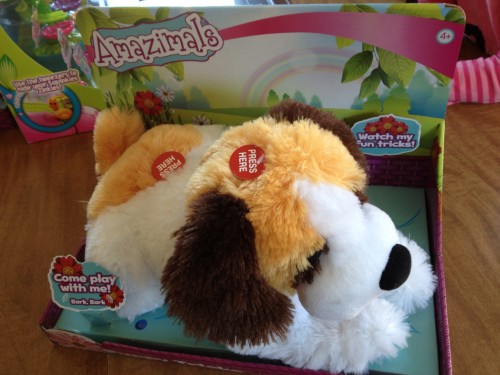 Pepper the Puppy that does Tricks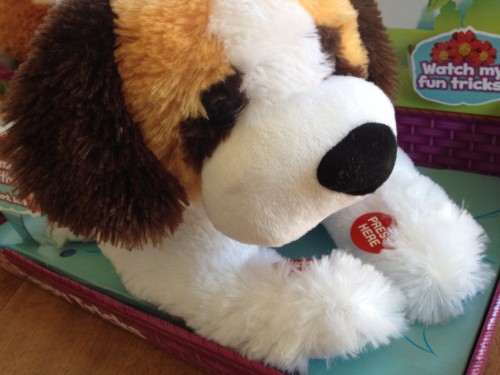 Look at that face, what a cutie
The other Amazimals that were received were the Mommy's Loving Litter and the Potty Pet one as well. The Mommy's Loving Litter is of a mommy doggie named Mitzy and her two puppies. This toy promotes nurturing in children as they can help mommy mitzi feed her puppies and take care of them. The puppies connect to Mitzi's tummy. Mitzi wags her tail when the pups are near and both mom and pups make unique sounds. There is a good balance between the hard anaimatronic parts and the plush parts of the toys, too.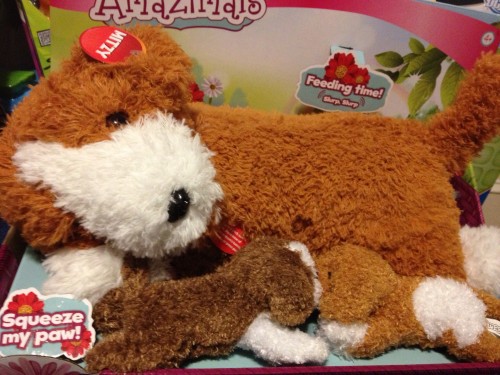 There was also a Potty Pets included in the shipment. This is a small dog that makes drinking, barking and begging sounds. Your child can feed them with a bottle and then when the puppy is full take them outside to relieve themselves. I guess this can sort of teach a kid a little about responsibility but seems to me more often than not you're going to have some wet spots because the kid is going to forget that feeding the puppy makes it go potty. The puppy itself is cute and soft and comes with a little bottle for feeding. Just be careful to make sure that it gets someplace where it can relieve itself after it drinks.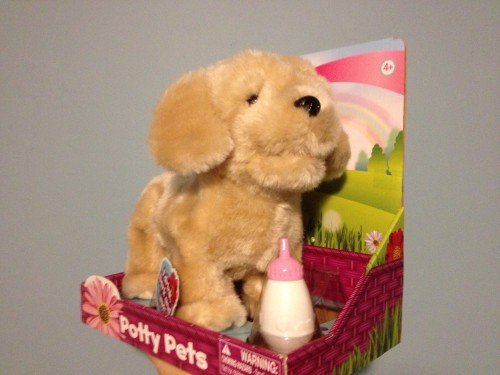 The Amazimals line has even more types of offerings including Weefuls, which are small pets that fit in the palm of your hand including a bunny, kitty, and three dog breeds. These also make sounds and are made of soft plush material. There are Tickle Pets which are smaller soft pets that kick up their front paws, make sounds and are also soft and plush. They are called Tickle Pets because they burst with excitement when tickled under the chin.And last but not least are the Whimsy Walkers. these Amazimals walk or hop depending upon the animal type, the puppy and kitty walk while the bunny hops. The pets will pause and sniff during their walking sequences, they will also make sounds and are made of soft plush materials.
Amazimals will be featured exclusively at Walmart across the United states starting in December. They range from $24.99 to $7.88 so there is an Amazimals to fit any budget from big present to stocking stuffer. You can see them all and find out more at Amazimals.com
Blip toys has been known more for their Squinkies line and as I stated in the video I am a fan of these little squishy toys. I have the superhero lines displayed on my desk at work and Eva has a bunch of the Disney Princess ones. As is Squinkies weren't small enough now Blip Toys have gone and made an even smaller line of little squishy figures, the Squinkies Zinkies. These are very small figures and they usually come with a set of Tweezers and a magnifying glass for use in play. The set that we were sent was the Magic Secrets Flower Pot. This cute little set has tons to do including having secret rooms that lock up with a key and a slide and merry go round for the Zinkies. There is even a mini bedroom and bathroom in the set and a teeter totter. All the pieces go together to look like a cute little flower pot. The tweezers are themed to look like a leaf, the key looks like a ladybug and the magnifying glass a flower. The set includes six Squinkies Zinkies with it. Squinkies Zinkies can be found at many different major retailers and online, this set retails for $19.99.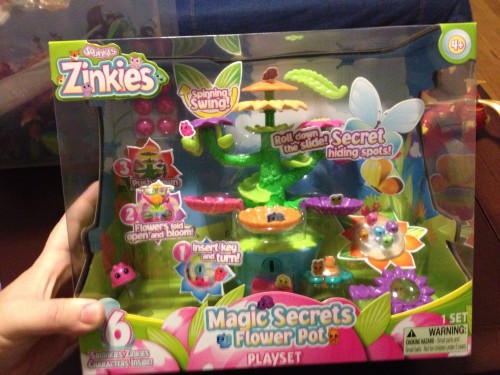 Check out Blip Toys at http://www.bliptoys.com/
About the Give it Forward Project on BenSpark.com
For the past three years we have saved money to go on a family shopping trip so that we could make donations to Christmas is for Kids. Each year we try to save more and do things bigger. This year many companies that I've done reviews with have provided me with toys to review but also toys to give away as well. On December 1, 2012 from 10:00am – 2:00pm Achin's Garage is sponsoring a Toy Drive of NEW unwrapped toys at Attleboro Farms to collect toys for Christmas is for Kids. We'll be making a huge donation thanks to so many great sponsors.
Disclosure: We received a bunch of Amazimals and Squinkies Zinkies toys from Blip Toys. We kept some to review and are donating some to Christmas is for Kids. Opinions are 100% our own.
Copyright (c) 2020 BenSpark Family Adventures