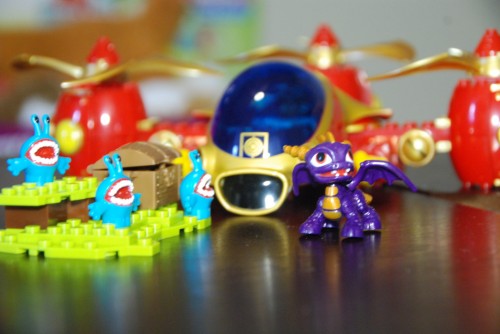 Recently Mega Bloks released their new line of Skylanders Giants inspired building sets. I saw all of these sets while I was at Time to Play and I was very impressed by them then. Mega Bloks took into consideration the look and feel of Skylanders including little things from the game like pieces of food, treasure chests even Chompies. We were sent two Arkeyan Copter playsets. One to check out and review and the other to give as a donation to Christmas is for Kids. Here is what Eva and I thought of it.

Yes, I know I cut most of my head off in this video… now.
The set contained 138 pieces and is rated for the age range of 5+. Eva has been getting really good at following directions to build things but all she wanted to do this time was play with the little Spyro figure.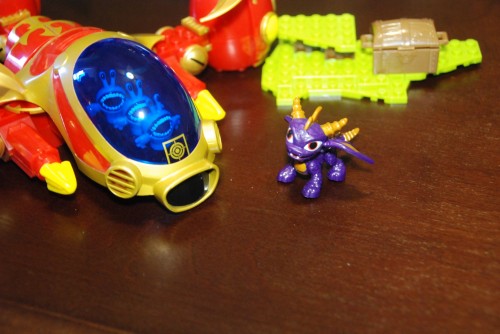 So I took the pieces and built the copter while she played with Spyro and the "nice" Chompies. She doesn't mind wasting them in the video game but when she's playing outside the game everyone gets along and that includes Chompies.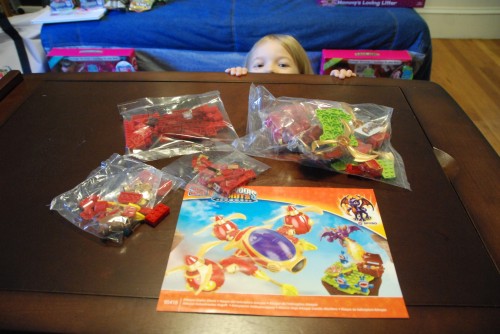 The bloks that came with the set were a mix of standard ones but also included some specialty pieces, most notably the pieces that made the three propeller platforms. The copter itself has three sets of rotars and is an interesting design. Mega Bloks got the colors and overall look of the copter right. One of the bloks that I really liked was a flatter one with four raised pegs on the top and the bottom. This allowed me to wrap pieces around and secure them to the body of the copter. This gave the copter a more rounded look.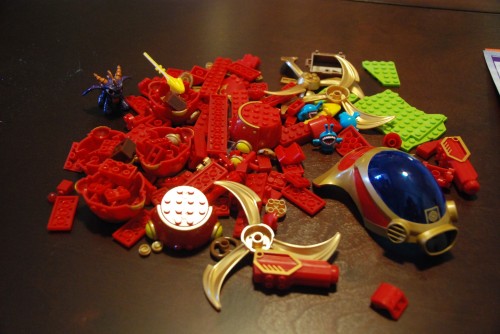 The Arkeyan copter also fires soft missiles. There is one for each side of the copter and they are spring loaded and have decent firing capability.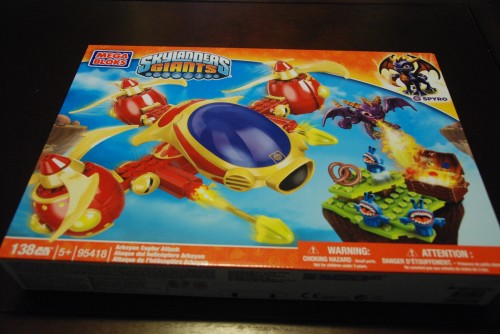 Be on the lookout for the Mega Bloks Skylanders Giants sets at your local stores. I found them at Target the other day. The packaging certainly jumps right out at you because of the Skylanders Giants signature Orange color and style.
You can learn more about Mega Bloks through their website at http://www.megabloks.com/ or on Twitter at @MegaBloks and on Facebook at https://www.facebook.com/megabloks.
Disclosure: We received a Mega Bloks Skylanders Giants Arkeyan Copter set to review and one to donate to Christmas if for Kids. This is a great set and Mega Bloks really got so many things right about the Skylanders property. We love the little Spyro figure. Opinions are 100% Our Own
Check out all of the Mega Bloks Skylanders Giants Toys
http://www.megabloks.com/shop/construction-toys/skylanders/
About the Give it Forward Project on BenSpark.com
For the past three years we have saved money to go on a family shopping trip so that we could make donations to Christmas is for Kids. Each year we try to save more and do things bigger. This year many companies that I've done reviews with have provided me with toys to review but also toys to give away as well. On December 1, 2012 from 10:00am – 2:00pm Achin's Garage is sponsoring a Toy Drive of NEW unwrapped toys at Attleboro Farms to collect toys for Christmas is for Kids. We'll be making a huge donation thanks to so many great sponsors.
Copyright (c) 2020 BenSpark Family Adventures