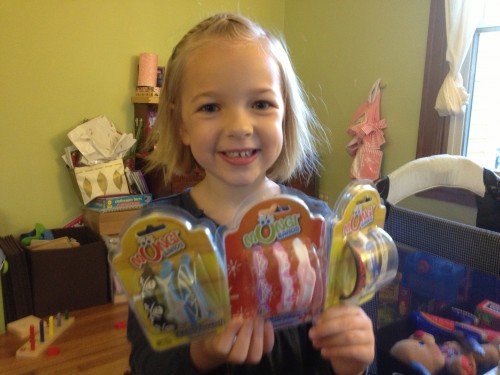 A couple of months ago we reviewed some Mungi Magnetic Bands. These are fun little bands that can be put together to create bracelets, necklaces and headbands. Each set of Mungi (pronounced Moon-Gee) bands comes with three bands with different designs. There are sets like Shark Attack, Mustache, '70s and Rock Star each with three unique colorful bands that can be mixed and matched.
I like these for bracelets because they are not too tight on Eva's wrist. Even though she is not the recommended age for these bands I find her mature enough to handle playing with them and creating new fashionable uses for the Mungi bands. She knows also to put them up and away so that her little brother cannot get them. When asked if she would trade them with friends she was very adamant about keeping them. She is such the collector, like her dad. Here is a Video of Eva explaining the Mungis.
About the Give it Forward Project on BenSpark.com
For the past three years we have saved money to go on a family shopping trip so that we could make donations to Christmas is for Kids. Each year we try to save more and do things bigger. This year many companies that I've done reviews with have provided me with toys to review but also toys to give away as well. On December 1, 2012 from 10:00am – 2:00pm Achin's Garage is sponsoring a Toy Drive of NEW unwrapped toys for kids aged newborn to 18 years old at Attleboro Farms to collect toys for Christmas is for Kids. We'll be making a huge donation thanks to so many great sponsors.
Disclosure: I was provided with many packages of Mungi Magnetic Bands. I reviewed some a few months ago and now have more to donate to Christmas is for Kids. Opinions about them are 100% my own.
Copyright (c) 2020 BenSpark Family Adventures