The Pony Wedding in season two of My Little Pony was a huge event. This was the wedding of Shining Armor to Princess Cadance. Shining Armor is Twilight Sparkle's older brother. He's also the captain of the Canterlot Royal Guard. He marries Princess Cadance in the season finale of Season 2 of My Little Pony: Friendship is Magic. The apir appear in the first two episodes of Season 3 as well. Princess Candace is a Pegasus Unicorn which makes her similar to Princess Celestia and Princess Luna (the former Nightmare Moon). Princess Candace and Shining Armor are co-leaders of the Crystal Empire.
Princess Cadance comes with her wedding gown, movable wings, a golden tiara and a brush. She also says a number of phrases when your child pushes the button on her cutie mark. Eva was so excited to play with Cadance but here temporary batteries were dead and I didn't have any AAA batteries on hand (she requires two). Once I got the batteries Eva flew Cadance all over the house and has told every visitor to our home all about her.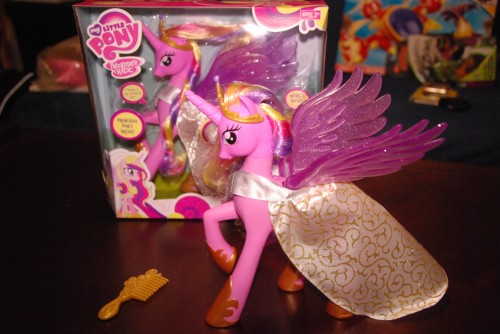 Another nice addition to the My Little Pony line of figures. Here is her official description.
MY LITTLE PONY PRINCESS CADANCE Pony
(HASBRO/Ages 3 & up/Approx. Retail Price $22.99/Available: Fall 12)
Here comes the princess pony bride! The PRINCESS CADANCE pony is simply stunning in a gorgeous white wedding gown as she gets ready to walk down the aisle and meet her prince SHINING ARMOR. The blushing bride-to-be stands proud at over eight inches tall, and wears a magnificent golden tiara. Girls will be delighted to see her lavender wings illuminate and flutter at the touch of the button on her cutie mark. Push the button again and PRINCESS CADANCE will speak a number of magical phrases and play enchanting music. Use the comb to make sure PRINCESS CADANCE is perfectly coiffed for her big day! Two temporary "AAA" batteries included. Two replacement "AAA" batteries required. Available at most major toy retailers nationwide and on HasbroToyShop.com. Check out Hasbro My Little Pony
About the Give it Forward Project on BenSpark.com
For the past three years we have saved money to go on a family shopping trip so that we could make donations to Christmas is for Kids. Each year we try to save more and do things bigger. This year many companies that I've done reviews with have provided me with toys to review but also toys to give away as well. On December 1, 2012 from 10:00am – 2:00pm Achin's Garage is sponsoring a Toy Drive of NEW unwrapped toys at Attleboro Farms to collect toys for Christmas is for Kids. We'll be making a huge donation thanks to so many great sponsors.
Disclosure: We were very fortunate to receive one of these toys to review and one to donate to our Christmas is for Kids Give it Forward Project. We'd like to thank Hasbro for this toy. Opinions are 100% our own.
Copyright (c) 2020 BenSpark Family Adventures