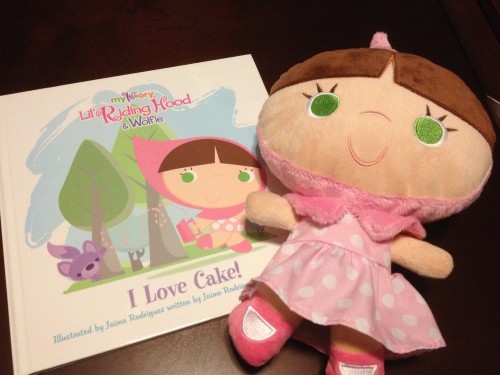 Back in September I received a copy of the My1story book I Love Cake. At that time we read it and reviewed it. I'm happy that we were able to get another copy of the book plus another Lil' Riding Hood Plush doll to donate to Christmas is for Kids. The story is a cute one with a twist on the traditional Little Red Riding Hood fairy tale. Instead of the big bad wolf who comes and eats grandma this story features Wolfie, a mischievous wolf pup who has a fondness for cake. Wolfie follows Lil' Riding Hood to Grandma's house in an attempt to make off with some fresh cake that Lil' Riding Hood is bringing to Grandma.
The book itself is cute, with a nice story and adorable characters. The visual appeal was immediate with Eva. She loved reading the story with me and then enjoyed cuddling with the Lil' Riding Hood Plush.
The plush is soft and cuddly. It has a giant head and little body so it is easy for kids to hold and hug. Very well made and has her signature hood, big green eyes and cute little dress. A toy and story that little ones will certainly treasure.
You can find out more about this series on the Official Facebook Page, Twitter and the My1story website.
About the Give it Forward Project on BenSpark.com
For the past three years we have saved money to go on a family shopping trip so that we could make donations to Christmas is for Kids. Each year we try to save more and do things bigger. This year many companies that I've done reviews with have provided me with toys to review but also toys to give away as well. On December 1, 2012 from 10:00am – 2:00pm Achin's Garage is sponsoring a Toy Drive of NEW unwrapped toys for kids aged newborn to 18 years old at Attleboro Farms to collect toys for Christmas is for Kids. We'll be making a huge donation thanks to so many great sponsors.
Disclosure: I was provided with a copy of the storybook I Love Cake and a Plush Lil' Riding Hood for a review months ago and recently sent a second copy for donation to Christmas is for Kids. Opinions about the came are 100% my own.
Copyright (c) 2020 BenSpark Family Adventures