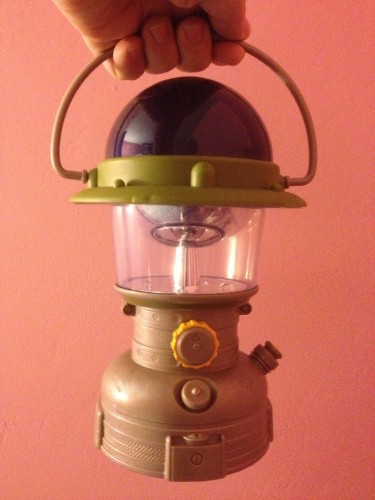 We received a couple of the National Geographic Starry Night Lanterns from Uncle Milton Toys. The kids each have a stuffed animal that projects stars on their ceiling. The kids love that and so they are used to having glowing stars on their ceilings. We don't always take these with us when we go on trips and so this past Thanksgiving we went to the Cape and instead of taking the stuffed animals we decided to try out the Starry Night Lantern. It worked very well and Eva liked having this new field of stars to see as she went to sleep.
What I like about this toy is that it has a clear on and off switch that goes between projecting a field of stars to being a bright lantern. I know that Eva wants to camp out at some point and we'll definitely use this lantern when we do camp out (probably in the back yard at the Cape or something like that. I know that she'll love that, she does like pretending to be an explorer.
You can see more of the toys from Uncle Milton at the Uncle Milton website or interact with Uncle Milton on Facebook and Twitter.
About the Give it Forward Project on BenSpark.com
For the past three years we have saved money to go on a family shopping trip so that we could make donations to Christmas is for Kids. Each year we try to save more and do things bigger. This year many companies that I've done reviews with have provided me with toys to review but also toys to give away as well. On December 1, 2012 from 10:00am – 2:00pm Achin's Garage is sponsoring a Toy Drive of NEW unwrapped toys for kids aged newborn to 18 years old at Attleboro Farms to collect toys for Christmas is for Kids. We'll be making a huge donation thanks to so many great sponsors.
Disclosure: We were given two National Geographic Starry Night Lanterns from Uncle Milton to try out and review plus donate to the Christmas is for Kids Give it forward Project. Opinions about the product are 100% our own.
Copyright (c) 2020 BenSpark Family Adventures