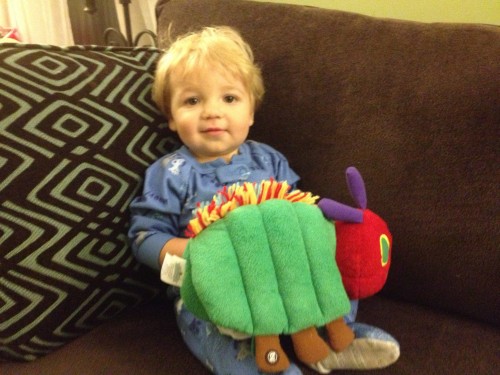 On Andrew's first birthday it seems fitting that he would help me out with a Give it Forward review. Today we have the Very Hungry Caterpillar Book Buddy from The World of Eric Carle line of products. Zoobies produces this Book Buddy which is a beautiful plush toy of the Very Hungry Caterpillar with the abbreviated story built right in. The material for both the plush toy and the book is very soft and great for little ones. This is a big squishy cuddle toy that is strong and can take a beating that only a toddler can give.
Andrew is still very wiggly and he doesn't really sit still for books and stories. He wants to pull on each page of the books I read him. He also wants to chew on everything. At least with the book buddy he's not going to rip any pages and if he nibbled on the pages as well they are going to hold up to his abuse.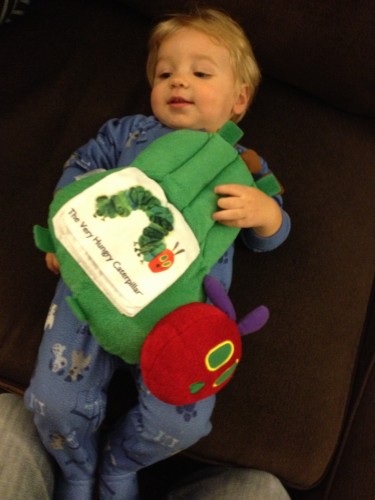 Find the Very Hungry Caterpillar Book Buddy from Zoobies and visit the World of Eric Carle for more great products. You can also find The World of Eric Carle on Facebook, Twitter and Pinterest.
About the Give it Forward Project on BenSpark.com
For the past three years we have saved money to go on a family shopping trip so that we could make donations to Christmas is for Kids. Each year we try to save more and do things bigger. This year many companies that I've done reviews with have provided me with toys to review but also toys to give away as well. On December 1, 2012 from 10:00am – 2:00pm Achin's Garage is sponsoring a Toy Drive of NEW unwrapped toys at Attleboro Farms to collect toys for Christmas is for Kids. We'll be making a huge donation thanks to so many great sponsors.
Disclosure: The World of Eric Carle has donated one Very Hungry Caterpillar plush Book Buddies Storybook from Zoobies and provided me with one to review. Opinions are 100% our own.
Copyright (c) 2020 BenSpark Family Adventures