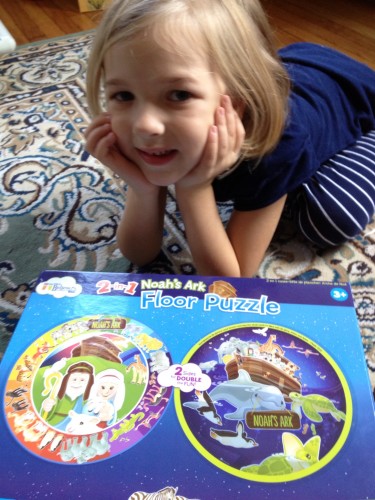 Wee Believers fills a very interesting niche. They make high quality toys with Christian themes. From toys like My Mass Kit to the Lil' Prayer Buddy, Wee Believers has something for each child to enjoy while at church that won't disrupt the ceremony and are great for sparking discussion and role playing.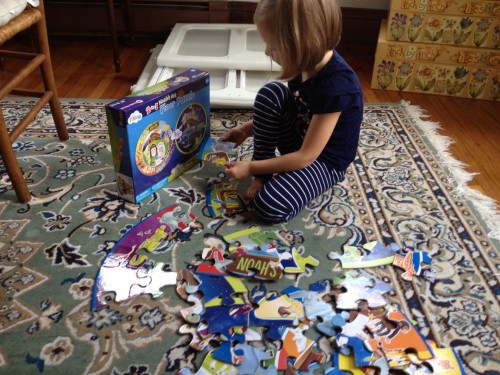 Other products like the 2 in 1 Noah's Ark floor puzzle that we received are for the home and further extending play and learning with your child. The puzzle is beautiful and well made. The pieces are thick and fit together well, great for small hands. The puzzle is easy yet challenging enough for a child to put together and enjoy their time doing so. Eva put together one side of the puzzle and then wanted to take it all apart right away and do the second side. We had a nice time as a family putting together the puzzle. this gave us valuable time to talk with Eva about Noah's Ark and that story. She enjoyed that as well. I'd like to see more puzzles along this line with more themes and maybe one side be a different story than the other.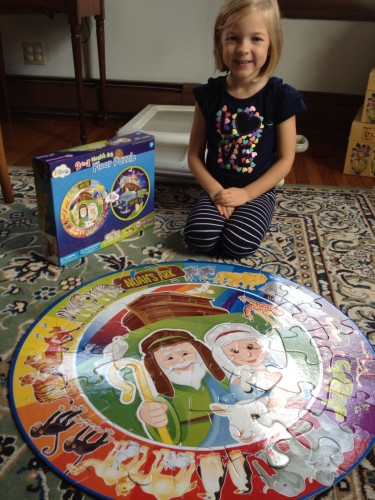 Learn how Wee Believers got their start.
About the Give it Forward Project on BenSpark.com
For the past three years we have saved money to go on a family shopping trip so that we could make donations to Christmas is for Kids. Each year we try to save more and do things bigger. This year many companies that I've done reviews with have provided me with toys to review but also toys to give away as well. On December 1, 2012 from 10:00am – 2:00pm Achin's Garage is sponsoring a Toy Drive of NEW unwrapped toys for kids aged newborn to 18 years old at Attleboro Farms to collect toys for Christmas is for Kids. We'll be making a huge donation thanks to so many great sponsors.
Disclosure: We were given two Wee Believers 2 in 1 Floor Puzzles to try out and review plus donate to the Christmas is for Kids Give it forward Project. Opinions about the product are 100% our own.
Copyright (c) 2020 BenSpark Family Adventures