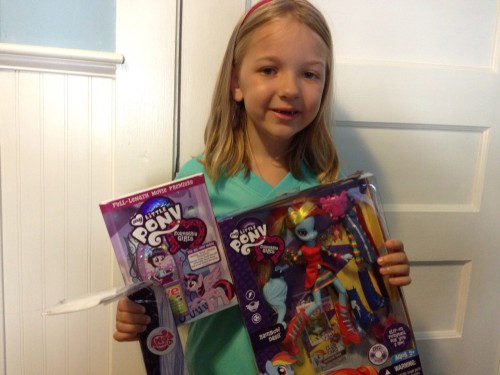 The other day I received a My Little Pony Equestria Girls care package which contained the DVD of the Equestria Girls feature length movie along with a Rainbow Dash doll and some My Little Pony hair extensions. I was already scheduled to receive a Blu-ray version of the movie for a review so I asked my PR contact and My Little Pony fan if I could do a giveaway with the DVD and also get another Equestria Girls doll to send the giveaway winner. They agreed so I'm kicking off this contest today and ending it Friday and I will try my hardest to send the winner the DVD before the Equestria Girls movie hits the store shelves on August 6, 2013. I was in a video making mood so I made this one the other day.
The Equestria Girls dolls are pretty nice. Eva couldn't wait to open the Rainbow Dash one that we received. The dolls will start arriving in stores around August 1st and there will even be a Sunset Shimmer doll complete with her leather jacket. Here's what the Rainbos Dash doll loks like.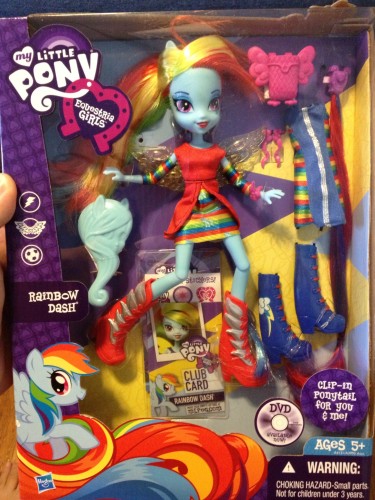 So on to the giveaway. Please enter by leaving me a comment below. Tell me what is the name of your favorite My Little Pony Character and why.
Please consider also doing the following although it will have no bearing or extra entries into the giveaway it would just be nice.
Follow BenSpark.com on Twitter @BenSpark
Like BenSpark.com on Facebook.
Subscribe to my Youtube Channel.
Tweet This "Win a @MyLittlePony Equestria Girls DVD and Doll from @BenSpark https://benspark.com/?p=25648 #MLPEG #Brony #MLP"
I'll pick the winner on Friday July, 26th. The winner will have 48 hours to reply with their mailing address. One entry per person.
Copyright (c) 2020 BenSpark Family Adventures