Contest Closed – Winner was Jessica! Congrats.
In anticipation of Winnie the Pooh releasing on DVD, Blu-ray, & Movie Download next Tuesday,October 25th, I have the opportunity to give away a Winnie the Pooh Movie Prize pack to a lucky winner. The winner will get their prize pack for Halloween.
About the Movie: Disney returns to the Hundred Acre Wood with "Winnie the Pooh." Featuring the timeless charm, wit and whimsy of the original featurettes, this all-new movie reunites audiences with the philosophical "bear of very little brain" and friends Tigger, Rabbit, Piglet, Owl, Kanga, Roo – and last, but certainly not least, Eeyore, who has lost his tail. "Ever have one of those days where you just can't win, Eeyore?" asks Pooh. Owl sends the whole gang on a wild quest to save Christopher Robin from an imaginary culprit. It turns out to be a very busy day for a bear who simply set out to find some honey. Disney's all-new "Winnie the Pooh" movie is inspired by three stories from A.A. Milne's books in Disney's classic, hand-drawn art.
Here's what the Prize pack contains:
2 Mini Posters
2 Trick-or-Treat Bags
2 Very Important Things To Do notepads
2 Magnets
1 Winnie the Pooh mask
1 Tigger mask
1 Blu-ray + DVD Combo Pack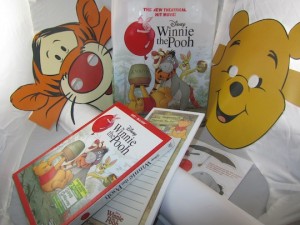 Ways to Enter
(Leave 1 SEPARATE Comment for EACH Entry).
I will not respond to any comments so that I can run the Random.org numbers correctly. Any trackbacks are unapproved while I select the random winner and then re-approved after. Only legitimate entries are counted. You have until 12:00pm EST on October 25, 2011 to enter. Once 12:00pm EST rolls around (or as early the next morning as possible) I will close the comments. The winner will be notified via e-mail and will have 24 hours to reply with a valid e-mail address so that we can send the winner their prize code. Contest is open to US residents Only. Please do not use multiple names to enter. Make it fair for everyone and don't stack the deck.
Disclosure: I was given the opportunity to give away this prize pack. Opinions are 100% ours.
Copyright (c) 2020 BenSpark Family Adventures