This shop has been compensated by Collective Bias, Inc. and its advertiser. All opinions are mine alone. #GameDayGlory #CollectiveBias
I don't think I've been more excited to do a project in a long time as I have been these past few weeks while assembling a Snack Stadium. When I learned that I was selected for this shop I researched all sorts of different Snack Stadiums and how to assemble them. I took ideas from all over and made this Snack Stadium my own. Lucky for me, I get so many things sent to me that I had tons of raw materials with which to create. So, I gathered up some boxes, duct tape and tin foil to get started on the structure that would house many snacks such as SNICKERS®, Skittles®, Pepsi™, Diet Pepsi™, TOSTITOS® Scoops, TOSTITOS® Original and TOSTITOS® Chunky Salsa. Also the debut of this Snack Stadium coincided with a get together that my wife was having so it was a dry run for the Big Game. I'll be bringing the Snack Stadium to work so we can all have a great time despite not being home to watch the Big Game.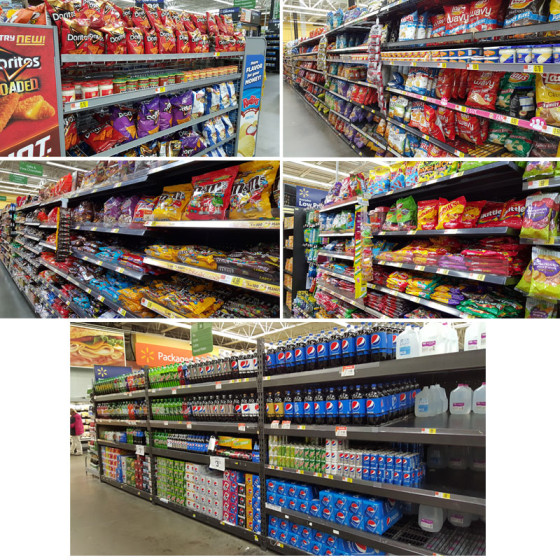 I made my way over to Walmart because that is where I would be able to find many snacks to fill up my Snack Stadium. I picked up a bunch of things because I had space for eight different snacks like TOSTITOS® Scoops in the stadium. I knew I would need more space so I decided to make a tailgate area. The stadium itself was to be for chips and pretzels and things like that while the tailgating area would be for the candy, cookies and sweet things. The field itself was going to be a multi-layer dip that would be perfect for all of the crunchy, salty delicious chips and more in the stands of the stadium. So, how does one go about assembling a snack stadium? Read on to find out how I did mine.
Snack Stadium Tutorial – Here you can find many more recipes and snack stadium ideas.
1. Assemble Your Materials:
You are going to need some raw materials to make your snack stadium. If you have a ton of money, time and patience then you can go crazy but I had a budget so I started by taking things that I already had around the house. You are going to need tape, a cardboard box, additional cardboard, some aluminum pans, aluminum foil and imagination.
2. Creating the Initial Snack Stadium Shell:
I went with an oval shaped Snack Stadium which can be achieved by using a box and fanning out all the flaps. Then angling the flaps and cutting additional cardboard to fill in those gaps between flaps. I roughed it out and used some cheap tape to hold it all in place. I would use the heavy duty stuff later. Also, make sure that an aluminum pan is going to fit inside the hole in the box. I was lucky to find the perfect size, I think it was 13 X 9 for the medium box I used. The box is going to be deep so find another smaller box to put into the hole. Cover that small box with duct tape too, it helps to make a non-slip surface against the aluminum pan.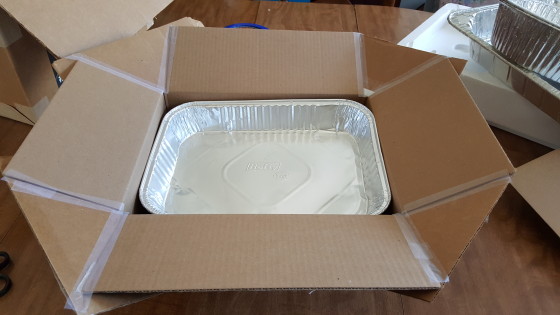 3. Refine and Reinforce Your Snack Stadium Structure:
Duct tape is your friend when making a Snack Stadium. I've seen Snack Stadiums where people have made perfect cuts for all the sections and hot glued things to look incredible. I don't have that talent. I have duct tape. Duct tape is very forgiving and strong. Also, it is inexpensive and you can use a ton of it, too! If you build it up enough it can be made into something that you can use again and again. I cut up a bunch of cardboard and also some aluminum pans to make that oval shape and some rounded high banked areas for stands. That way the sections have enough room to hold all the snacks.
4. Cover the Whole Thing in Duct Tape:
I stated this in Step 3 but it bears repeating. Duct tape can help. I covered my entire structure in duct tape to keep it consistent and also to make it more water resistant. You don't want a party foul where someone drops the dip into the stands to ruin your structure. I also used different colors of duct tape. Silver for the stands, white for the base and blue around the inside of the field please black for the tailgating area.
5. Cover the Stands with Tin Foil:
Once the structure is complete you will want to cover the seating areas with tin foil. Your guests probably won't want to eat off of duct tape so make sure you cover it up with tin foil. This also further makes the structure waterproof and reusable. To keep the tin foil in place use a glue stick to keep it down.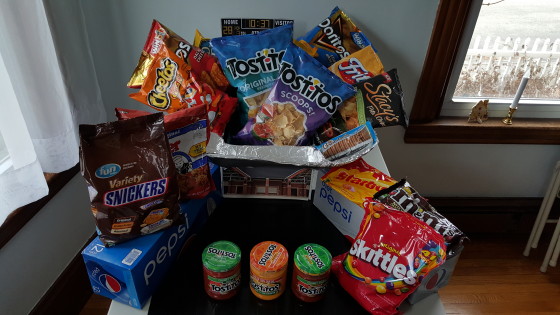 6. Decorate and Embellish:
I wanted to add some fun parts to my Snack Stadium so I found photos of the entrance to a stadium and edited it in a photo editing program to take out the team info. I printed that and glued it to one end of the base of the Snack Stadium. I also found a scoreboard and glued that to a piece of cardboard for strength and then taped that to skewers wrapped in silver duct tape and stuck them into a large piece of styrofoam. Then I wanted a tailgate area. I used some of my decorations to serve as fans. I placed that on a piece of poster board that I covered in black duct tape to simulate a parking lot. Then I arranged the candy to look like a fountain/plaza area and also used candy to make parking lines and more.
7. Create a Football Field:
For the football field Allison put together a multi-layer dip. The top layer had guacamole for the green of the field and queso for one end zone and salsa for the other end zone. She used tin foil to divide the sections of the field while she set up the end zones. Players were made out of carrots with black and green olives for helmets. The goal posts were made from pretzel sticks and the lines were from sour cream that was put onto the field via a cake decorating piping tube.
So, what are you going to do to make your Big Game something spectacular? Are you going to go and build a Snack Stadium? I encourage you to do so because they are so much fun and will get your guests all fired up and even more excited for the Big Game.
Copyright (c) 2020 BenSpark Family Adventures