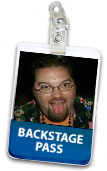 I registered today for PostieCon. This is the blogger convention that is being sponsored by PayPerPost. I even got a cool countdown timer for the blog. Unfortunately it is too dang big to post on the blog so I will post it here in this post.
So what is PostieCon? It is going to be a two day event in Orlando, FL with speakers, workshops and fun and good times. I am very excited about going and cannot wait for the trip.
I am looking forward to meeting other PayPerPost Posties as well as some of the speakers at the event. If you are thinking about registering do so before May 11th because the price goes up $50.00 for late registrations. Also if you do decide to go please use my e-mail as a reference abennett96 @ gmail dot com.
Copyright (c) 2020 BenSpark Family Adventures