Photo-A-Day #3890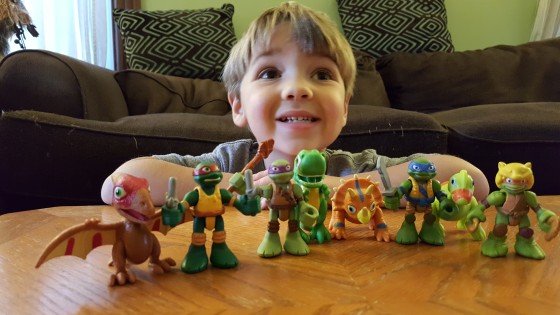 We received a couple of the new Half-Shell Heroes and Dinosaur 2-Packs to play with and review. I liked them so much I picked up two additional two-packs. Opinions are 100% our own.
Ever since the introduction of the Teenage Mutant Ninja Turtles Half-Shell Heroes line of toys I have been hoping for a show to go with them. Well, there isn't a show but there was a special that had the Half-Shell Heroes travel back in time to the time of dinosaurs. It was a cute show, Andrew and I loved it. So I was excited when we were able to review some of the new Half-Shell Heroes and Dinosaur 2-Packs. We received the Leo and Triceratops and the Donnie and T-Rex packs.
When I got the figure 2-packs I went out and picked up the Mikey with brachiosaurus and the Raph with pteranodon. This is not the first time that the Teenage Mutant Ninja Turtles teamed up with dinosaurs. Actually back in the 80's or 90's, I'm not sure which, the turtles were paired with the same dinos except for Mikey. He was paired with a stegosaurus. In the special he was with a stegosaurus but the figure comes with an brachiosaurus. The brachiosaurus is cute, though.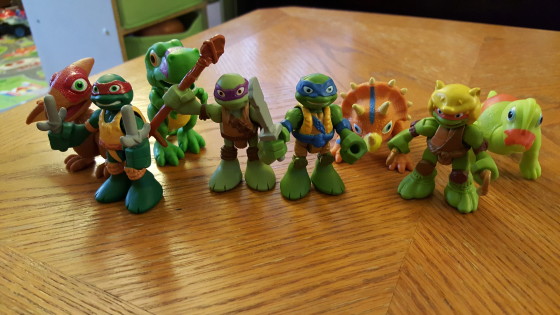 The figures are nice. They looks like the characters from the special down to the cave turtle looking costumes and coconut shell knee-pads and elbow-pads. Mikey even has some sort of animal skull on his head. While the animals aren't large enough to ride on they are probably more likely to be sidekicks with the turtles. I'm not sure if a full grown Tyrannosaurs Rex would be so apt to help the turtles. However it is fun to see the turtles working with dinos.

Leo with Triceratops.

Donnie with T-Rex

Mikey and Brachiosarus

Parhael and Pteranodon.
I look forward to so many more specials for the Half-Shell Heroes and even more great toys.
Copyright (c) 2020 BenSpark Family Adventures