Photo-A-Day #3107
Today was Eva's 6th birthday. We kicked off the day's celebration with breakfast out with daddy. Eva chose Morin's for her birthday breakfast. She wanted both bacon and sausage with her meal so I got her the Russ Morin, a big breakfast. I went with the Fenway fable and helped Eva eat her meal. We probably could have just split her meal. It was big.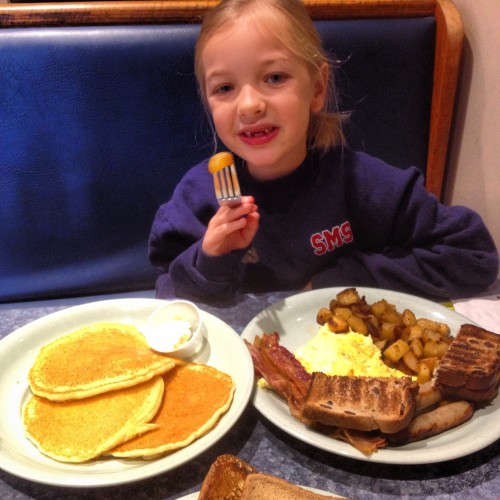 I drove Eva to school and then went home to watch Allison wrap up Eva's gifts. I'm a terrible wrapper. We had to finish getting everything ready before the party at Chuck E. Cheese's. That was Eva's decision for where to have her party and I know that people aren't that thrilled about the place but it is actually pretty fun and they did a great job with the party. Allison made Eva's cake because Eva wanted a Slugterra themed cake. I think it came out pretty fantastic. Or rather, Slugtastic.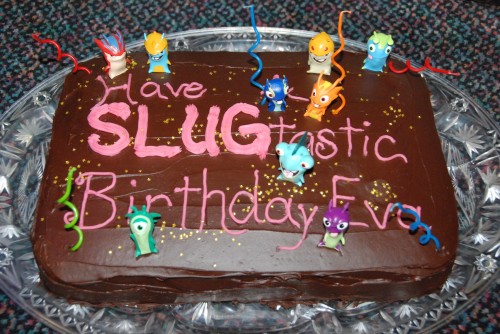 Allison picked up Eva at school and we got home and got ready to head to Chuck e. Cheese's. We took her gifts with us thinking that we'd actually have time to open them there but, nope, there was no time to do that at all. There was just so much going on. Our party liaison was wonderful and she got us over to our table. She set us up with all the tokens for the kids made any last minute adjustments and put us at ease.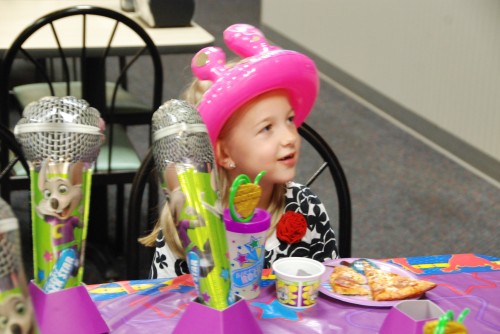 The kids started showing up with their parents and it got a little chaotic because we had Andrew with us and he is tough to wrangle. He's just too young to really get much benefit form any of the games and so either Allison or I was just following him around from game to game, making sure he didn't take food off anyone's table and the like. Later Uncle Mike arrived and he did some Andrew wrangling for us. I tried sitting Andrew on my lap so we could play some driving games but he wasn't having it. He'd be off an running before the game even started. I ended up holding on to him by the back of his shirt and driving a car with one hand, I got 2nd place.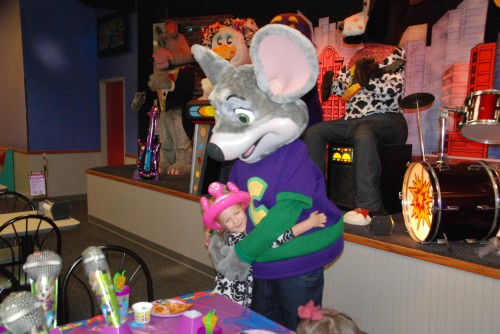 The party started with the kids playing the games first. Then our party was announced and the kids and parents went to the tables for pizza and cake. We got the parents some pizza and a sandwich, vegetable and appetizer platter. We wanted to make sure that everyone got food since the party was right at dinner time. The food wasn't too bad. I like the pizza there and our party liaison served all the kids. The kids got special cups and inflatable microphones. Eva got an inflatable guitar and got to rock out with Chuck E. himself. They've updated the costume and he looks less rat-like and more fun rock and roll mouse-like. Eva had the time of her life and was so excited all through the meal.
I don't think any other kid knew what Slugterra was but Eva was super excited about her cake. Allison made it and Eva directed the decorating by telling her where to put all the slugs. The cake was almost completely gone at the end of the party, too.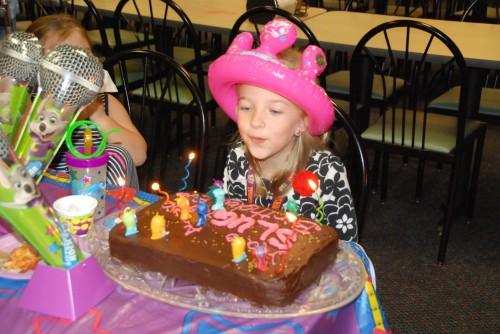 After the cake and ice cream and pizza and more Eva got to go into ticket chamber and try and catch as many tickets as she could. She didn't do so hot and was a bit scared of the tickets flying around so she asked our party liaison if she would go in with her. She agreed and even managed to snag the 1000 point ticket for Eva. Eva was so excited. By the time we checked out all the tickets Eva had nearly 2500 of them.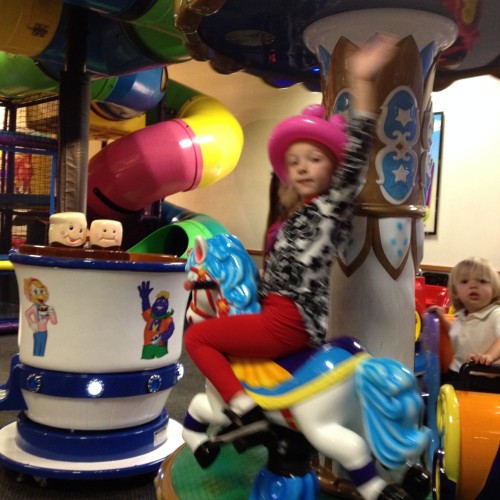 The kids also had a pull string pinata to play with that had additional tickets and tokens and candy. It may have been a bit of overkill but the kids enjoyed it. We finished out the night at nearly 8pm, both kids were exhausted and I helped Eva pick something to get with her tickets. With a little prompting she decided upon a messenger bag with Disney princesses on it that she could color. She was just shy of the amount of tickets needed but I asked what the difference in cash would be to make up for the additional tickets. It was under $3 so it was a no brainer, just get her the item. She was happy but at the same time completely melty. We had stayed, too long.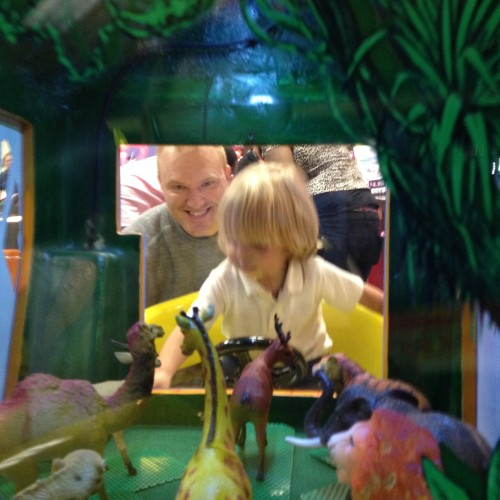 In all this was a great party and the kids and parents had fun. Eva had so much fun and really enjoyed herself. Andrew had fun as well and so did Allison and I. We'd do it a gain in a couple of years with Andrew. Eva said that she wants to go low key next birthday. That's fine by me, too.
Copyright (c) 2020 BenSpark Family Adventures