Photo-A-Day #2169
Today was Saint Patrick's Day and I made my favorite once a year meal (twice if you count me going to see my friend Dan last Saturday, which I do): Corn Beef and Cabbage (although we forgot the cabbage). I started two cuts of Corned Beef in the Crock Pot on low at 6:00am and we took them out at 6:00pm. The meat was so tender and flavorful. I covered the Corned Beef with a can of Yuengling, a bottle of natural Root Beer, water and some pickle juice (might sound gross but the flavors mixed so well).
Our friends Michele and Bob came over with their kids Nate and Audrey. Eva was so thrilled with her friends. They played like crazy and even did some coloring of a Leprechaun from Projects for Preschoolers. Michele and Bob brought over dessert and that was a bit hit, cupcakes for the kids and key lime pie for the adults. Allison made a delicious Irish Soda Bread, probably the best ever. It was a great night.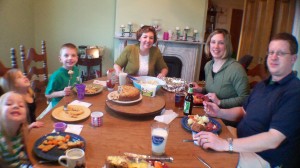 If you'd like to know a little about why I blog check out an interview I did at Logic is Variable.
One of my college friends has just started blogging. She's also been a winner in one of my previous contest. Check out Seymour of My Life. I love the name.
What is Drew Shooting with?

Model: KODAK PlayTouch Video Camera, Zi10
ISO: 800
Exposure: 1/30 sec
Aperture: 2.8
Focal Length: 3.9mm
Flash Used: No

I received the Kodak PlayTouch Free from Kodak. The opinions about it are 100% mine.
How Does Drew Protect His Photos?
Copyright (c) 2020 BenSpark Family Adventures