Photo-A-Day #2535
Andrew celebrated his first Saint Patrick's Day in a big way. He had a wonderful morning out with Allison visiting her friends. He partied all day and was early to bed. Andrew's wearing a Belly Banter Sticker from the Holidays & Celebrations set from Slicksugar.com. We're enjoying these different Belly Banter sets and they are great for documenting Andrew's first year.
While Allison and Andrew were out for the morning I slept and Eva spent time with her Aunt Corrine and Cousin Amanda. I picked Eva up from dance and then we visited my Mom and also picked up a delivery for me that went to their house. Eva and I had a quick lunch at McDonald's and then we went to the Route One Cinema Pub to see the movie The Secret World of Arrietty.
The movie was really well done. It was based on the book, The Borrowers. The movie was very beautiful, it looked hand drawn and the story was nice, a bit sad but still uplifting overall. I especially liked the relationship between the father and the daughter. There was something very special about the respect they had for each other. I noticed that I wasn't the only Dad with his daughter in the theater. It was nice to spend a little quality time with her. There were a couple of moments that she was sensitive to and she sat with me in my chair.
We had visitors over for dinner. Michele and the kids came over for boiled dinner. I got two corned beef packages and boiled them all day in Beer and Coca-Cola plus the flavor season packet. I didn't tell anyone what I boiled it in until later, after everyone said how much they enjoyed it. I figured that the Coke would give it a caramel sort of flavor and the Coke would also help to break down the meat to make it more tender. It was delicious.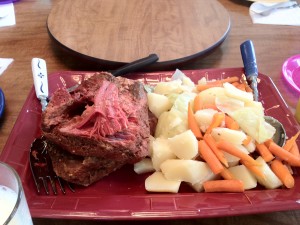 The package I picked up from my parent's house was a new shotgun mic for my video setup. Here is a photo of my new setup.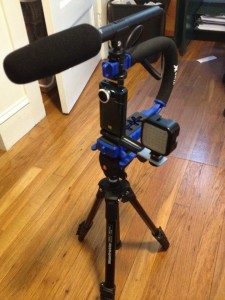 I've now got a complete setup for filming for National Hot Dog Month and anything else I'm shooting. So Here is the breakdown of my setup along with links to were to buy everything on Amazon.com (affiliate links).
Disclosure: I received the Belly Banter stickers for review. I received the Kodak PlayTouch for review and for use during National Hot Dog Month. Opinions about these products are 100% my own.
Copyright (c) 2020 BenSpark Family Adventures