We still have not gotten a chance to see this movie and I am dying to see it. Big Hero 6 is a story I know I will love. Did you see it? Let me know.
More about the Big Hero 6 movie.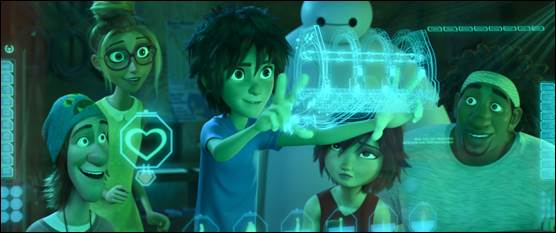 ©2014 Disney. All Rights Reserved.
BIG HERO 6 (In 3D)
DISNEY
Genre: Animated Action/Comedy/Adventure
Rating: TBA
U.S. Release Date: November 7, 2014
Voice Cast: "Big Hero 6" features the voices of an extraordinary ensemble cast, including Maya Rudolph (TV's "Saturday Night Live," "Maya Rudolph Variety Show," Bridesmaids") as Aunt Cass, James Cromwell ("Murder in the First," "L.A. Confidential") as Professor Robert Callaghan, Damon Wayans Jr. ("Let's Be Cops," "Happy Endings") as Wasabi, T.J. Miller (HBO's "Silicon Valley," "Transformers: Age of Extinction," "How to Train Your Dragon 2") as Fred, Alan Tudyk ("Tell," "Welcome to Me," "42") as Alistair Krei, Jamie Chung ("Sin City: A Dame to Kill For," "Once Upon A Time," "The Hangover Part II & Part III") as Go Go Tomago, Genesis Rodriguez ("Tusk," "Identity Thief") as Honey Lemon and Daniel Henney ("X-Men Origins: Wolverine") as Tadashi, with Ryan Potter ("Supah Ninjas," "Senior Project") as Hiro Hamada and Scott Adsit ("30 Rock," "St. Vincent") as Baymax
Director: Don Hall, Chris Williams
Producer: Roy Conli
With all the heart and humor audiences expect from Walt Disney Animation Studios, "Big Hero 6" is an action-packed comedy-adventure about robotics prodigy Hiro Hamada, who learns to harness his genius—thanks to his brilliant brother Tadashi and their like-minded friends: adrenaline junkie Go Go Tamago, neatnik Wasabi, chemistry whiz Honey Lemon and fanboy Fred. When a devastating turn of events catapults them into the midst of a dangerous plot unfolding in the streets of San Fransokyo, Hiro turns to his closest companion—a robot named Baymax—and transforms the group into a band of high-tech heroes determined to solve the mystery.
Inspired by the Marvel comics of the same name, and featuring comic-book style action, "Big Hero 6" is directed by Don Hall ("Winnie the Pooh") and Chris Williams ("Bolt"), and produced by Roy Conli ("Tangled"). The film hits theaters in 3D on November 7, 2014.
Find out more about Big Hero 6 on Social Media
Like BIG HERO 6 on Facebook: https://www.facebook.com/DisneyBigHero6
Follow Walt Disney Animation Studios on Twitter: http://www.twitter.com/DisneyAnimation
Follow Walt Disney Animation Studios on Tumblr: http://disneyanimation.tumblr.com
Visit the Website: http://www.disney.com/BigHero6
BIG HERO 6 opens in theaters everywhere on November 7th!
Copyright (c) 2020 BenSpark Family Adventures