Photo-A-Day #2558
Today was my 38th birthday. I had to work for part of it and slept for another part of it but in the end it turned out pretty sweet. I got home from work and had breakfast with Allison, Eva and Andrew. Then I slept for five hours. Had to recover some rest from the weekend before facing the day ahead. I got up and headed downstairs. I was greeted by a table full of cupcakes and decorated in Transformers! I guess I selected the right shirt for the day.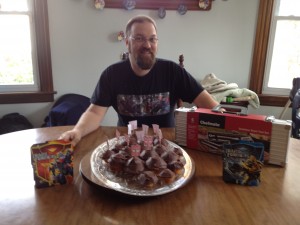 Allison and Eva had made the cupcakes. They got me a nice Stainless Steel BBQ set and Eva even stirred in some songs to the cupcake batter. She asked me if I could hear them as I ate. We snacked on a cupcake and then Eva and I watched Transformers Prime together. After that we opened up the Skylanders that I got for Easter and played them for a while before we headed out for my Birthday Dinner.
Before we went for dinner we popped over to my Aunt Corrine's to see my grandparents. They had a birthday gift for me and wanted to see the kids. I got a couple of nice photos of my Grandparents with Andrew.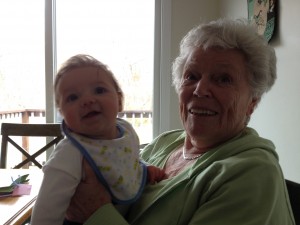 Andrew with Great-Grandma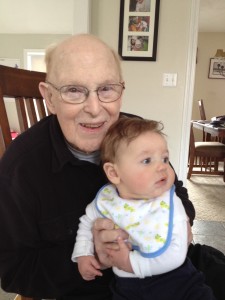 Andrew with Great-Grandpa
After visiting with Great-Grandma and Great-Grandpa and Aunt Corrine and my cousins we went over to Patriot Place to have dinner at Toby Keith's I Love this Bar and Grill. We had a very tasty dinner and enjoyed the place. It is akin to a Friday's with a Toby Keith theme and has live music occasionally. We got there well before any of that stuff because we figured it would be too loud for the kids. It was actually pretty subdued at that time and even the noise levels of the music were pretty good. We split an appetizer and Allison and I had cheeseburgers and Eva had chicken fingers. Eva charmed out waitress once again. She colored in her kids menu and gave it to her and she also talked to her about Transformers and she told her that it was my birthday, too. The waitress said that they give a fried Twinkie to the birthday person (they don't come and sing though, which was fine). So we shared that together.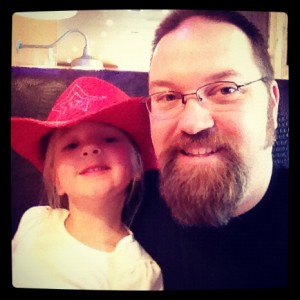 Me and My Little Cowgirl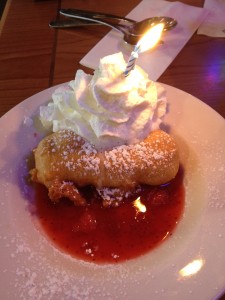 The Fried Birthday Twinkie
Had a great birthday today. Going to write it up tomorrow.
Today I completed seven straight years of Photo-A-Day photos. I wrote a post about it over on the YesVideo blog.
Copyright (c) 2020 BenSpark Family Adventures