In the past few weeks I've been to visit my local Walmart three times for this #CollectiveBias shop. I was there the first time to scout out the things I would need to create a fun Superheroes recipe with M&M'S® because #HeroesEatMMs. I was also there to check out what Captain America: The Winter Soldier items I could find including the DVD. This shop has been compensated by Collective Bias, Inc. and its advertiser. All opinions are mine alone.
Like I said, my first trip was primarily a scouting mission. The second time I went back to buy everything I needed for my special recipe which I am calling Captain America's Deconstructed S.H.I.E.L.D. M&M's Cookies Ice Cream Sandwiches. The third time was over this past weekend to check out an in store event for Walmart's Super Hero September. That event was in the Bakery section where the kids received some fun Marvel Super Heroes cupcakes and coloring pages. There were also some Super Hero Mashers and samples of party items for Marvel Super Heroes themed parties.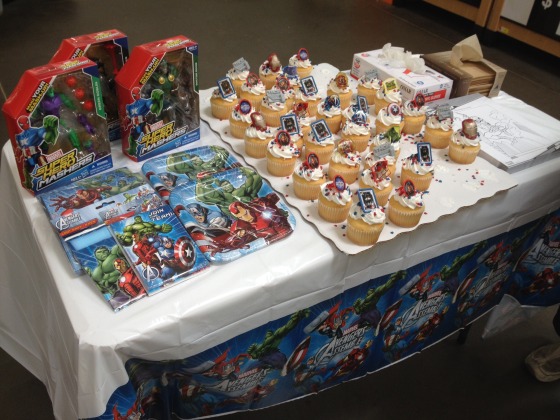 The kids had a fun time at the store with their Super Hero cupcakes. The cupcakes were simple and each had a Super Hero ring. Eva selected a cupcake with Captain America's Shield and Andrew picked one with Thor. I would have sworn that he'd choose Captain America because of everything he did with me to help with the Ice Cream Sandwich recipe.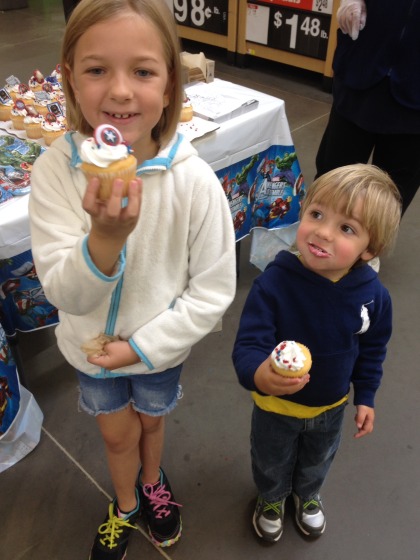 On release day for Captain America: The Winter Soldier which was September 16th there were a ton of copies of the movie. There were the regular DVD, the Bluray and the Special Edition 3D Bluray pack with digital download. There were even some copies that had exclusive covers featuring the main characters from the movie like Nick Fury, Black Widow, Falcon, The Winter Soldier and Captain America. There were really good prices for the movie as well. I knew I could do better so I would be back to pick up the movie as soon as I had my coupon from the HeroesEatMMs.com site. There is a coupon for $5.00 off the movie with the purchase of two packages of M&M's (15.4oz. or larger) and the purchase of the DVD. The site is a good resource for additional M&M's Recipes and Captain America themed ideas.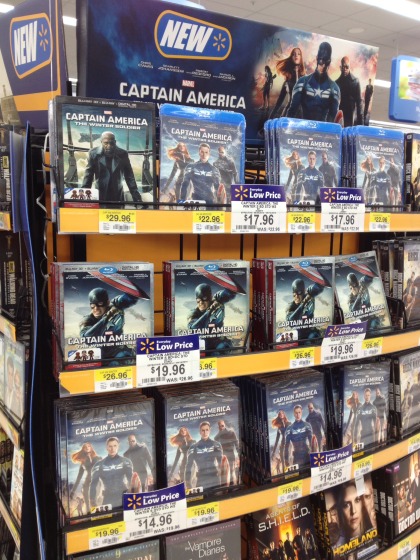 As for M&M'S I went to that aisle and purchased a bunch of bags of M&M'S for the cookie portion of my recipe. While I was there I also thought that it would be fun to make some candy dipped pretzel rods that were rolled in M&Ms Minis. I wanted Red, White and Blue M&Ms in my cookies so I picked up some MEGA M&Ms, Peanut, Milk Chocolate, Minis and also the Coconut M&Ms. There were plenty of other flavors to choose from but I was already pretty well stocked even beyond my recipe needs.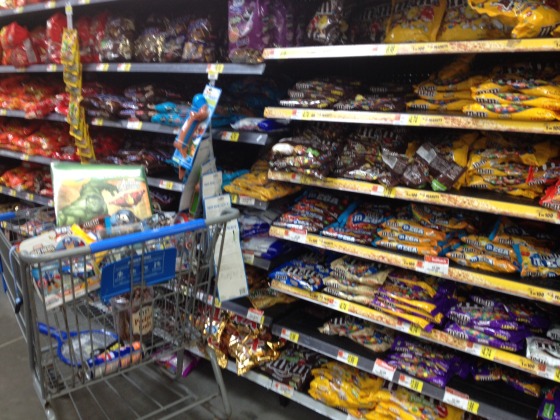 I also walked the whole store looking for Captain America themed items and found plenty. There were so many toys for Captain America including those from LEGO, Hot Wheels, Playskool, Hasbro and Crayola. I bought it all. I even got some Captain America sunglasses for my son, which he promptly lost before I could photograph him wearing them, but they are in my house somewhere.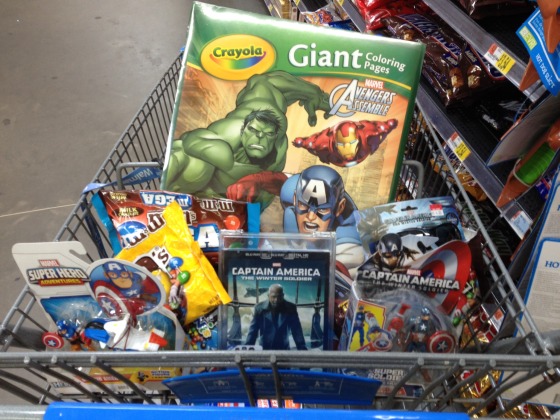 I got my supplies home and started creating my Captain America themed recipe. I picked out all the red and blue M&M's from the MEGA M&M's and Peanut M&M's. The white ones were from from the Coconut M&M's. My son actually helped me with that part and also later on with picking out all the red and blue M&M's Minis.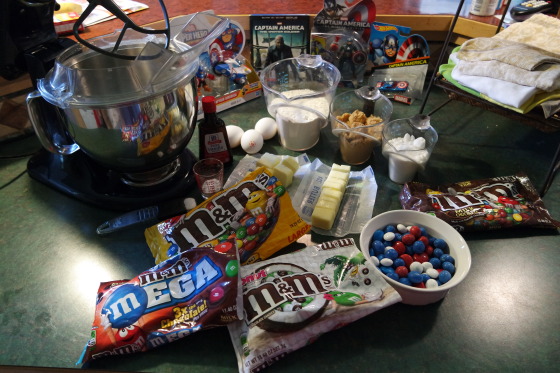 Captain America's Deconstructed S.H.I.E.L.D. M&M's Cookie Ice Cream Sandwiches Recipe
1. Use your favorite Chocolate Chip Cookie Recipe. You know the one I used. Well I tweak it a little bit. I add extra brown sugar and an extra egg. I like my cookies less cake-like and more chewy.
2. Instead of Chocolate Chips use your favorite M&M's. We used MEGA, Peanut & Coconut.
I used these not only for the colors of Red, White and Blue but also for the variations in flavor and consistency. The MEGA give you tons of tasty M&M's chocolate but the Peanut ones give you crunchy peanuts while the coconut ones give a hint of coconut flavor.
3. You are going to want to make the cookies large because later you'll be creating a Captain America Shield on them plus bigger cookies means More ICE CREAM!.
4. Bake for 9-11 minutes on 375 degrees. This is important, when you take them out of the oven let them sit on the cookie sheet for another 3 minutes to capture the rest of the heat plus allow the cookie sheet to transfer the residual heat into the cookies. This allows for a little more cook time without the danger of burning. It also cools down the cookie sheet so the cook time is consistent between batches.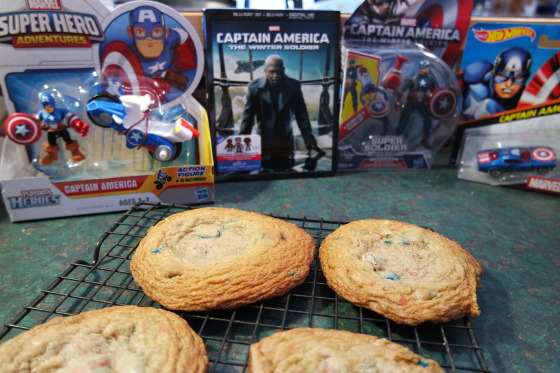 5. Once the cookies have cooled you can decorate them with frosting, more M&M's or whatever you'd like in order to make Captain America Shields. I used frosting from a can because I thought I'd be able to control it easier. I'm not that great at decorating.
6. Lay one un-decorated cookie on a plate
7. Put a generous scoop of ice cream on that cookie (I used Vanilla Bean)
8. Lean the Shield decorated cookie on the ice cream.
9. Eat and Enjoy!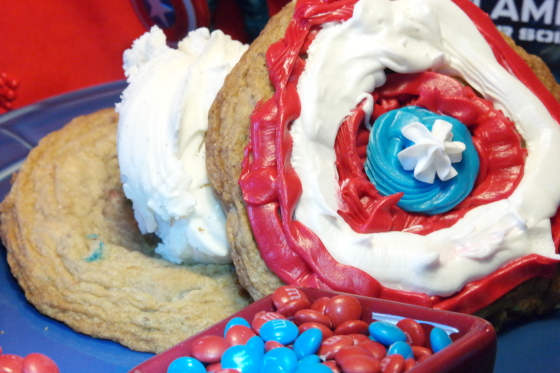 Now, I didn't think that was quite enough and decided that I wanted to add some candy coated pretzel rods that were rolled in M&M's. The recipe for that is simple. Pretzel Rods, Melting Candy and M&M's Minis. You can melt the candy in the microwave quickly dip the pretzel rod into the candy and then either pour the M&M's Minis on the pretzel as it lays on a cooling rack or wait for the candy to begin to cool a bit and roll it in the M&M's Minis. I opted for pouring the M&M's on the pretzel rods and also made sure to put down wax paper to catch the extra M&M's and the candy drips.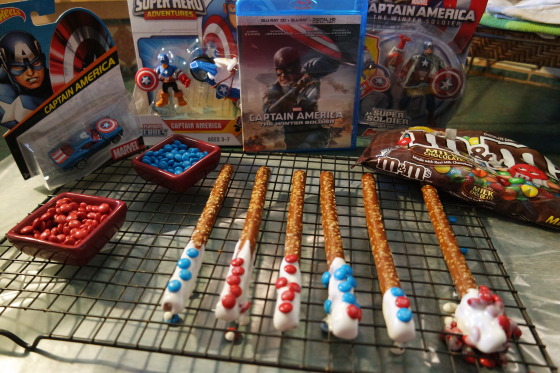 Copyright (c) 2020 BenSpark Family Adventures