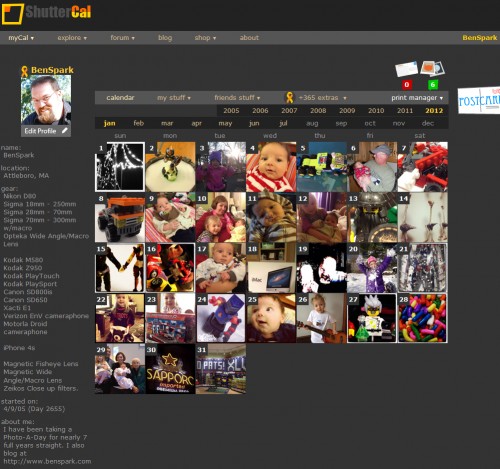 For the past three years I've been working with ShutterCal for my primary Photo-A-Day hosting. I post my Photo-A-Day photo on ShutterCal every day and have it embedded on this blog as well. The first year I did this as a collaboration with ShutterCal to get the word out about their free service. ShutterCal continued to innovate over the past three years to add new and exciting service. These are services that you pay for. My absolute favorite service is the ShutterCal shoebox. I received a free shoebox for my 2010's Photo-A-Day photos. I liked it so much that I signed up for a subscription for 2011 and 2012. I also intend to upload all previous years going back to 2005 and the start of Photo-A-Day to get shoeboxes for each of those years.
Why am I telling you this?
Well, I have just become an affiliate for ShutterCal. This means that if you click through to Shuttercal through any of my more recent photos you will come to my affiliate page and have the option of starting your own ShutterCal account. This is one of the best sites I've ever worked with and I fully support the work that they continue to do.
What can you expect from the affiliate landing page. On the page you have the option to create a basic free calendar and that is fine. But for just under $20 you can get a host of cool features like premium profile controls and project stats. Then for $29 for the year plus $12.99 a month you can get your own ShutterCal Shoebox and print packs. I have three of them and love them, very, very cool way to keep a physical copy of your photo-a-day project.
Copyright (c) 2020 BenSpark Family Adventures